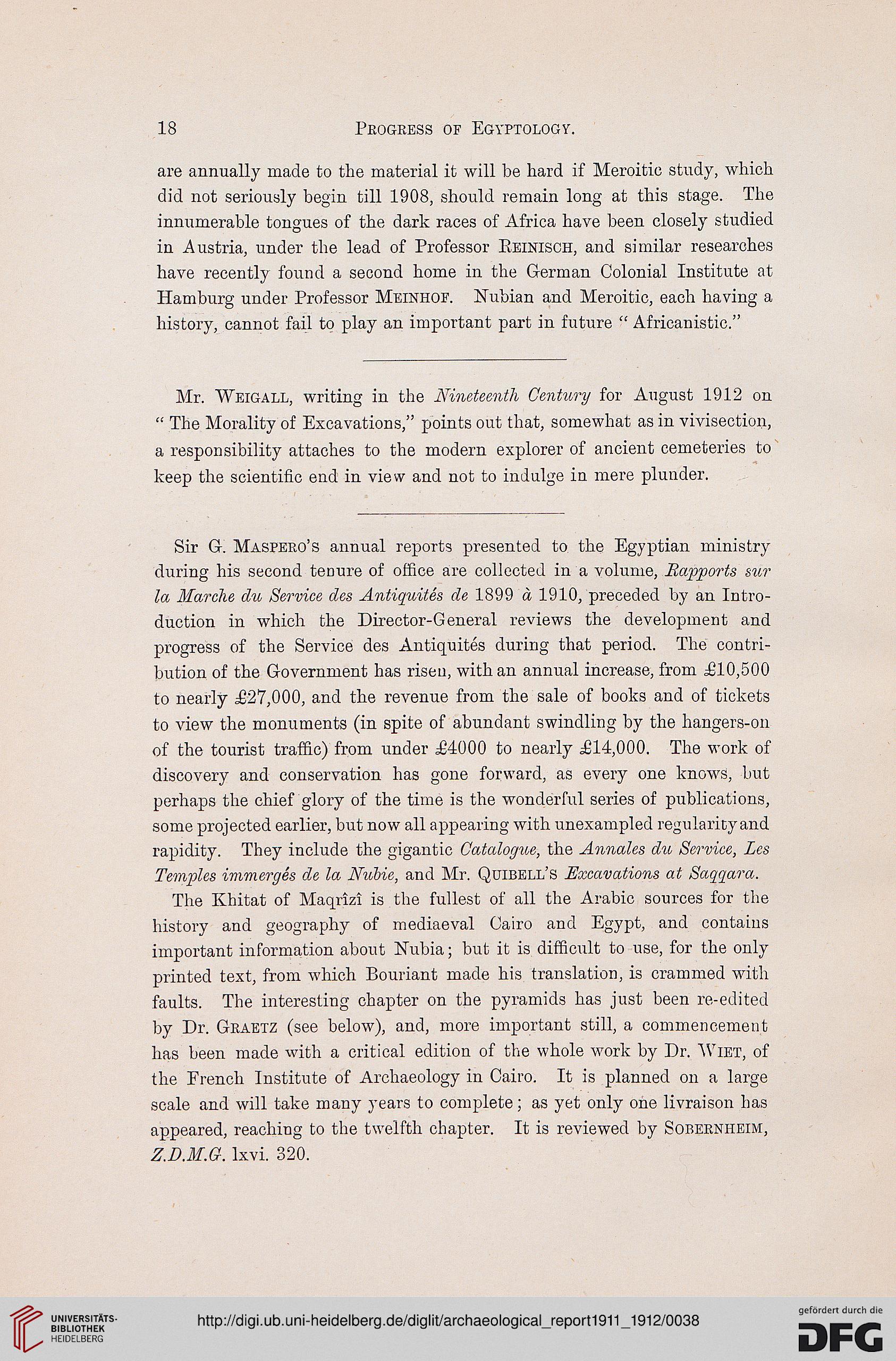 Progress of Egyptology.

are annually made to the material it will be hard if Meroitie study, which
did not seriously begin till 1908, should remain long at this stage. The
innumerable tongues of the dark races of Africa have been closely studied
in Austria, under the lead of Professor Eeinisch, and similar researches
have recently found a second home in the German Colonial Institute at
Hamburg under Professor Meinhof. Nubian and Meroitie, each having a
history, cannot fail to play an important part in future " Africanistic."

Mr. Weigall, writing in the Nineteenth Century for August 1912 on
" The Morality of Excavations," points out that, somewhat as in vivisection,
a responsibility attaches to the modern explorer of ancient cemeteries to
keep the scientific end in view and not to indulge in mere plunder.

Sir G Maspero's annual reports presented to the Egyptian ministry
during his second teDure of office are collected in a volume, Rapports sur
la Marche du Service des Antiquites de 1899 d 1910, preceded by an Intro-
duction in which the Director-General reviews the development and
progress of the Service des Antiquites during that period. The contri-
bution of the Government has risen, with an annual increase, from £10,500
to nearly £27,000, and the revenue from the sale of books and of tickets
to view the monuments (in spite of abundant swindling by the hangers-on
of the tourist traffic) from under £4000 to nearly £14,000. The work of
discovery and conservation has gone forward, as every one knows, but
perhaps the chief glory of the time is the wonderful series of publications,
some projected earlier, but now all appearing with unexampled regularity and
rapidity. They include the gigantic Catalogue, the Annates du Service, Lcs
Temples immerges de la Nubie, and Mr. Quibell's Excavations at Saqqara.

The Khitat of Maqrizi is the fullest of all the Arabic sources for the
history and geography of mediaeval Cairo and Egypt, and contains
important information about Nubia; but it is difficult to use, for the only
printed text, from which Bouriant made his translation, is crammed with
faults. The interesting chapter on the pyramids has just been re-edited
by Dr. Graetz (see below), and, more important still, a commencement
has been made with a critical edition of the whole work by Dr. Wiet, of
the French Institute of Archaeology in Cairo. It is planned on a large
scale and will take many years to complete; as yet only one livraison has
appeared, reaching to the twelfth chapter. It is reviewed by Sorernheim,
Z.D.M.G. Ixvi. 320.