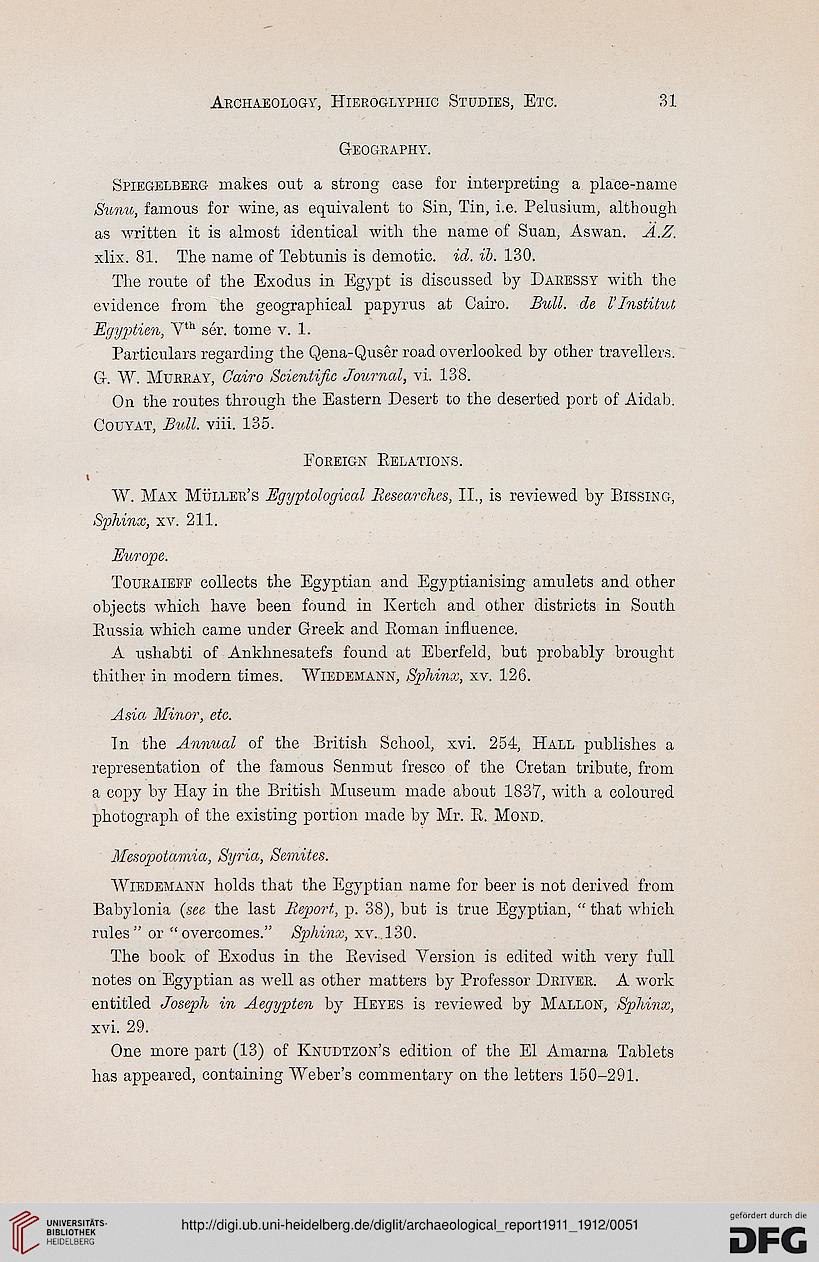 31

Geography.

Spiegelberg makes out a strong case for interpreting a place-name
Sunu, famous for wine, as equivalent to Sin, Tin, i.e. Pelusium, although
as written it is almost identical with the name of Suan, Aswan. A.Z.
xlix. 81. The name of Tebtunis is demotic, id. ib. 130.

The route of the Exodus in Egypt is discussed by Daressy with the
evidence from the geographical papyrus at Cairo. Bull, de I'Institut
Egyptian, Vth ser. tome v. 1.

Particulars regarding the Qena-Quser road overlooked by other travellers.
G. W. Murray, Cairo Scientific Journal, vi. 138.

On the routes through the Eastern Desert to the deserted porb of Aidab.
Couyat, Bull. viii. 135.

Foreign Eelatioxs.

W. Max Muller's Egyptological Researches, II., is reviewed by Bissing,
Sphinx, xv. 211.

Europe.

Touraiefe collects the Egyptian and Egyptianising amulets and other
objects which have been found in Kertch and other districts in South
Eussia which came under Greek and Eoman influence.

A ushabti of Ankhnesatefs found at Eberfeld, but probably brought
thither in modern times. Wiedemann, Sphinx, xv. 126.

Asia Minor, etc.

In the Annual of the British School, xvi. 254, Hall publishes a
representation of the famous Senmut fresco of the Cretan tribute, from
a copy by Hay in the British Museum made about 1837, with a coloured
photograph of the existing portion made by Mr. E. Mond.

Mesopotamia, Syria, Semites.

Wiedemann holds that the Egyptian name for beer is not derived from
Babylonia (see the last Report, p. 38), but is true Egyptian, " that which
rules " or " overcomes." Sphinx, xv. 130.

The book of Exodus in the Eevised Version is edited with very full
notes on Egyptian as well as other matters by Professor Driver. A work
entitled Joseph in Aegypten by Heyes is reviewed by Mallon, Sphinx,
xvi. 29.

One more part (13) of Knudtzon's edition of the El Amarna Tablets
has appeared, containing Weber's commentary on the letters 150-291.