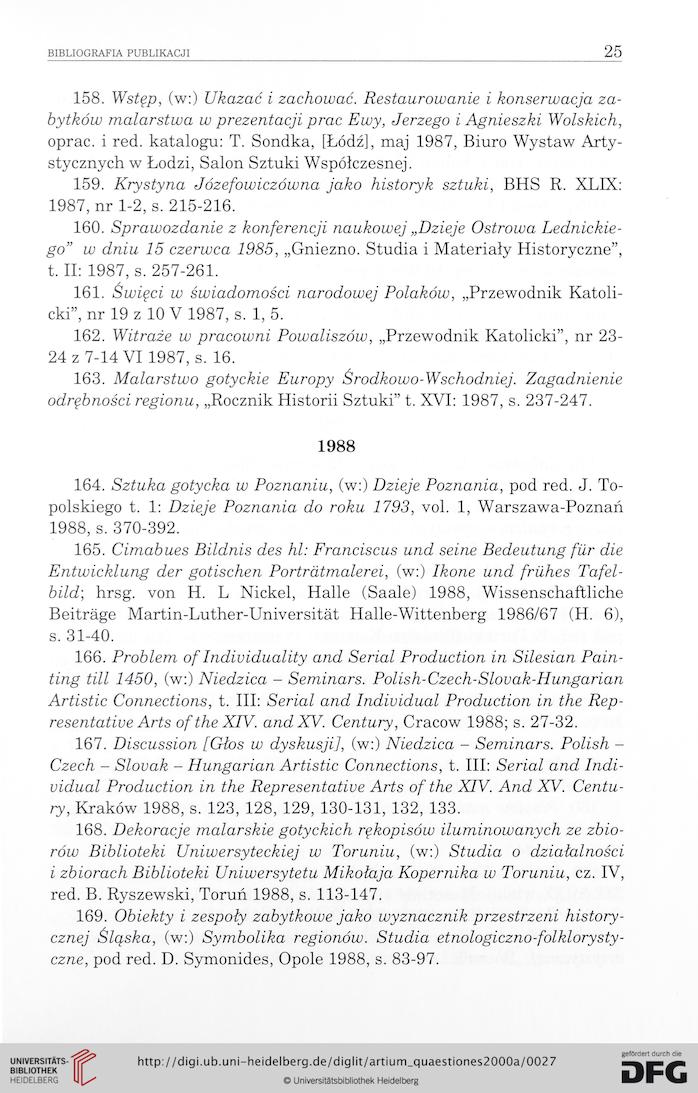 25

158. Wstęp, (w:) Ukazać i zachować. Restaurowanie i konserwacja za-
bytków malarstwa w prezentacji prac Ewy, Jerzego i Agnieszki Wolskich,
oprać, i red. katalogu: T. Sondka, [Łódź], maj 1987, Biuro Wystaw Arty-
stycznych w Łodzi, Salon Sztuki Współczesnej.
159. Krystyna Józefowiczówna jako historyk sztuki, BHS R. XLIX:
1987, nr 1-2, s. 215-216.
160. Sprawozdanie z konferencji naukowej "Dzieje Ostrowa Lednickie-
go" w dniu 15 czerwca 1985, "Gniezno. Studia i Materiały Historyczne",
t. II: 1987, s. 257-261.
161. Święci w świadomości narodowej Polaków, "Przewodnik Katoli-
cki", nr 19 z 10 V 1987, s. 1, 5.
162. Witraże w pracowni Powaliszów, "Przewodnik Katolicki", nr 23-
24 z 7-14 VI 1987, s. 16.
163. Malarstwo gotyckie Europy Środkowo-Wschodniej. Zagadnienie
odrębności regionu, "Rocznik Historii Sztuki" t. XVI: 1987, s. 237-247.
1988
164. Sztuka gotycka w Poznaniu, (w:) Dzieje Poznania, pod red. J. To-
polskiego t. 1: Dzieje Poznania do roku 1793, vol. 1, Warszawa-Poznań
1988, s. 370-392.
165. Cimabues Bildnis des hl: Franciscus und seine Bedeutung fur die
Entwicklung der gotischen Portratmalerei, (w:) Ikonę und friihes Tafel-
bild; hrsg. von H. L Nickel, Halle (Saale) 1988, Wissenschaftliche
Beitrage Martin-Luther-Universitat Halle-Wittenberg 1986/67 (H. 6),
s. 31-40.
166. Problem of Indioiduality and Serial Production in Silesian Pain-
ting till 1450, (w:) Niedzica - Seminars. Polish-Czech-Slouak-Hungarian
Artistic Connections, t. III: Serial and Indioidual Production in the Rep-
resentatiue Arts of the XIV. and XV. Century, Cracow 1988; s. 27-32.
167. Discussion [Głos w dyskusji!, (w:) Niedzica - Seminars. Polish -
Czech - Slooak - Hungarian Artistic Connections, t. III: Serial and Indi-
uidual Production in the Representatioe Arts of the XIV. And XV. Centu-
ry, Kraków 1988, s. 123, 128, 129, 130-131, 132, 133.
168. Dekoracje malarskie gotyckich rękopisów iluminowanych ze zbio-
rów Biblioteki Uniwersyteckiej w Toruniu, (w:) Studia o działalności
i zbiorach Biblioteki Uniwersytetu Mikołaja Kopernika w Toruniu, cz. IV,
red. B. Ryszewski, Toruń 1988, s. 113-147.
169. Obiekty i zespoły zabytkowe jako wyznacznik przestrzeni history-
cznej Śląska, (w:) Symbolika regionów. Studia etnologiczno-folklorysty-
czne, pod red. D. Symonides, Opole 1988, s. 83-97.