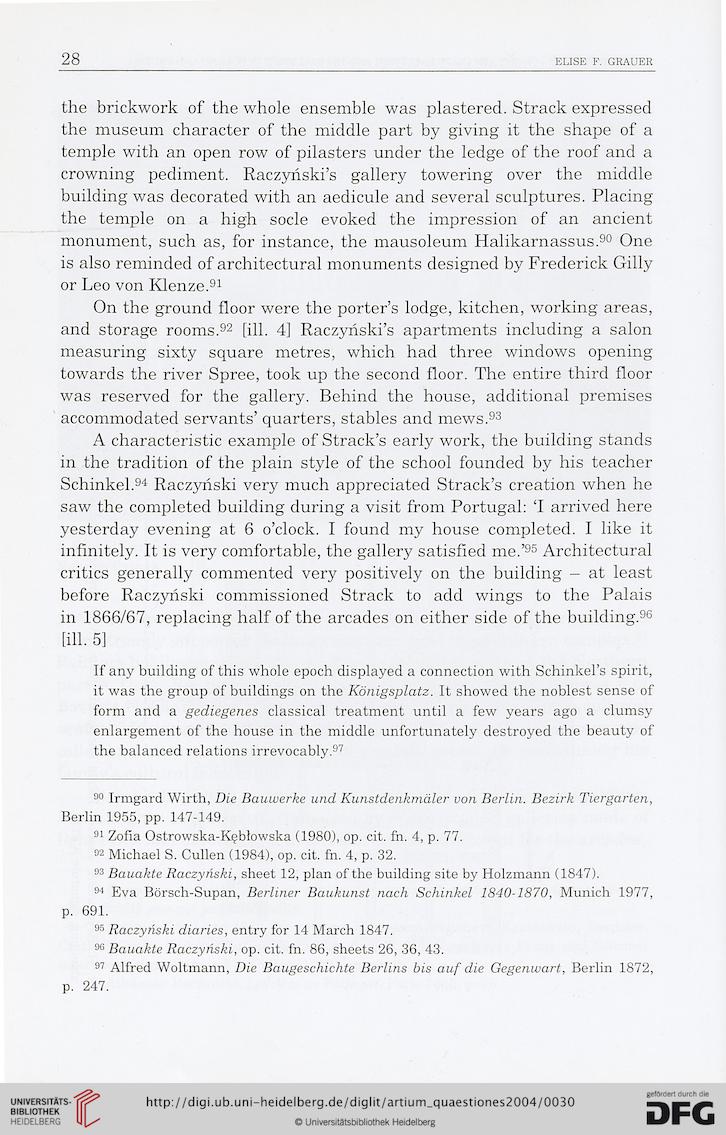 ELISE F. GRAUER

the brickwork of the whole ensemble was plastered. Strack expressed
the museum character of the middle part by giving it the shape of a
temple with an open row of pilasters under the ledge of the roof and a
crowning pediment. Raczynski's gallery towering over the middle
building was decorated with an aedicule and several sculptures. Placing
the temple on a high socle evoked the impression of an ancient
monument, such as, for instance, the mausoleum Halikarnassus.90 One
is also reminded of architectural monuments designed by Frederick Gilly
or Leo von Klenze.91
On the ground floor were the porter's lodge, kitchen, working areas,
and storage rooms.92 [ill. 4] Raczyhski's apartments including a salon
measuring sixty square metres, which had three windows opening
towards the river Spree, took up the second floor. The entire third floor
was reserved for the gallery. Behind the house, additional premises
accommodated servants' quarters, stables and mews.93
A characteristic example of Strack's early work, the building stands
in the tradition of the plain style of the school founded by his teacher
Schinkel.94 Raczyński very much appreciated Strack's creation when he
saw the completed building during a visit from Portugal: T arrived here
yesterday evening at 6 o'clock. I found my house completed. I like it
infinitely. It is very comfortable, the gallery satisfied me.'95 Architectural
critics generally commented very positively on the building - at least
before Raczyński commissioned Strack to add wings to the Palais
in 1866/67, replacing half of the arcades on either side of the building.96
[ill. 5]
If any building of this whole epoch displayed a connection with Schinkel's spirit,
it was the group of buildings on the Königsplatz. It showed the noblest sense of
form and a gediegenes classical treatment until a few years ago a clumsy
enlargement of the house in the middle unfortunately destroyed the beauty of
the balanced relations irrevocably.97

90 Irmgard Wirth, Die Bauwerke und Kunstdenkmäler von Berlin. Bezirk Tiergarten,
Berlin 1955, pp. 147-149.
91 Zofia Ostrowska-Kębłowska (1980), op. cit. fn. 4, p. 77.
02 Michael S. Cullen (1984), op. cit. fn. 4, p. 32.
93 Bauakte Raczyński, sheet 12, plan of the building site by Holzmann (1847).
94 Eva Börsch-Supan, Berliner Baukunst nach Schinkel 1840-1870, Munich 1977,
p. 691.
95 Raczyński diaries, entry for 14 March 1847.
96 Bauakte Raczyński, op. cit. fn. 86, sheets 26, 36, 43.
97 Alfred Woltmann, Die Baugeschichte Berlins bis auf die Gegenwart, Berlin 1872,
p. 247.