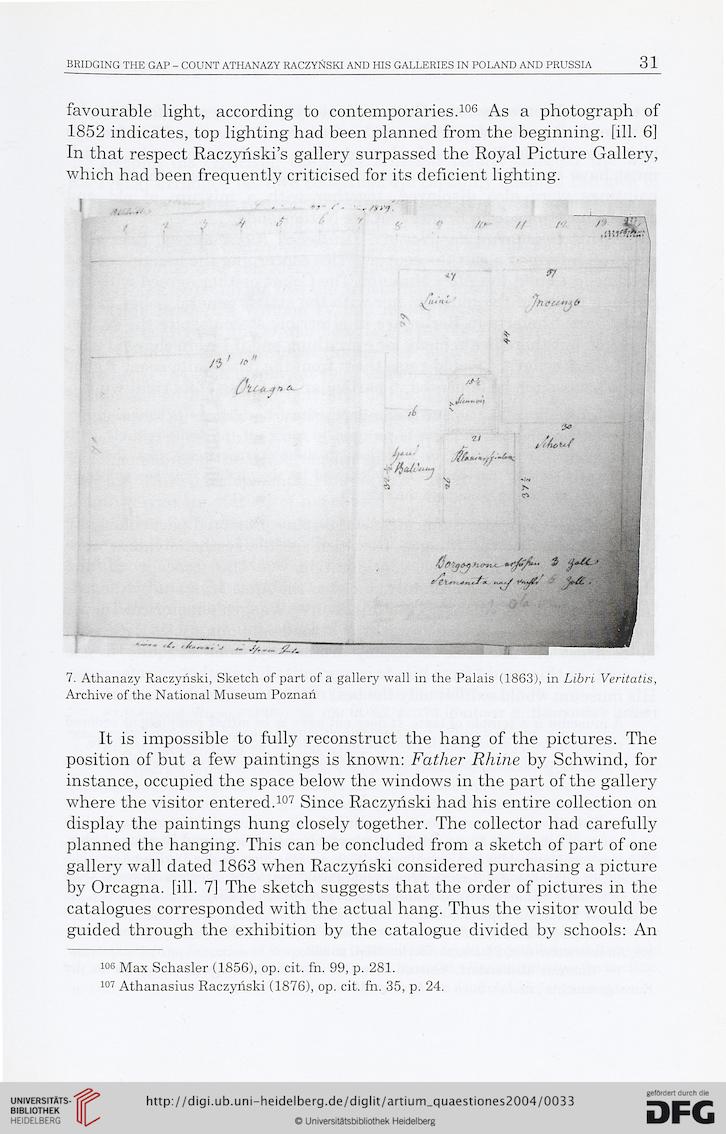 31

favourable light, according to contemporaries.106 As a photograph of
1852 indicates, top lighting had been planned from the beginning, [ill. 6]
In that respect Raczynski's gallery surpassed the Royal Picture Gallery,
which had been frequently criticised for its deficient lighting.


7. Athanazy Raczyński, Sketch of part of a gallery wall in the Palais (1863), in Libri Veritatis,
Archive of the National Museum Poznań

It is impossible to fully reconstruct the hang of the pictures. The
position of but a few paintings is known: Father Rhine by Schwind, for
instance, occupied the space below the windows in the part of the gallery
where the visitor entered.107 Since Raczyński had his entire collection on
display the paintings hung closely together. The collector had carefully
planned the hanging. This can be concluded from a sketch of part of one
gallery wall dated 1863 when Raczyński considered purchasing a picture
by Orcagna, [ill. 7] The sketch suggests that the order of pictures in the
catalogues corresponded with the actual hang. Thus the visitor would be
guided through the exhibition by the catalogue divided by schools: An
106 Max Schasler (1856), op. cit. fh. 99, p. 281.
107 Athanasius Raczyński (1876), op. cit. fh. 35, p. 24.