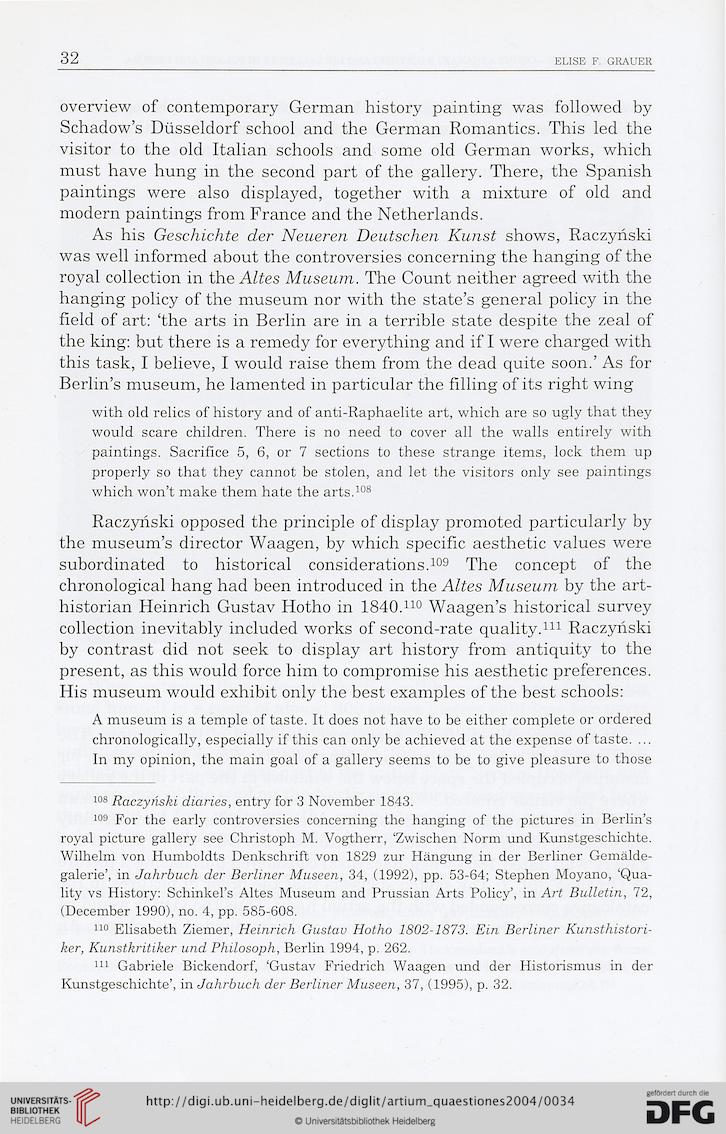 ELISE F. GRAUER

overview of contemporary German history painting was followed by
Schadow's Düsseldorf school and the German Romantics. This led the
visitor to the old Italian schools and some old German works, which
must have hung in the second part of the gallery. There, the Spanish
paintings were also displayed, together with a mixture of old and
modern paintings from France and the Netherlands.
As his Geschichte der Neueren Deutschen Kunst shows, Raczyński
was well informed about the controversies concerning the hanging of the
royal collection in the Altes Museum. The Count neither agreed with the
hanging policy of the museum nor with the state's general policy in the
field of art: 'the arts in Berlin are in a terrible state despite the zeal of
the king: but there is a remedy for everything and if I were charged with
this task, I believe, I would raise them from the dead quite soon.' As for
Berlin's museum, he lamented in particular the filling of its right wing
with old relics of history and of anti-Raphaelite art, which are so ugly that they
would scare children. There is no need to cover all the walls entirely with
paintings. Sacrifice 5, 6, or 7 sections to these strange items, lock them up
properly so that they cannot be stolen, and let the visitors only see paintings
which won't make them hate the arts.108
Raczyński opposed the principle of display promoted particularly by
the museum's director Waagen, by which specific aesthetic values were
subordinated to historical considerations.109 The concept of the
chronological hang had been introduced in the Altes Museum by the art-
historian Heinrich Gustav Hotho in 1840.110 Waagen's historical survey
collection inevitably included works of second-rate quality.111 Raczyński
by contrast did not seek to display art history from antiquity to the
present, as this would force him to compromise his aesthetic preferences.
His museum would exhibit only the best examples of the best schools:
A museum is a temple of taste. It does not have to be either complete or ordered
chronologically, especially if this can only be achieved at the expense of taste. ...
In my opinion, the main goal of a gallery seems to be to give pleasure to those

108 Raczyński diaries, entry for 3 November 1843.
109 por the early controversies concerning the hanging of the pictures in Berlin's
royal picture gallery see Christoph M. Vogtherr, 'Zwischen Norm und Kunstgeschichte.
Wilhelm von Humboldts Denkschrift von 1829 zur Hängung in der Berliner Gemälde-
galerie', in Jahrbuch der Berliner Museen, 34, (1992), pp. 53-64; Stephen Moyano, 'Qua-
lity vs History: Schinkel's Altes Museum and Prussian Arts Policy', in Art Bulletin, 72,
(December 1990), no. 4, pp. 585-608.
110 Elisabeth Ziemer, Heinrich Gustav Hotho 1802-1873. Ein Berliner Kunsthistori-
ker, Kunstkritiker und Philosoph, Berlin 1994, p. 262.
111 Gabriele Bickendorf, 'Gustav Friedrich Waagen und der Historismus in der
Kunstgeschichte', in Jahrbuch der Berliner Museen, 37, (1995), p. 32.