[Heidelberg], 1397 Juni 26
Die Heidelberger Bürger Hanmann Supping, Peter Supping und Kathrin Supping, Kinder des Klaus Supping, verkaufen ihr Häuschen, das in der Vogtsgasse liegt und an das Grundstück von Hanmann Freitag angrenzt, dem Heidelberger Bürger Diether Weber für 8 Pfund Heller Heidelberger Währung. Auf dem Haus lasten folgende Zinsen, die der Eigentümer zu tragen hat: 9 Schilling alter Heller an den Heiligkreuzaltar, 9 Heller und ein Drittel Kapaun für den Deutschen Orden sowie vnserm herren dem hertzogen sinen zins. Sollte auf dem Haus noch ein weiterer, derzeit nicht bekannter Zins lasten, so wird dieser von Hanmann Supping und seinen geschwistern oder deren Erben abgelöst werden. Ankündigung des kleinen Stadtsiegels, das auf Bitten der beteiligten Parteien von den Bürgermeistern Arnold Ripp und Heinrich Schluchterer angehängt wurde.
Language: German

Citation link: https://digi.ub.uni-heidelberg.de/diglit/barth46
URN: urn:nbn:de:bsz:16-diglit-116892
DOI: https://doi.org/10.11588/diglit.11689
Metadata: METS
IIIF Manifest: https://digi.ub.uni-heidelberg.de/diglit/iiif/barth46/manifest.json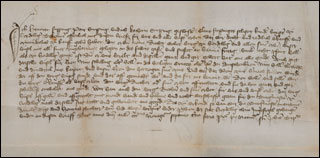 There are annotations to this facsimile. Individual pages with annotations are marked in "Overview" with the symbol .
Content