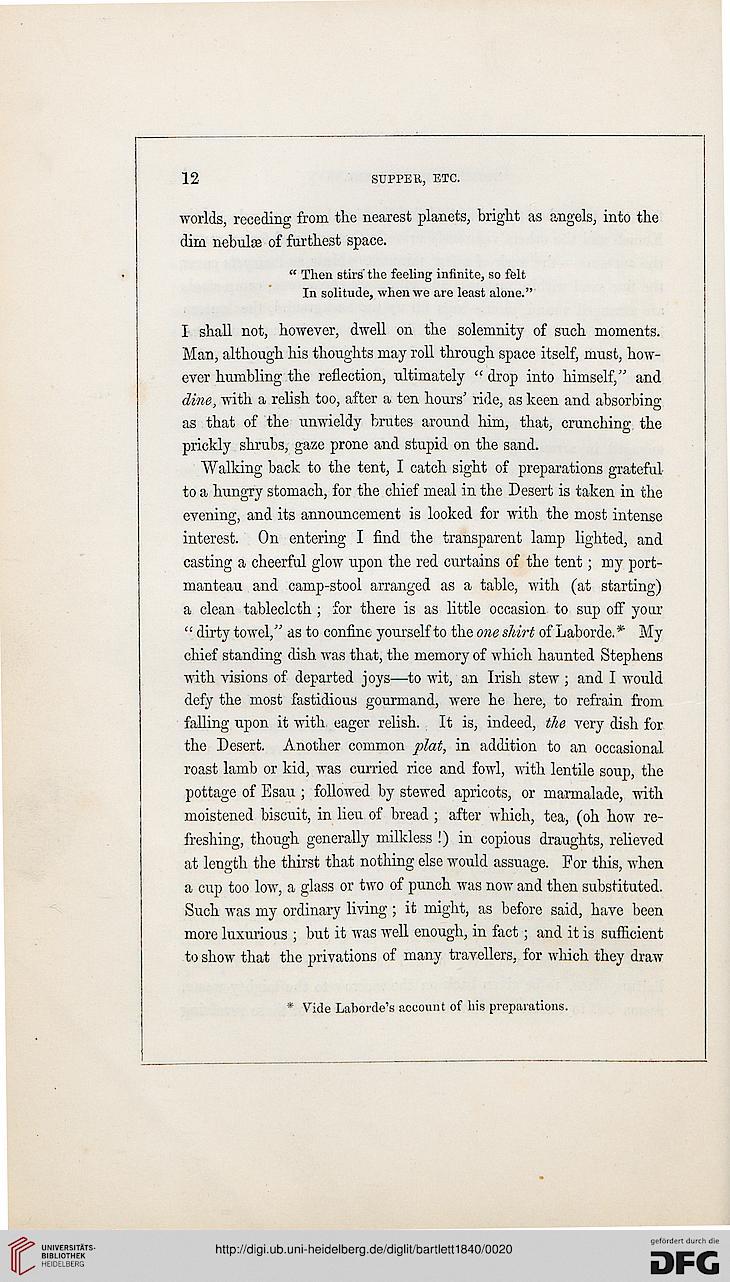 worlds, receding from the nearest planets, bright as angels, into the
dim nebulas of furthest space.

" Then stirs' the feeling infinite, so felt
In solitude, when we are least alone."

I shall not, however, dwell on the solemnity of such moments.
Man, although his thoughts may roll through space itself, must, how-
ever humbling the reflection, ultimately " drop into himself," and
dine, with a relish too, after a ten hours' ride, as keen and absorbing
as that of the unwieldy brutes around him, that, crunchino- the
prickly shrubs, gaze prone and stupid on the sand.

Walking back to the tent, I catch sight of preparations grateful
to a hungry stomach, for the chief meal in the Desert is taken in the
evening, and its announcement is looked for with the most intense
interest. On entering I find the transparent lamp lighted, and
casting a cheerful glow upon the red curtains of the tent; my port-
manteau and camp-stool arranged as a table, with (at starting)
a clean tableclcth ; for there is as little occasion to sup off your
" dirty towel," as to confine yourself to the one shirt of Laborde.* My
chief standing dish was that, the memory of which haunted Stephens
with visions of departed joys—to wit, an Irish stew ; and I would
defy the most fastidious gourmand, were he here, to refrain from
falling upon it with eager relish. It is, indeed, the very dish for
the Desert. Another common plat, in addition to an occasional
roast lamb or kid, was curried rice and fowl, with lentile soup, the
pottage of Esau ; followed by stewed apricots, or marmalade, with
moistened biscuit, in lieu of bread ; after which, tea, (oh how re-
freshing, though generally milkless !) in copious draughts, relieved
at length the thirst that nothing else would assuage. For this, when
a cup too low, a glass or two of punch was now and then substituted.
Such was my ordinary living ; it might, as before said, have been
more luxurious ; but it was well enough, in fact; and it is sufficient
to show that the privations of many travellers, for which they draw

* Vide Laborde's account of his preparations.