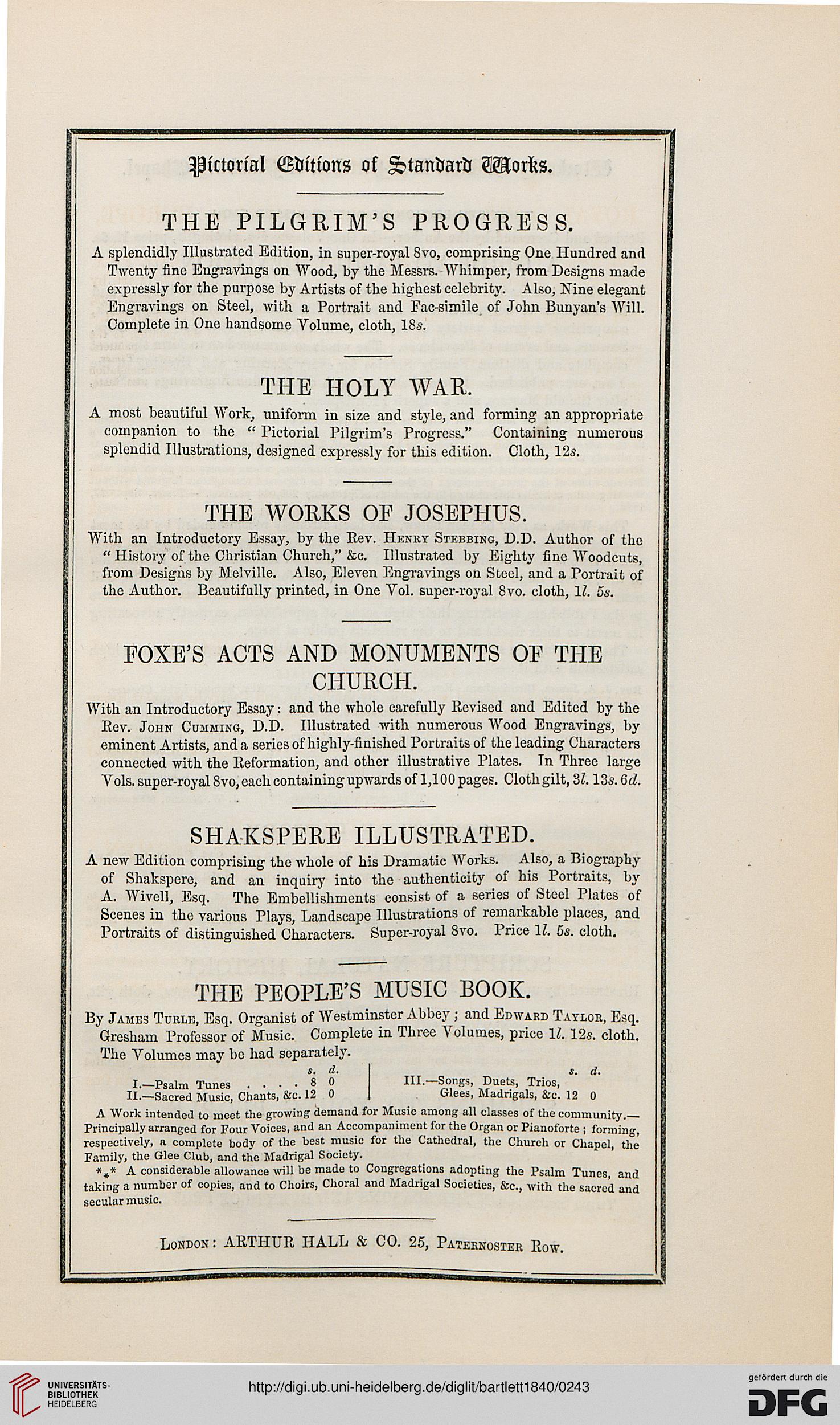 THE PILGRIM'S PROGRESS.

A splendidly Illustrated Edition, in super-royal 8vo, comprising One Hundred and
Twenty fine Engravings on Wood, by the Messrs. Whimper, from Designs made
expressly for the purpose by Artists of the highest celebrity. Also, Nine elegant
Engravings on Steel, with a Portrait and Fac-simile of John Bunyan's Will.
Complete in One handsome Volume, cloth, 18s.

THE HOLY WAR.

A most beautiful Work, uniform in size and style, and forming an appropriate
companion to the " Pictorial Pilgrim's Progress." Containing numerous
splendid Illustrations, designed expressly for this edition. Cloth, 12*.

THE WORKS OF JOSEPHUS.

With an Introductory Essay, by the Rev. Henry Stebbing, D.D. Author of the
" History of the Christian Church," &c. Illustrated by Eighty fine Woodcuts,
from Designs by Melville. Also, Eleven Engravings on Steel, and a Portrait of
the Author. Beautifully printed, in One Vol. super-royal 8vo. cloth, 11. 5s.

FOXE'S ACTS AND MONUMENTS OF THE
CHURCH.

With an Introductory Essay: and the whole carefully Revised and Edited by the
Eev. John Comming, D.D. Illustrated with numerous Wood Engravings, by
eminent Artists, and a series of highly-finished Portraits of the leading Characters
connected with the Reformation, and other illustrative Plates. In Three large
Vols, super-royal 8vo, each containing upwards of 1,100 pages. Cloth gilt, 3Z. 13s. 6rf.

SHAKSPERE ILLUSTRATED.

A new Edition comprising the whole of his Dramatic Works. Also, a Biography
of Shakspore, and an inquiry into the authenticity of his Portraits, by
A. Wivell, Esq. The Embellishments consist of a series of Steel Plates of
Scenes in the various Plays, Landscape Illustrations of remarkable places, and
Portraits of distinguished Characters. Super-royal 8vo. Price 11. 5s. cloth.

THE PEOPLE'S MUSIC BOOK.

By Jambs Turle, Esq. Organist of Westminster Abbey ; and Edward Taylor, Esq.
Gresham Professor of Music. Complete in Three Volumes, price 11. 12s. cloth.

The Arolumes may be had separately.
s. a.

I.—Psalm Tunes .... 8

s. d.
-Songs, Duets, Trios,
Glees, Madrigals, &c. 12 0

II.— Suered Music, Chants, Src. 12 0

A Work intended to meet the growing demand for Music among all classes of the community.—
Principally arranged for Four Voices, and an Accompaniment for the Organ or Pianoforte ; forming,
respectively, a complete body of the best music for the Cathedral, the Church or Chapel, the
Family, the Glee Club, and the Madrigal Society.

*,* A considerable allowance will be made to Congregations adopting the Psalm Tunes, and
taking a number of copies, and to Choirs, Choral and Madrigal Societies, &c, with the sacred and
secular music.

London : ARTHUR HALL & CO. 25, Paternoster Row.