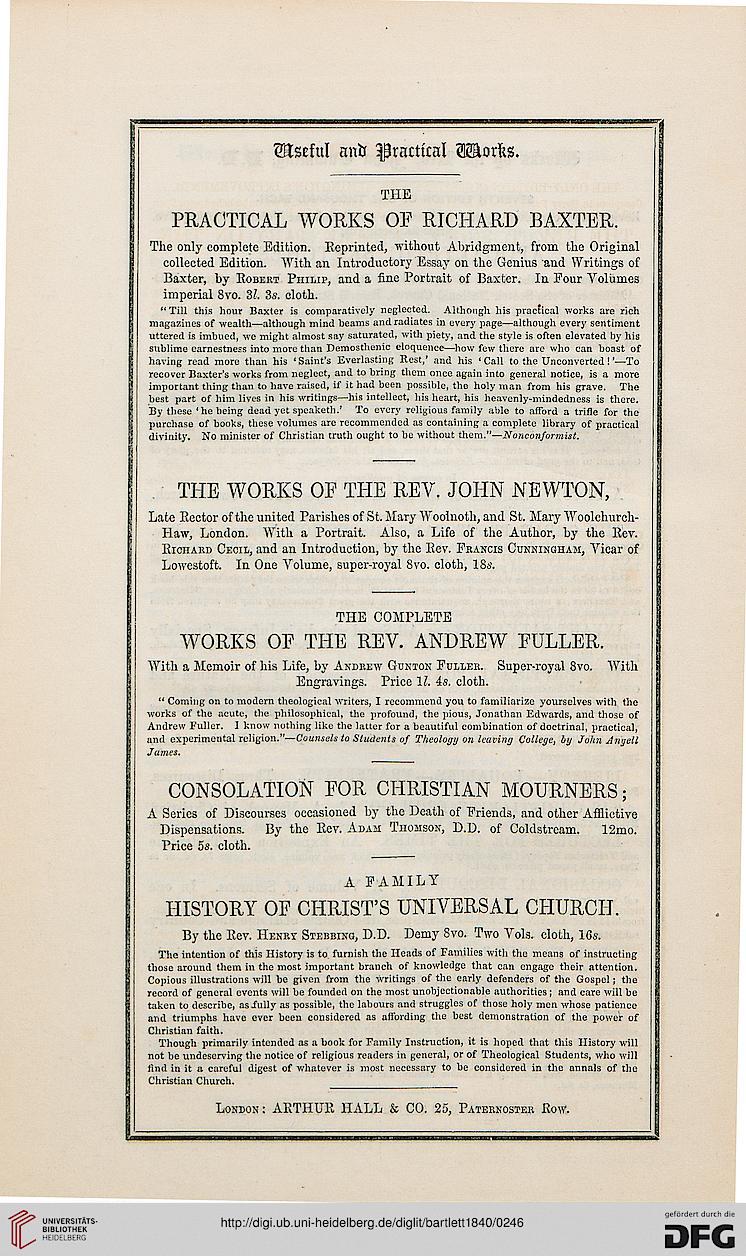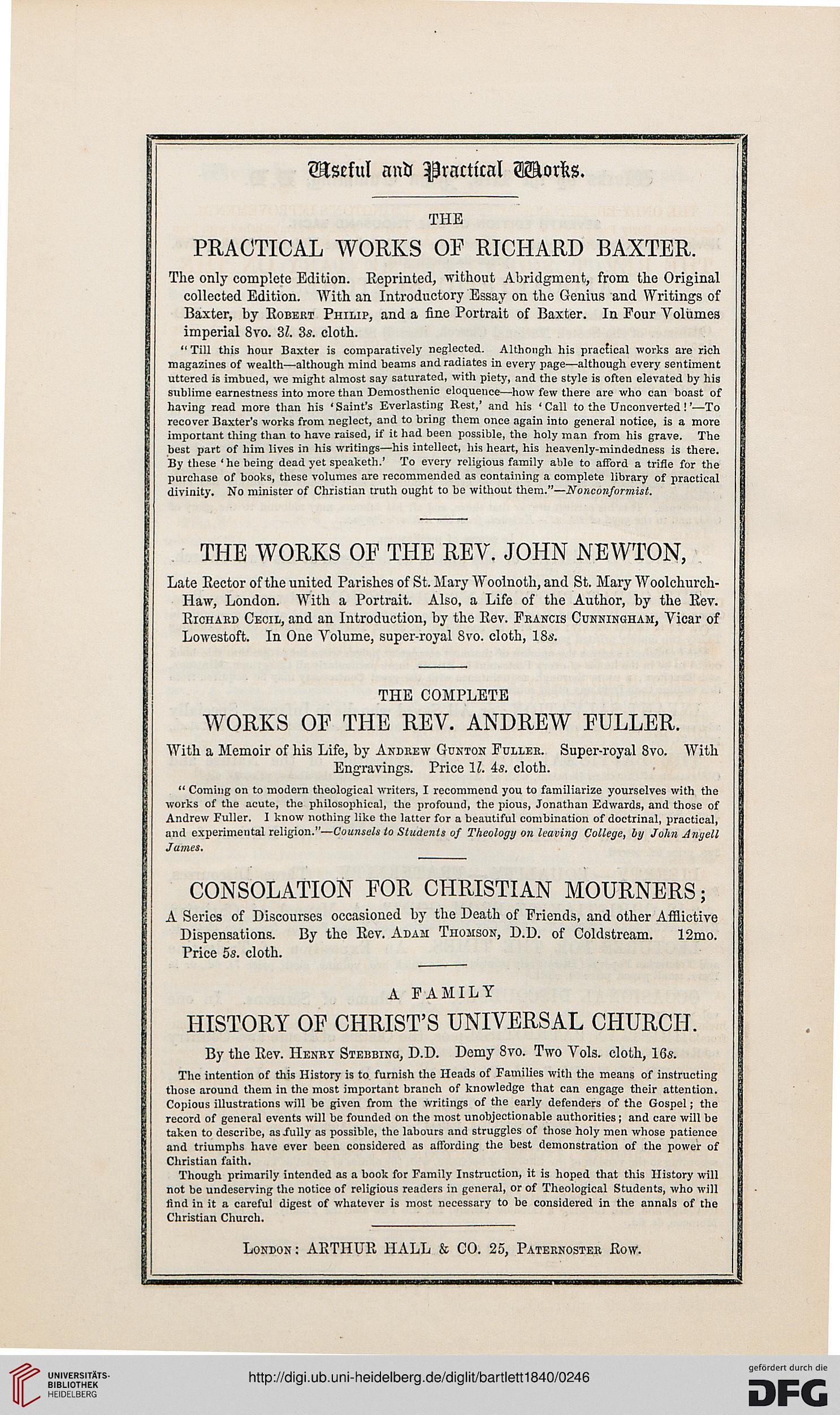 THE

PRACTICAL WORKS OF RICHARD BAXTER.

The only complete Edition. Reprinted, without Abridgment, from the Original
collected Edition. "With an Introductory Essay on the Genius and Writings of
Baxter, by Robert Philip, and a fine Portrait of Baxter. In Pour Volumes
imperial 8vo. 3?. 3s. cloth.

" Till this hour Baxter is comparatively neglected. Although his practical works are rich
magazines of wealth—although mind beams and radiates in every page—although every sentiment
uttered is imbued, we might almost say saturated, with piety, and the style is often elevated by his
sublime earnestness into more than Demosthenic eloquence—how few there are who can boast of
having read more than his 'Saint's Everlasting Rest,' and his 'Call to the Unconverted ! '—To
recover Baxter's works from neglect, and to bring them once again into general notice, is a more
important thing than to have raised, if it had been possible, the holy man from his grave. The
best part of him lives in his writings—his intellect, his heart, his heavenly-mindedness is there.
By these 'he being dead yet speaketh.' To every religious family able to afford a trifle for the
purchase of books, these volumes are recommended as containing a complete library of practical
divinity. No minister of Christian truth ought to be without them."—Nonconformist.

THE WORKS OF THE REV. JOHN NEWTON,

Late Rector of the united Parishes of St. Mary Wooinoth, and St. Mary Woolchurch-
Haw, London. With a Portrait. Also, a Life of the Author, by the Key.
Richard Cecil, and an Introduction, by the llev. Francis Cunningham, Vicar of
Lowestoft. In One Volume, super-royal Svo. cloth, 18s.

THE COMPLETE

WORKS OF THE REV. ANDREW FULLER.

With a Memoir of his Life, by Andrew Gdnton Fuller. Super-royal 8vo. With
Engravings. Price 11. is. cloth.

" Coming on to modern theological writers, I recommend you to familiarize yourselves with the
works of the acute, the philosophical, the profound, the pious, Jonathan Edwards, and those of
Andrew Fuller. 1 know nothing like the latter for a beautiful combination of doctrinal, practical,
and experimental religion."—Counsels to Students of Theology on leaving College, by John Angell
James.

CONSOLATION FOR CHRISTIAN MOURNERS;

A Series of Discourses occasioned by the Death of Friends, and other Afflictive
Dispensations. By the Rev. Adam Thomson, D.D. of Coldstream. 12mo.
Price 55. cloth.

A FAMILY

HISTORY OF CHRIST'S UNIVERSAL CHURCH.

By the Rev. Henry Stebbino, D.D. Demy Svo. Two Vols, cloth, 16ft

The intention of this History is to furnish the Heads of Families with the means of instructing
those around them in the most important branch of knowledge that can engage their attention.
Copious illustrations will be given from the writings of the early defenders of the Gospel; the
record of general events will be founded on the most unobjectionable authorities ; and care will be
taken to describe, as Sully as possible, the labours and struggles of those holy men whose patience
and triumphs have ever been considered as affording the best demonstration of the power of
Christian faith.

Though primarily intended as a book for Family Instruction, it is hoped that this History will
not be undeserving the notice of religious readers in general, or of Theological Students, who will
find in it a careful digest of whatever is most necessary to be considered in the annals of the
Christian Church, ________________________

London; ARTHUR HALL & CO. 25, Paternoster Row.