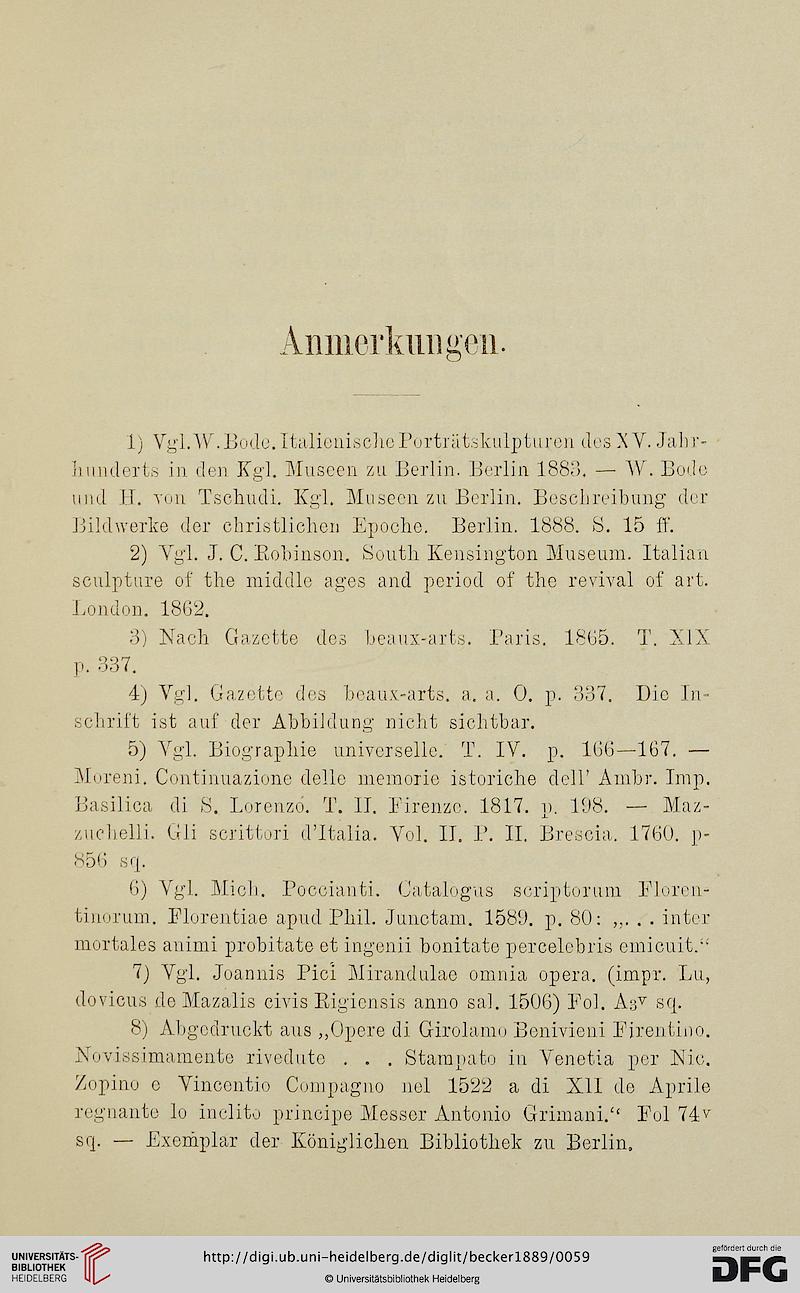 1) Vgl. W. Bode. Italienische Porträtskulpturen des XV. Jahr-
hunderts in den Kgl. Museen zu Berlin. Berlin 1883. — IV. Bode
und H. von Tschudi. Kgl. Museen zu Berlin. Beschreibung der
Bildwerke der christlichen Epoche. Berlin. 1888. S. 15 ff.

2) Vgl. J. C. Bobinson. South Kensington Museum. Italian
sculpture of the middle ages and period of the revival of art.
London. 1862.

3) Nach Gazette des beaux-arts. Paris. 1865. 1'. XIX
p. 337.

4) Vgl. Gazette des beaux-arts. a. a. 0. p. 337. Die In-
schrift ist auf der Abbildung nicht sichtbar.

5) Vgl. Biographie universelle. T. IV. p. 166—167. —
Moreni. Continuazione delle memorie istoriche dell' Ainbr. Imp.
Basilica di S. Lorenzö. T. II. Eirenzo. 1817. p. 198. — Maz-
zuchelli. Gli scrittori d'Italia. Vol. II. P. II. Brescia. 1760. p-
856 sq.

6) Vgl. Mich. Poccianti. Catalogus scriptorum Eloren-

tinorum. Elorentiae apud Phil. Junctam. 1589. p. 80: . . inter

mortales animi probitate et ingenii bonitate percelebris emicuit."

7) Vgl. Joannis Pici Mirandulae omnia opera. (impr. Lu,
dovicus de Mazalis civis Bigicnsis anno sal. 1506) Fol. Asy sq.

8) Abgedruckt aus ,,Opere di Girolamo Benivieni Eirentino.
Novissimamente rivedute . . . Stampato in Venetia per Nie.
Zopino c Vinccntio Compagno nel 1522 a di XII de Aprile
regnante lo inclito principe Messer Antonio Grimani." Eol 74y
sq. — Exemplar der Königlichen Bibliothek zu Berlin.