Note: This is an additional scan to display the colour reference chart and scalebar.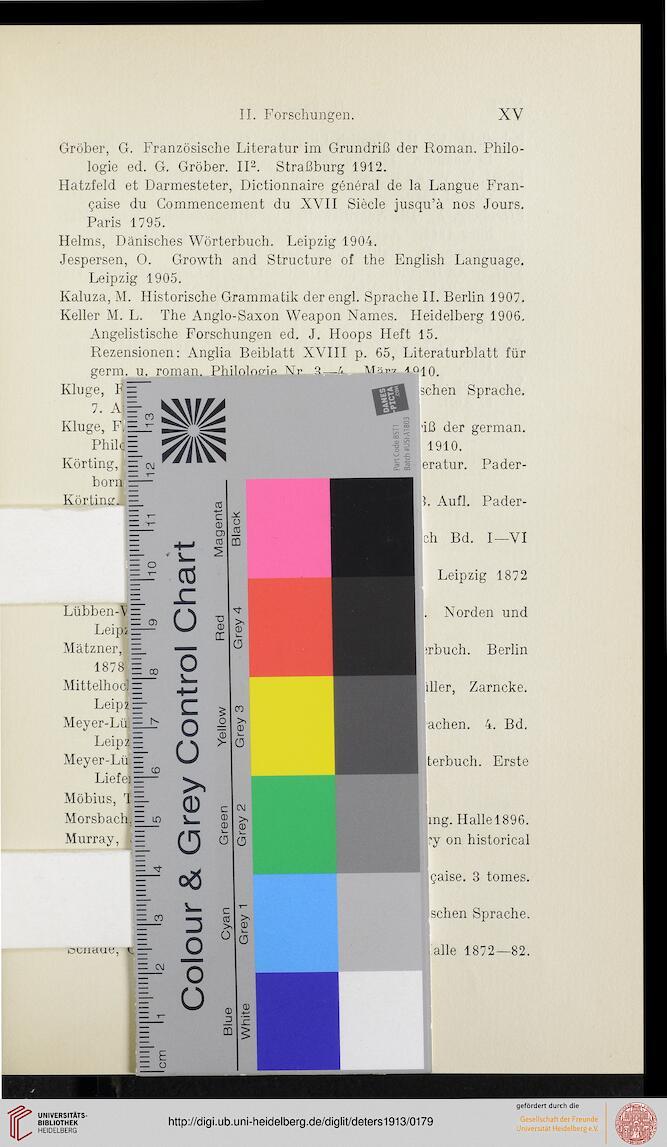 XV

Pader-

k Aufl.

Pader-

ch Bd.

I—VI

Leipzig 1872

Norden und

iller, Zarncke.

achen. 4. Bd.

terbuch. Erste

Qaise. 3 tomes.

sehen Sprache.

alle 1872—82.


;chen Sprache.

ing. Hallel896.
?y on historical

:rbuch. Berlin

Lübben-X
Leip
Mätzner,
1878
Mittelhocl
Leipz
Meyer-Lü.
Leipz
Meyer-Lü
Liefe)
Möbius, 1
Morsbach
Murray

iß der german.
1910.
eratur.

Gröber, G. Französische Literatur im Grundriß der Roman. Philo-
logie ed. G. Gröber. II2. Straßburg 1912.
Hatzfeld et Darmesteter, Dictionnaire general de la Langue Fran-
Qaise du Gommencement du XVII Siede jusqu'ä nos Jours.
Paris 1795.
Helms, Dänisches Wörterbuch. Leipzig 1904.
Jespersen, 0. Growth and Structure of the English Language.
Leipzig 1905.
Kaluza, M. Historische Grammatik der engl. Sprache II. Berlin 1907.
Keller M. L. The Anglo-Saxon Weapon Names. Heidelberg 1906.
Angelistische Forschungen ed. J. Hoops Heft 15.
Rezensionen: Anglia Beiblatt XVIII p. 65, Literaturblatt für
germ. u. roman. Philologie Nr 4 Mör7 4010.
Kluge, F
7. Ai
Kluge, F,
Phile
Körting,
born
Körting.