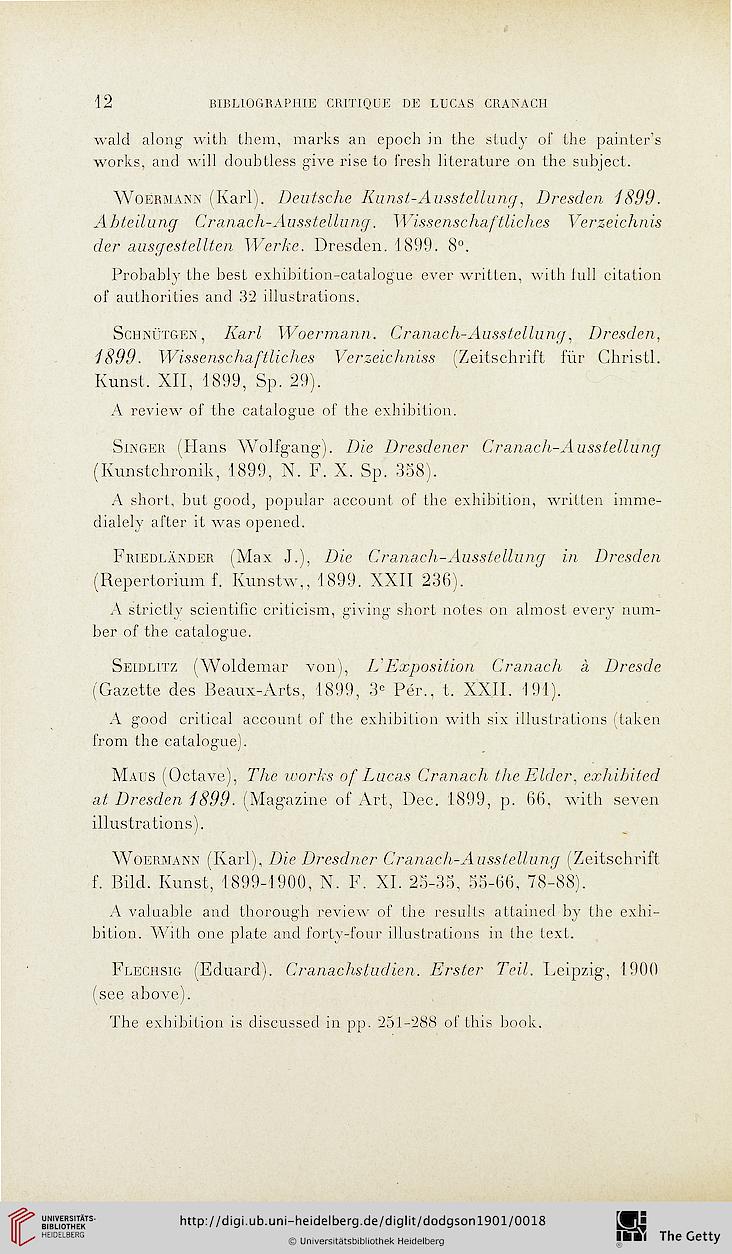 BIBLIOGRAPHIE CRITIQUE DE LUCAS CRANACH

wald along with them, marks an epoch in the study of the painter's
works, and will doubtless give rise to fresh literature on the subject.

Woermann (Karl). Deutsche Kunst-Ausstellung, Dresden 1899.
Ahteilung Cranach-Ausstellung. Wissenschaftliches Verzeichnis
der ausgestellten Werke. Dresden. 1899. 8°.

Probably the best exhibition-catalogue ever written, with full citation
of authorities and 32 illustrations.

Schnutgen, Karl Woermann. Cranach-Ausstellung, Dresden,
1899. Wissenschaftliches Verzeichniss (Zeitschrift fiir Christl.
Kunst. XII, 1899, Sp. 29).

A review of the catalogue of the exhibition.

Singer (Hans Wolfg-ang-). Die Dresclener Cranach-Ausstellung
(Kunstchronik, 1899, N. F. X. Sp. 358).

A short, but good, popular account of the exhibition, written imme-
dialely after it was opened.

Friedlander (Max J.), Die Cranach-Ausstellung in Dresden
(Repertorium f. Kunstw,, 1899. XXII 236).

A strictly scientific criticism, g'iving short notes on almost every num-
ber of tbe catalogue.

Seidlitz (Woldemar von), L'Exposition Cranach a Dresde
(Gazette des Beaux-Arts, 1899, 3 e Per., t. XXII. 191).

A good critical account of the exhibition with six illustrations (taken
from the catalogue).

Maus (Octave), The works of Lucas Cranach theElcler, exhihited
at Dresden 1899. (Mag'azine of Art, Dec. 1899, p. 66, with seven
illustrations).

Woermann (Karl), Die Dresclner Cranacli-Ausstellung (Zeitschrift
f. Bild. Kunst, 1899-1900, N. F. XI. 25-35, 55-66, 78-88).

A valuable and thorough review of the results attained by the exhi-
bition. With one plate and forty-four illustrations in the text.

Flechsig (Eduard). Cranaclistudien. Erster Teil. Leipzig, 1900
(see above).

The exhibition is discussed in pp. 251-288 of this book.