Or le-Yiśraʾel / אור לישראל: ... ʿim perush Me-or ha-golah, Rashi ... / ... עם פירש מאור הגולה, רש"י ... (Band 4): Sefer Bamidbar / ספר במדבר: reviʿi le-torat Elohim hu ḥumash ha-peḳudim / רביעי לתורת אלהים הוא חומש הפקודים
Krotoschin: Monasch, 1843, Tsṿaite ferbesserṭe Oiflage [2.]
This book was in the possession of the library of the Heidelberg Hochschule für Jüdische Studien. As part of a provenance research project, the legal owners were identified based on the handwritten entries preserved in the book. These were victims of the Nazi regime from whom the book was taken away due to persecution. The descendants of the owners were located and the original was returned to them in October 2020. Thankfully, the descendants allowed the digitalization of this rare volume.
Citation link: https://digi.ub.uni-heidelberg.de/diglit/fuerstenthal1843bd4
URN: urn:nbn:de:bsz:16-diglit-523356
DOI: https://doi.org/10.11588/diglit.52335
Metadata: METS
IIIF Manifest: v2.1, v3.0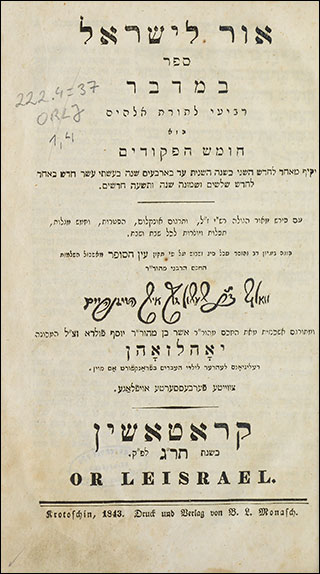 There are annotations to individual pages of this facsimile. Individual pages with annotations are marked in "Overview" with the symbol .
Content