Hochfürstlich-Fürstenbergischer Staats- und Addresse-Kalender: auf d. Jahr ...
Donaueschingen, 1796 - 1806 nachgewiesen [ISSN 2702-3303] [VD18 90310845]
[kein Nachweis weiterer Bde. laut ZDB]
Citation link: https://digi.ub.uni-heidelberg.de/diglit/hochfuerstlich_fuerstenbergischer_staats_addresse_kalender
URN: urn:nbn:de:bsz:16-diglit-235274
DOI: https://doi.org/10.11588/diglit.23527
Metadata: METS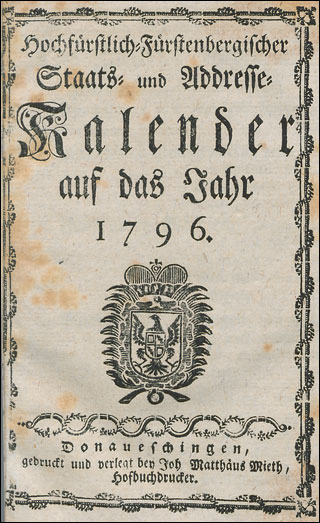 There are annotations to this facsimile. Individual pages with annotations are marked in "Overview" with the symbol .
All related items