Manuel De L'Amateur D'Estampes, Faisant Suite Au Manuel Du Libraire: Et Dans Lequel On Trouvera, Depuis L'Origine De La Gravure: 1°. Les remarques qui déterminent le mérite et le priorité des épreuves; 2°. Les caractères auxquels on distingue les originaux d'avec les copies; 3°. Les prix que les pièces capitales peuvent conserver dans le commerce, en raison de leur rareté et de l'opinion des Amateurs; 4°. Des tableaux séculaires offrant les artistes contemporains sur des lignes annuelles et à toutes les époques désiderables. Le tout precede d'un essai sur le Génie, ...
A Paris
Citation link: https://digi.ub.uni-heidelberg.de/diglit/joubert1821ga
URN: urn:nbn:de:bsz:16-diglit-446593
Metadata: METS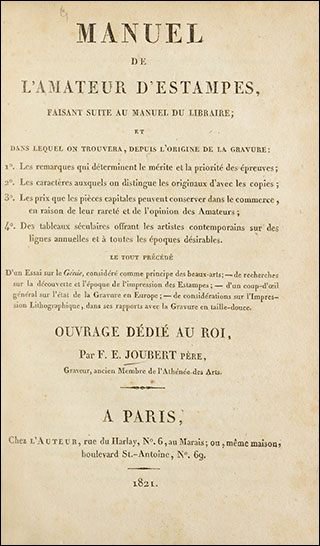 There are annotations to this facsimile. Individual pages with annotations are marked in "Overview" with the symbol .
All related volumes