Griechische und Römische Alterthümer: welche der berühmte P. Montfaucon ehemals samt den dazu gehörigen Supplementen in zehen Bänden in Folio, an das Licht gestellet hat, ...
Nürnberg, 1757
Erste deutsche Ausgabe, eine Zusammenfassung der erstmals 1718 bis 1724 in 5 Bänden und 5 Supplement-Bänden erschienenen Antiquité expliquee. Mit dem Kupfertitel der gleichzeitig erschienen lateinischen Ausgabe
(Antiqvitates Graecae et Romanae)
. Die 150 Kupfertafeln zeigen antike Skulpturen, Münzen und Medaillen, Gebrauchsgegenstände, Schmuck, Musikinstrumente, Waffen u.v.m.
Citation link: https://digi.ub.uni-heidelberg.de/diglit/montfaucon1757
URN: urn:nbn:de:bsz:16-diglit-8978
DOI: https://doi.org/10.11588/diglit.897
Metadata: METS
IIIF Manifest: https://digi.ub.uni-heidelberg.de/diglit/iiif/montfaucon1757/manifest.json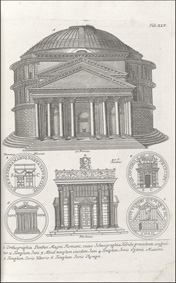 There are annotations to this facsimile. Individual pages with annotations are marked in "Overview" with the symbol .
Content