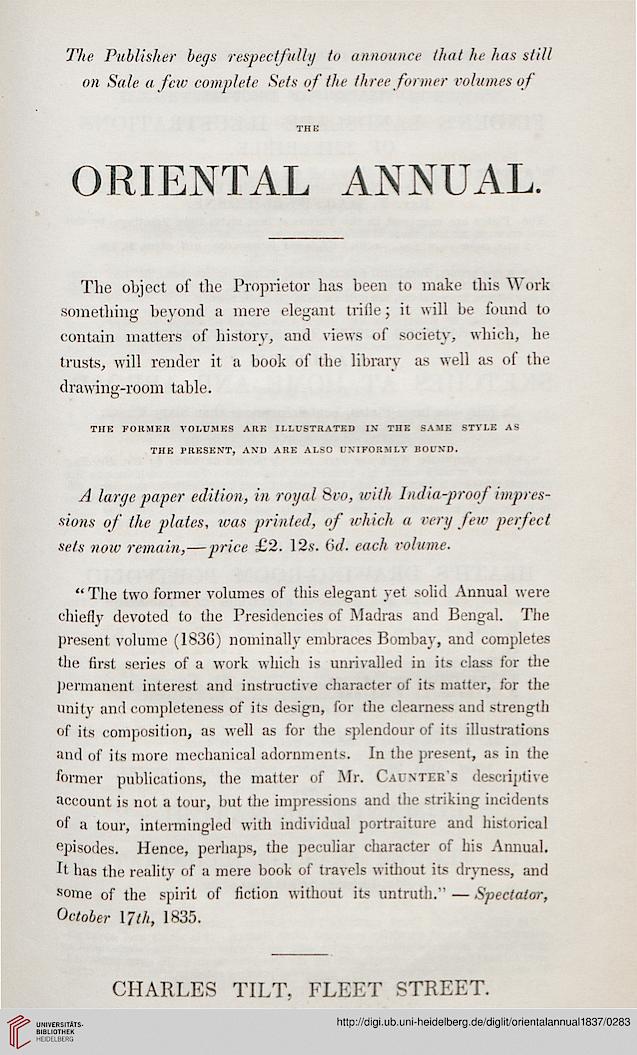 on Sale a few complete Sets o f the three former volumes of

THB

ORIENTAL ANNUAL.

The object of the Proprietor has been to make this Work
something beyond a mere elegant trifle; it will be found to
contain matters of history, and views of society, which, he
trusts, will render it ■ book of the library as well as of the
drawing-room table.

THB POKMER VOLUMES ARE ILLUSTRATED IN THE SAME STYLE AS
THE PRESENT, AND ARE ALSO UNIFORMLT BOUND.

A large paper edition, in royal Svo, with India-proo f impres-
sions of the plates, was printed, of which a eery few perfect
sets now remain,—price £2. 12s. (id. each volume.

" The two former volumes of this elegant yet .solid Annual were
chiefly devoted to the Presidencies of Madras and Bengal. The
present volume (183G) nominally embraces Bombay, and completes
the first series of a work which is unrivalled in its class for the
permanent interest and instructive character of its matter, for the
Unity and completeness of its design, for the clearness and strength
of its composition, as well as for the splendour of its illustrations
and of its more mechanical adornments. In the present, as in the
former publications, the matter of Mr. Caunter's descriptive
account is not a tour, but the impressions and the striking incidents
of a tour, intermingled with individual portraiture and historical
episodes. Hence, perhaps, the peculiar character of his Annual.
It has the reality of a mere book of travels without its dryness, and
some of the spirit of fiction without its untruth." — Spectator,
October 17 th, 1835.

CHARLES TILT, FLEET STREET.