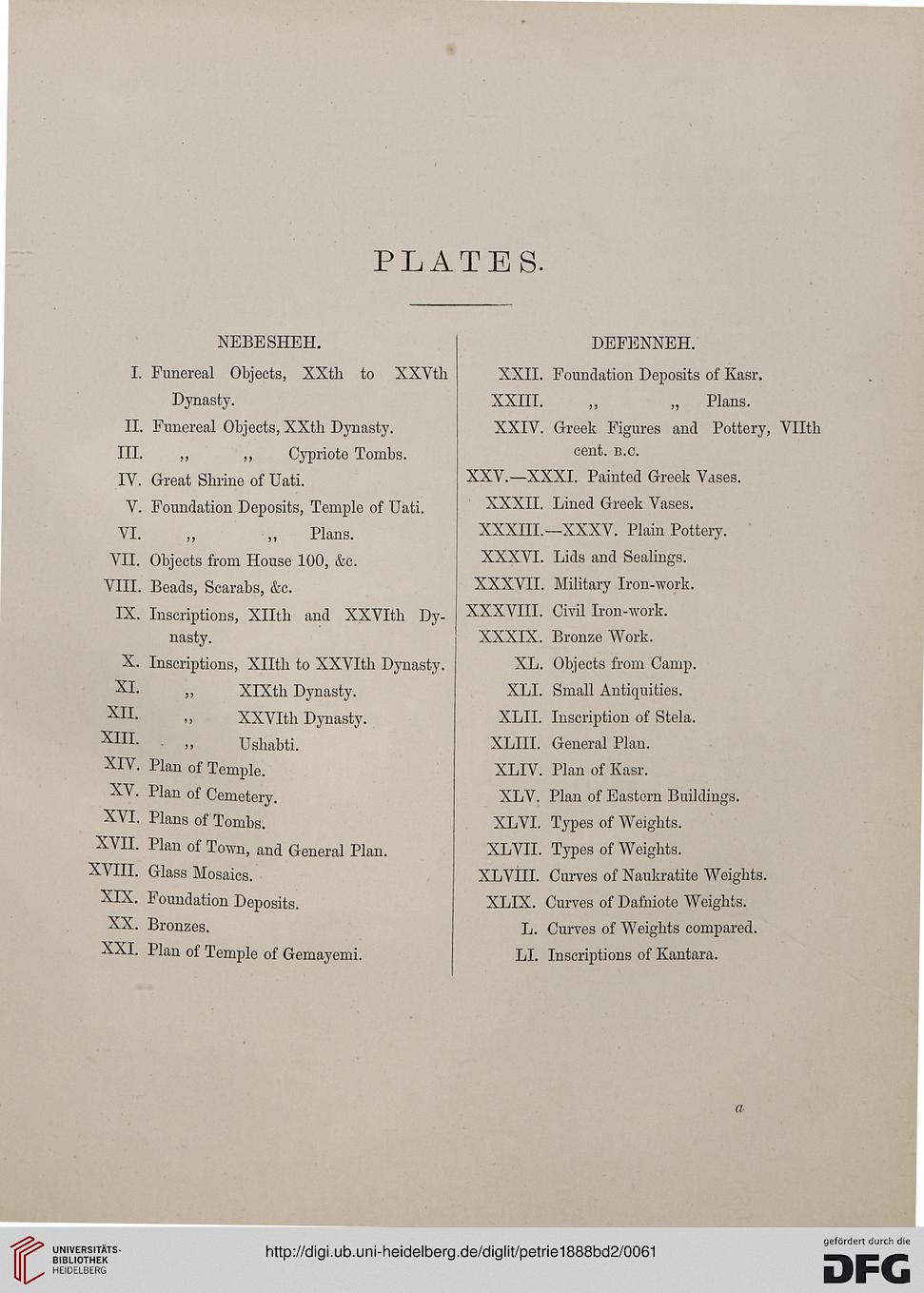 ii.

in.

IV.

v.

VI.

VII.

VIII.

IX.

X.

XI.

XII.

XIII.

XIV.

XV.

XVI.

XVII.

XVIII.

XIX.

XX.

XXI.

NEBESHEH.

Funereal Objects, XXth to XXVth

Dynasty.

Funereal Objects, XXtb Dynasty.

,, ,, Cypriote Tombs.

Great Sbrine of Uati.

Foundation Deposits, Temple of Uati.

,, ,, Plans.

Objects from House 100, &c.

Beads, Scarabs, &c.

Inscriptions, XHth and XXVIth Dy-
nasty.

Inscriptions, Xlltb to XXVItb Dynasty.

XlXth Dynasty.

XXVIth Dynasty.
>> Ushabti.

Plan of Temple.
Plan of Cemetery.
Plans of Tombs.

Plan of Town, and General Plan.
Glass Mosaics.
Foundation Deposits.
Bronzes.
Plan of Temple of Gemayemi.

DEFENNEH.

XXII. Foundation Deposits of Kasr.

XXIII. " " Plans.

XXIV. Greek Figures and Pottery, VHth

cent. b.c.

XXV.—XXXI. Painted Greek Vases.
XXXII. Lined Greek Vases.
XXXIII. — XXXV. Plain Pottery.
XXXVI. Lids and Sealings.
XXXVII. Military Iron-work.
XXXVIII. Civil Iron-work.
XXXIX. Bronze Work.

XL. Objects from Camp.
XLI. Small Antiquities.
XLIL Inscription of Stela.
XLIII. General Plan.
XLIV. Plan of Kasr.
XLV. Plan of Eastern Buildings.
XLVI. Types of Weights.
XLVII. Types of Weights.
XLVIII. Curves of Naukratite Weights.
XLIX. Curves of Dafniote Weights.
L. Curves of Weights compared.
LI. Inscriptions of Kantara.