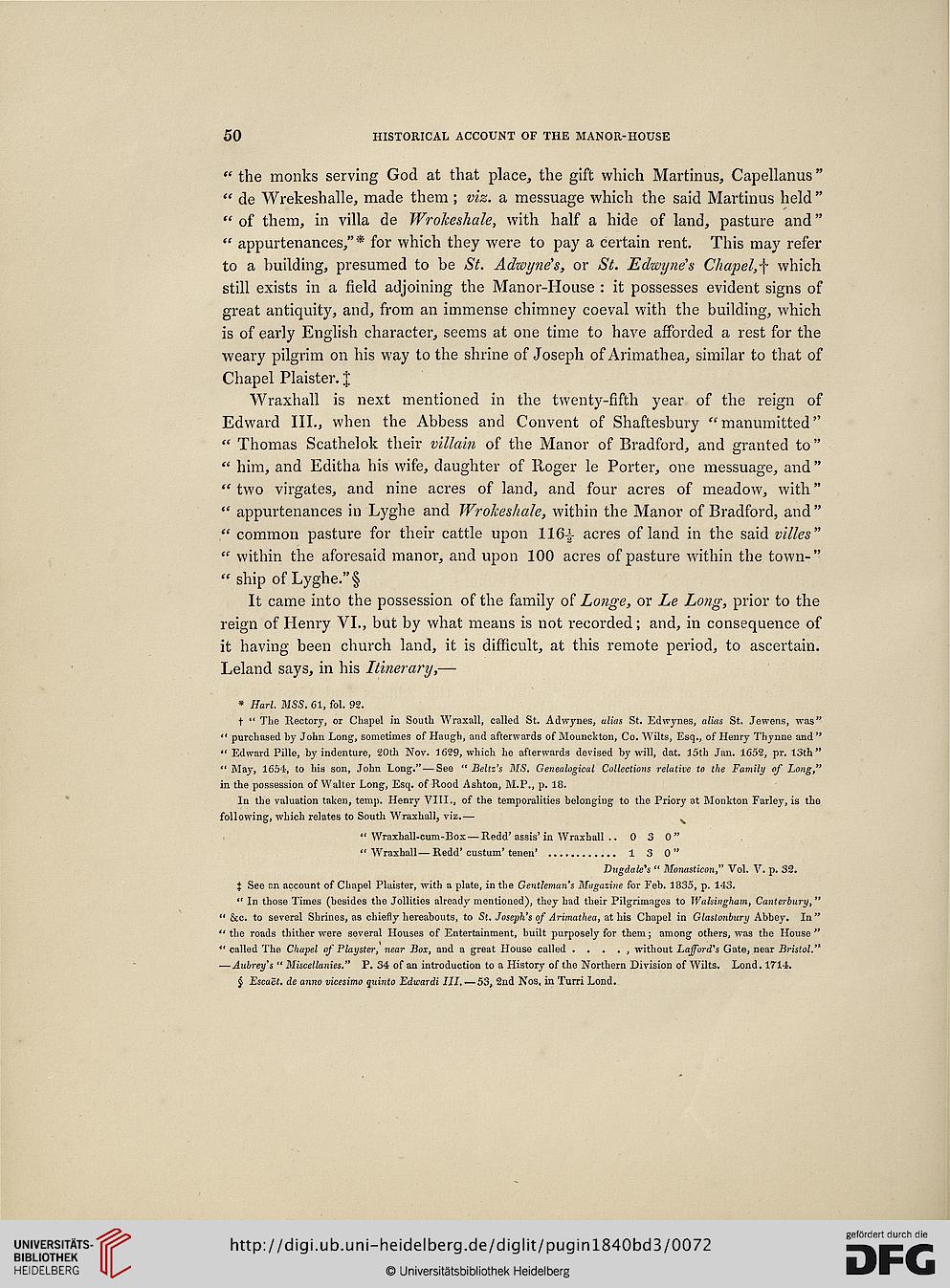 HISTORICAL ACCOUNT OF THE MANOR-HOUSE

" the monks serving God at that place, the gift which Martinus, Capellanus "
" de Wrekeshalle, made them ; viz. a messuage which the said Martinus held "
" of them, in villa de Wrokeshale, with half a hide of land, pasture and"
" appurtenances/'* * * § for which they were to pay a certain rent. This may refer
to a building, presumed to be St. Adwynes, or St. Edwyne's Chapel/\ which
still exists in a field adjoining the Manor-House : it possesses evident signs of
great antiquity, and, from an immense chimney coeval with the building, which
is of early English character, seems at one time to have afforded a rest for the
weary pilgrim on his way to the shrine of Joseph of Arimathea, similar to that of
Chapel Plaister. J

Wraxhall is next mentioned in the twenty-fifth year of the reign of
Edward III., when the Abbess and Convent of Shaftesbury "manumitted"
" Thomas Scathelok tlieir villain of the Manor of Bradford, and granted to"
" him, and Editha his wife, daughter of Roger le Porter, one messuage, and"
" two virgates, and nine acres of land, and four acres of meadow, with "
" appurtenances in Lyghe and Wrokeshale, within the Manor of Bradford, and "
" common pasture for their cattle upon 116£ acres of land in the said villes"
" within the aforesaid manor, and upon 100 acres of pasture within the town-"
" ship of Lyghe." §

It came into the possession of the family of Longe, or Le Long, prior to the
reign of Henry VI., but by what means is not recorded; and, in consequence of
it having been church land, it is difficult, at this remote period, to ascertain.
Leland says, in his Itinerary,—

* Harl. MSS. 61, fol. 92.

t " Tlie Rectory, or Chapel in South Wraxall, called St. Adw) rnes, alias St. Edwynes, alias St. Jewens, was"
" purchased hy John Long, sometimes of Haugh, and afterwards of Mounckton, Co. Wilts, Esq., of Ileury Thynne and"
" Edward Pille, by indenture, 20th Nov. 1629, wliich he afterwards devised by will, dat. 15th Jan. 1652, pr. 13th"
" May, 1654, to his son, John Long." — See " Beltz's MS. Genealogical Collections relative to the Family of Long,"
in the possession of Walter Long, Esq. of Rood Ashton, M.P., p. 18.

In the valuation taken, temp. Ilenry VIII., of the temporalities belonging to the Priory at Monkton Farley, is the
following, which relates to South Wraxhall, viz.—

" Wraxhall-cum-Box — Redd'assis'in Wraxhall .. 0 3 0"

" Wraxhall—Redd'custum'tenen' . 1 3 0"

Bugdale's " Monasticon," Vol. V. p. 32.

J See an account of Chapel Plaister, with a plate, inthe Gentleman's Magazine for Feb. 1835, p. 143.

" In those Times (besides the Jollities alreadv mentioned), they had their Pilgrimages to Walsingham, Canterbury,"
" &c. to several Shrines, as chiefly hereabouts, to St. Joseph's of Arimathea, at his Chapel in Glastonbury Abbev. In"
" the roads thither were several Houses of Entertainment, built purposely for them; among others, was the House "
" called The Chapel of Playster,' near Box, and a great House called . ... , without Lafford's Gate, near Bristol."

— Aubrey's " Miscellanies." P. 34 of an introduction to a History of the Northern Division of Wilts. Lond. 1714.

§ Escaet. de anno vicesimo quinto Edwardi III. — 53, 2nd Nos, in Turri Lond.