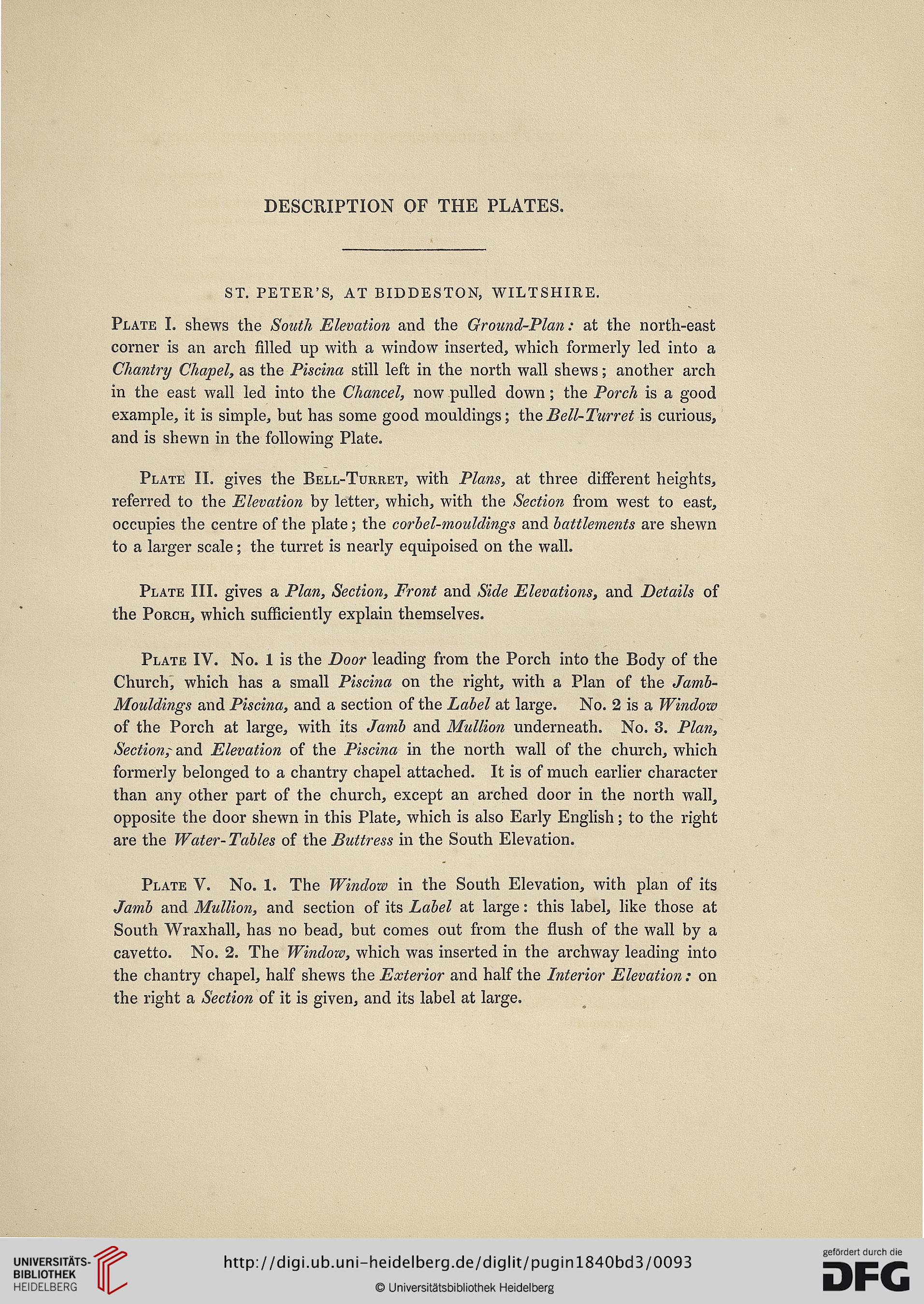 DESCRIPTION OF THE PLATES.

ST. PETER'S, AT BIDDESTON, WILTSHIRE.

Plate I. shews the South Elevcition and the Ground-Plan: at the north-east
corner is an arch filled up with a window inserted, which formerly led into a
Chantry Chapel, as the Piscina still left in the north wall shews; another arch
in the east wall led into the Chancel, now pulled down; the Porch is a good
example, it is simple, but has some good mouldings; the Bell-Turret is curious,
and is shewn in the following Plate.

Plate II. gives the Bell-Turret, with Plans, at three different heights,
referred to the Elevation by letter, which, with the Section from west to east,
occupies the centre of the plate; the corbel-mouldings and battlements are shewn
to a larger scale; the turret is nearly equipoised on the wall.

Plate III. gives a Plan, Section, Front and Side Elevations, and Details of
the Porch, which sufficiently explain themselves.

Plate IV. No. 1 is the Door leading from the Porch into the Body of the
Church, which has a small Piscina on the right, with a Plan of the Jarnb-
Mouldings and Piscina, and a section of the Label at large. No. 2 is a Window
of the Porch at large, with its Jamb and Mullion underneath. No. 3. Plan,
Section,' and Elevation of the Piscina in the north wall of the church, which
formerly belonged to a chantry chapel attached. It is of much earlier character
than any other part of the church, except an arched door in the north wall,
opposite the door shewn in this Plate, which is also Early English; to the right
are the Wciter-Tcibles of the Buttress in the South Elevation.

Plate V. No. 1. The Window in the South Elevation, with plan of its
Jarnb and Mullion, and section of its Label at large: this label, like those at
South Wraxhall, has no bead, but comes out from the flush of the wall by a
cavetto. No. 2. The Window, which was inserted in the archway leading into
the chantry chapel, half shews the Exterior and half the Interior Elevcition: on
the right a Section of it is given, and its label at large.