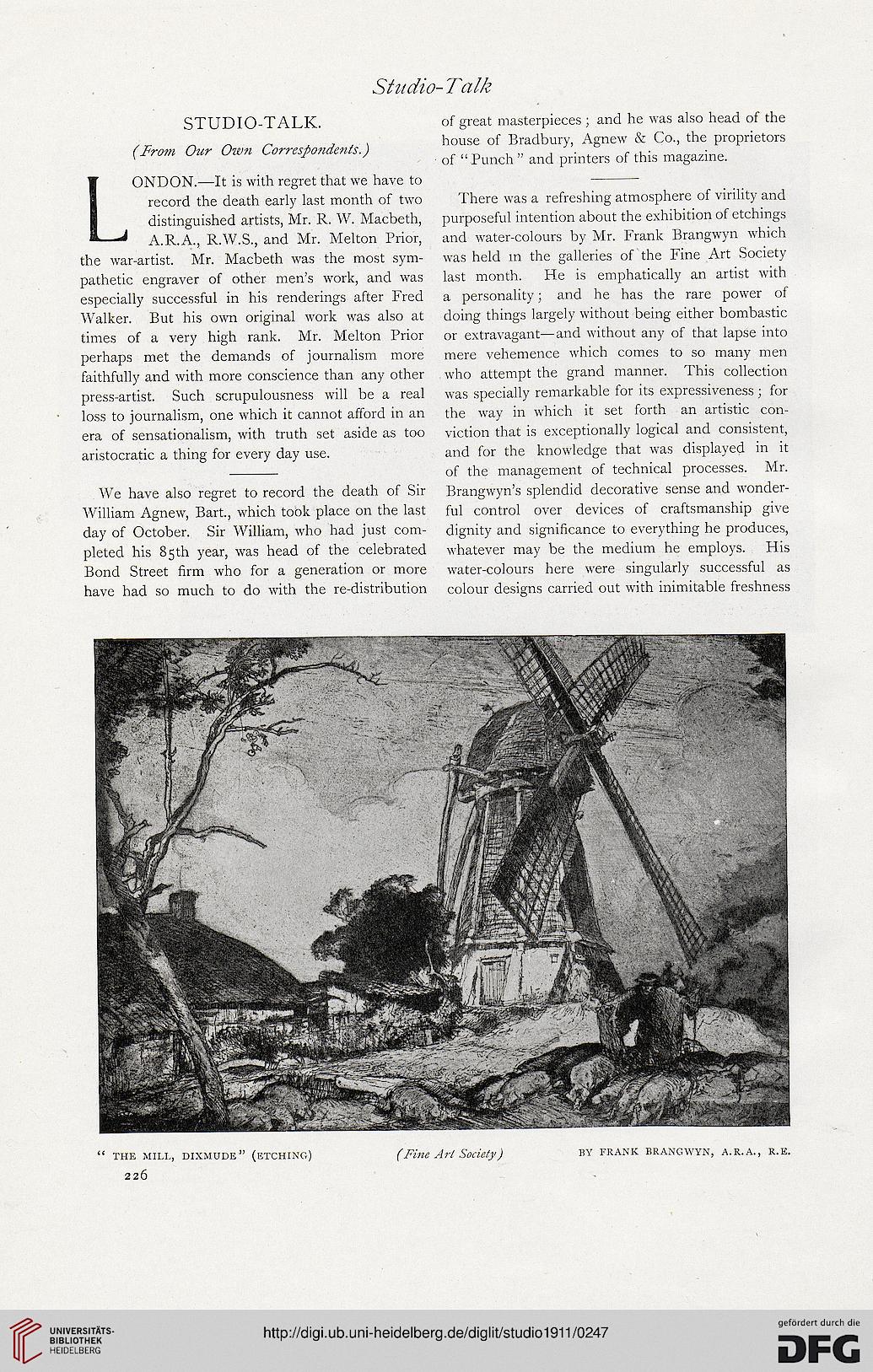 STUDIO-TALK.

(From Our Own Correspondents.)

LONDON.—It is with regret that we have to
record the death early last month of two
distinguished artists, Mr. R. W. Macbeth,
A.R.A., R.W.S., and Mr. Melton Prior,
the war-artist. Mr. Macbeth was the most sym-
pathetic engraver of other men's work, and was
especially successful in his renderings after Fred
Walker. But his own original work was also at
times of a very high rank. Mr. Melton Prior
perhaps met the demands of journalism more
faithfully and with more conscience than any other
press-artist. Such scrupulousness will be a real
loss to journalism, one which it cannot afford in an
era of sensationalism, with truth set aside as too
aristocratic a thing for every day use.

We have also regret to record the death of Sir
William Agnew, Bart., which took place on the last
day of October. Sir William, who had just com-
pleted his 85 th year, was head of the celebrated
Bond Street firm who for a generation or more
have had so much to do with the re-distribution

of great masterpieces ; and he was also head of the
house of Bradbury, Agnew & Co., the proprietors
of " Punch " and printers of this magazine.

There was a refreshing atmosphere of virility and
purposeful intention about the exhibition of etchings
and water-colours by Mr. Frank Brangwyn which
was held in the galleries of the Fine Art Society
last month. He is emphatically an artist with
a personality; and he has the rare power of
doing things largely without being either bombastic
or extravagant—and without any of that lapse into
mere vehemence which comes to so many men
who attempt the grand manner. This collection
was specially remarkable for its expressiveness; for
the way in which it set forth an artistic con-
viction that is exceptionally logical and consistent,
and for the knowledge that was displayed in it
of the management of technical processes. Mr.
Brangwyn's splendid decorative sense and wonder-
ful control over devices of craftsmanship give
dignity and significance to everything he produces,
whatever may be the medium he employs. His
water-colours here were singularly successful as
colour designs carried out with inimitable freshness

THE MILL, DIXMUDE" (ETCHING)

226

(Fine Art Society)

BY FRANK BRANGWYN, A.R.A., R.E.