Universitätsarchiv Heidelberg, XII,1 Nr. 63/2
[Dreisen], 1623 November 11, Ausfertigung
Der Schultheiß Hanß Emmich und das Gericht zu Münsterdreisen beurkunden, dass Clauß Heylman gemeinsam mit seiner Ehefrau Barbara vor ihnen erschienen ist und diese erläutert haben, dass sie sich von Johann Schick, Kollektor zu Zell, und seiner Ehefrau Margretha einen Betrag von 100 Gulden geliehen haben. Sie versprechen die Schuld durch eine jährliche Zahlung von 5 Gulden abzuleisten und setzen einige Güter als Unterpfänder ein. So geben und geschehen vff Martini welcher war der Eylffte Novembris, nach Christi gaburt Ein Dausent Sechshundert Zwantzig Drey Iare.
Seal:
1: Gericht Dreisen, Papiersiegel, 2,5 x 2,5 cm
Watermark exists.
Material/Medium: Papier, Dimensions: 32,5 x 40,5 cm
Extent: 1 Blatt
Provenance: Erbschaft Schick; Altsignaturen: Cod. Heid. 385, 39B; No. 13
Language: German

Citation link: https://digi.ub.uni-heidelberg.de/diglit/uah_XII-1_63-2
URN: urn:nbn:de:bsz:16-diglit-455251
DOI: https://doi.org/10.11588/diglit.45525
Metadata: METS
IIIF Manifest: v2.1, v3.0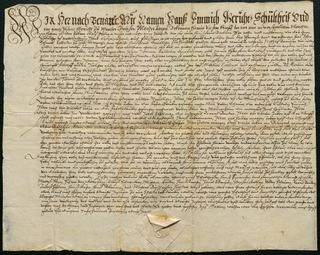 There are annotations to individual pages of this facsimile. Individual pages with annotations are marked in "Overview" with the symbol .
Content