Universitätsarchiv Heidelberg, XII,1 Nr. 78/4b
Heidelberg, 1653 März 30, Abschrift
Christian Brinck, Syndikus und Notar der Universität Heidelberg, bekennt, dass Philipp Steffan Klaffschenckel seine Bestätigung als Nachlassverwalter des verstorbenen Johann Wendel Gödelman, das Testament Gödelmanns und seiner Ehefrau Anna Maria samt der Testamentszettel, einen Gültbrief, gerichtet an die Gemeinde Bellheim, das der Universität Heidelberg vermachte Kapital betreffend und einen von ihm und Hanß Michel Ercznagel, ebenfalls Nachlassverwalter, unterschriebenen Übergabeschein der Universität abgeliefert hat. Geschehen Heydelberg Mittwochs den 30ten Marty 1653. [vgl.
XII,1 Nr. 78/3
]
Watermark exists.
Material/Medium: Papier, Dimensions: 20 x 31,5 cm
Extent: 2 Blätter
Provenance: Universität Heidelberg; Altsignaturen: Cod.Heid.385.41.F.
Language: German

Citation link: https://digi.ub.uni-heidelberg.de/diglit/uah_XII-1_78-4b
URN: urn:nbn:de:bsz:16-diglit-455410
DOI: https://doi.org/10.11588/diglit.45541
Metadata: METS
IIIF Manifest: v2.1, v3.0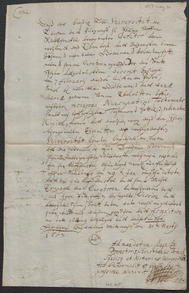 There are annotations to individual pages of this facsimile. Individual pages with annotations are marked in "Overview" with the symbol .
Content