Universitätsarchiv Heidelberg, XII,2 Nr. 905
[Zell an der Pfrimm], 1577 Juni 2, Ausfertigung
Fritz Müller, wohnhaft zu Harxheim, und seine Ehefrau Margreth verkaufen dem Inhaber des Stifts Zell eine jährlich zu entrichtende Gülte von 1 1/4 Gulden um 25 Gulden. Als Sicherheit stellen die Eheleute verschiedene Güter als Unterpfänder. Sollten sie mit der Zahlung der Gülte säumig sein, kann der Käufer die Unterpfänder einziehen. Ferner gestattet der Käufer den Verkäufern das Rückkaufsrecht. So geben vnd geschehen den andren tag des monats Iunii, Als man zahlt nach der geburt vnsers einigen erlösers vnd seeligmachers Iesu Christi. Tausent, funffhundert, siebentzig vnd sieben Iar.
Description: Stockflecken
Seal:
1: Gericht Zell, Wachssiegel, 3 x 3 cm
Material/Medium: Pergament, Dimensions: 22 x 40,6 cm
Extent: 1 Blatt
Provenance: Kollektur Zell; Altsignaturen: Schr.III, P.37, Nr.17; No.1.; No.25.
Language: German

Citation link: https://digi.ub.uni-heidelberg.de/diglit/uah_XII-2_905
URN: urn:nbn:de:bsz:16-diglit-464771
DOI: https://doi.org/10.11588/diglit.46477
Metadata: METS
IIIF Manifest: v2.1, v3.0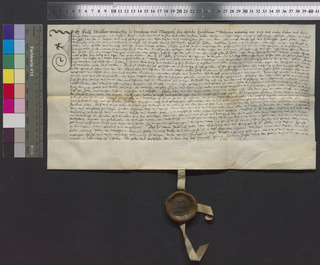 There are annotations to individual pages of this facsimile. Individual pages with annotations are marked in "Overview" with the symbol .
Content