Universitätsarchiv Heidelberg, XII,2 Nr. 913
[Dannstadt], 1578 April 23, Ausfertigung
Der Schultheiß Hans Bawer und die Gerichtsschöffen zu Dannstadt beurkunden, dass Iorg Weinheimer und seine Ehefrau Margretha, wohnhaft zu Dannstadt, dem David Engel, Schaffner des Klosters Lambrecht, eine jährliche Gülte von 2 Gulden um 40 Gulden verkauft haben. Sie setzen einige Güter in Dannstadter Gemarkung als Unterpfänder ein. Mit einer einmaligen Zahlung von 40 Gulden kann die Gülte ausgelöst werden. Geben vnnd Geschehen vff Georgii des heilgen Rietters tag alß man zalt nach vnsers Lieben vnnd Einigen seligmachers gepurt Funffzehenhundert, siebentzig, vnnd acht Iare.
Seal:
1: Gericht Dannstadt, Wachssiegel, 2,5 x 2,5 cm
References: Drechsel/Fouquet, Dannstadt, 1989, S. 236, Anm. 114, S. 334, Anm. 38.
Material/Medium: Pergament, Dimensions: 17,5 x 39,5 cm
Extent: 1 Blatt
Provenance: Schaffnei Lambrecht; Altsignaturen: Schr.III, P.38, Nr.3; SL.N.93 ; No.7 ; N.18 ; N.7
Language: German

Citation link: https://digi.ub.uni-heidelberg.de/diglit/uah_XII-2_913
URN: urn:nbn:de:bsz:16-diglit-464878
DOI: https://doi.org/10.11588/diglit.46487
Metadata: METS
IIIF Manifest: v2.1, v3.0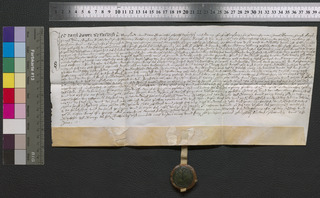 There are annotations to individual pages of this facsimile. Individual pages with annotations are marked in "Overview" with the symbol .
Content