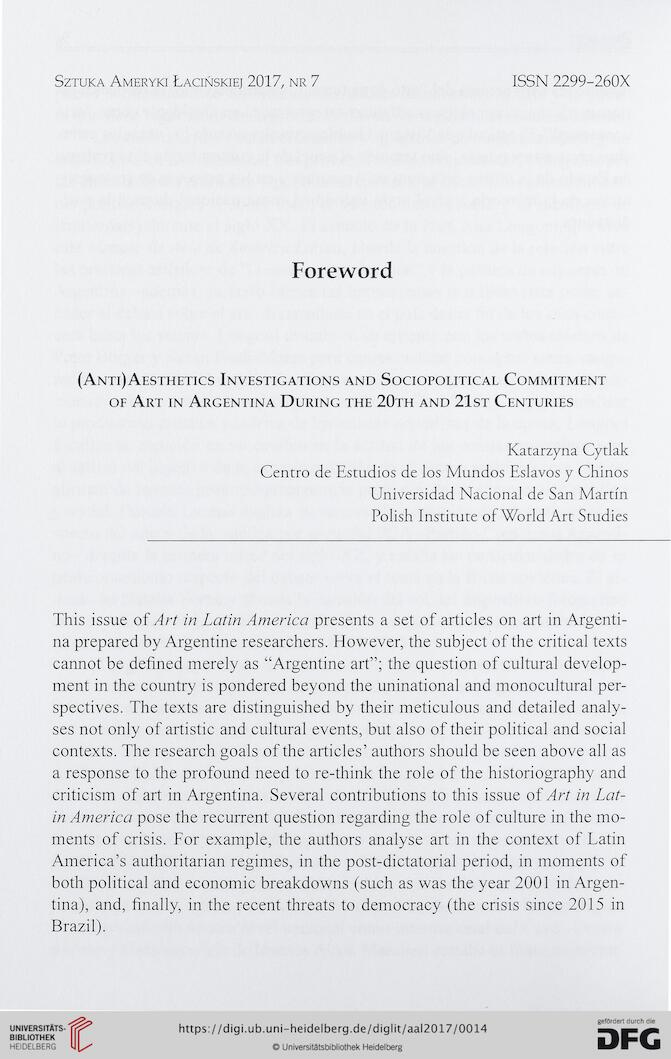 ISSN 2299-260X

Foreword

(Anti)Aesthetics Investigations and Sociopolitical Commitment
of Art in Argentina During the 20th and 21st Centuries
Katarzyna Cytlak
Centro de Estudios de los Mundos Eslavos y Chinos
Universidad Nacional de San Martin
Polish Institute of World Art Studies

This issue of Art in Latin America presents a set of articles on art in Argenti-
na prepared by Argentine researchers. However, the subject of the critical texts
cannot be defined merely as "Argentine art"; the question of cultural develop-
ment in the country is pondered beyond the uninational and monocultural per-
spectives. The texts are distinguished by their meticulous and detailed analy-
ses not only of artistic and cultural events, but also of their political and social
contexts. The research goals of the articles' authors should be seen above all as
a response to the profound need to re-think the role of the historiography and
criticism of art in Argentina. Several contributions to this issue of Art in Lat-
in America pose the recurrent question regarding the role of culture in the mo-
ments of crisis. For example, the authors analyse art in the context of Latin
America's authoritarian regimes, in the post-dictatorial period, in moments of
both political and economic breakdowns (such as was the year 2001 in Argen-
tina), and, finally, in the recent threats to democracy (the crisis since 2015 in
Brazil).