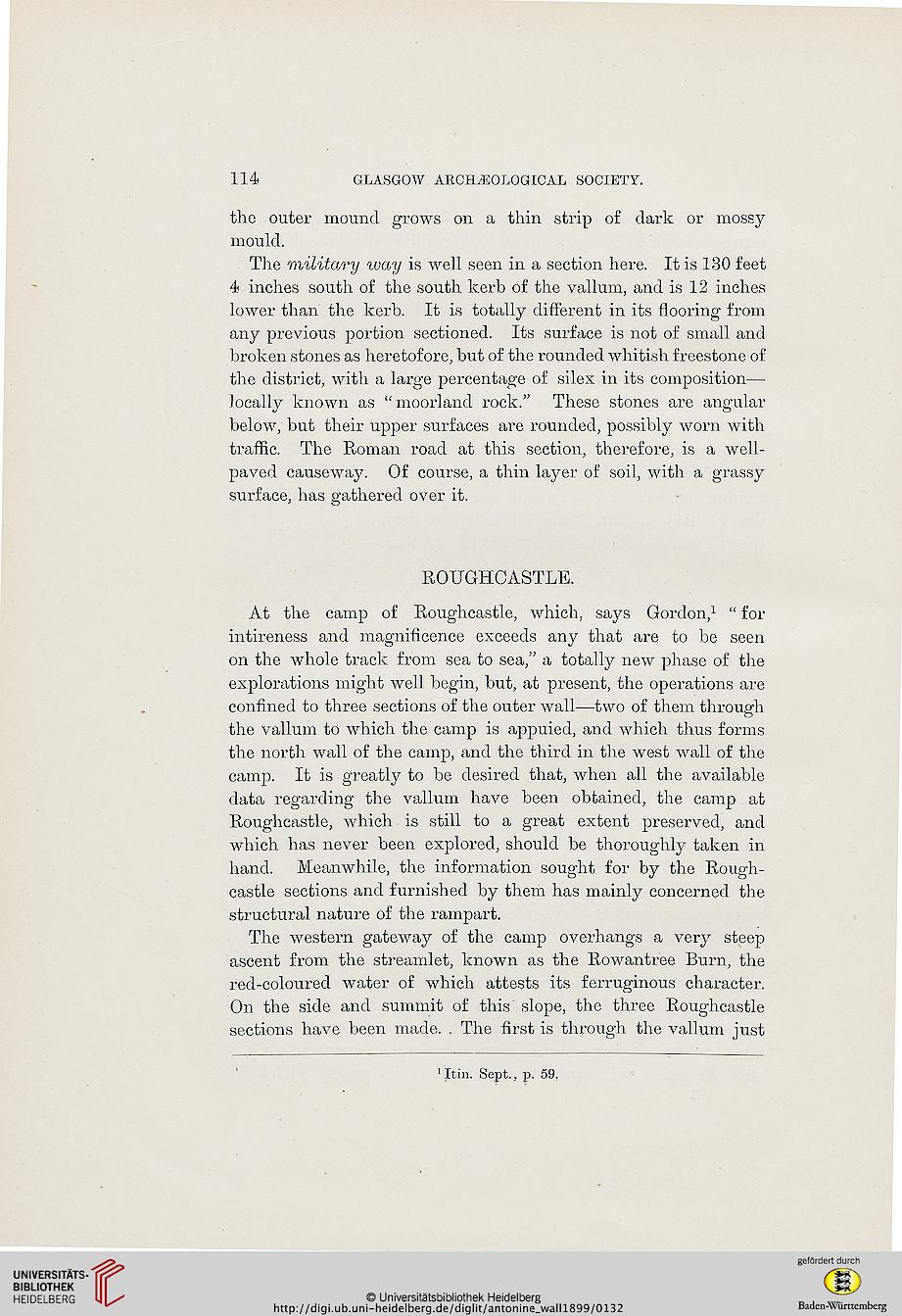 GLASGOW ARCHAEOLOGICAL SOCIETY.

the outer mound grows on a thin strip of dark or mossy
mould.

The military way is well seen in a section here. It is 130 feet
4 inches south of the south kerb of the vallum, and is 12 inches
lower than the kerb. It is totally different in its flooring from
any previous portion sectioned. Its surface is not of small and
broken stones as heretofore, but of the rounded whitish freestone of
the district, with a large percentage of silex in its composition—
locally known as "moorland rock." These stones are angular
below, but their upper surfaces are rounded, possibly worn with
traffic. The Roman road at this section, therefore, is a well-
paved causeway. Of course, a thin layer of soil, with a grassy
surface, has gathered over it.

ROUGHCASTLE.

At the camp of Roughcastle, which, says Gordon,1 " for
intireness and magnificence exceeds any that are to be seen
on the whole track from sea to sea," a totally new phase of the
explorations might well begin, but, at present, the operations are
confined to three sections of the outer wall—two of them through
the vallum to which the camp is appuied, and which thus forms
the north wall of the camp, and the third in the west wall of the
camp. It is greatly to be desired that, when all the available
data regarding the vallum have been obtained, the camp at
Roughcastle, which is still to a great extent preserved, and
which has never been explored, should be thoroughly taken in
hand. Meanwhile, the information sought for by the Rough-
castle sections and furnished by them has mainly concerned the
structural nature of the rampart.

The western gateway of the camp overhangs a very steep
ascent from the streamlet, known as the Rowantree Burn, the
red-coloured water of which attests its ferruginous character.
On the side and summit of this slope, the three Roughcastle
sections have been made. . The first is through the vallum just

1 Itin. Sept., p. 59.