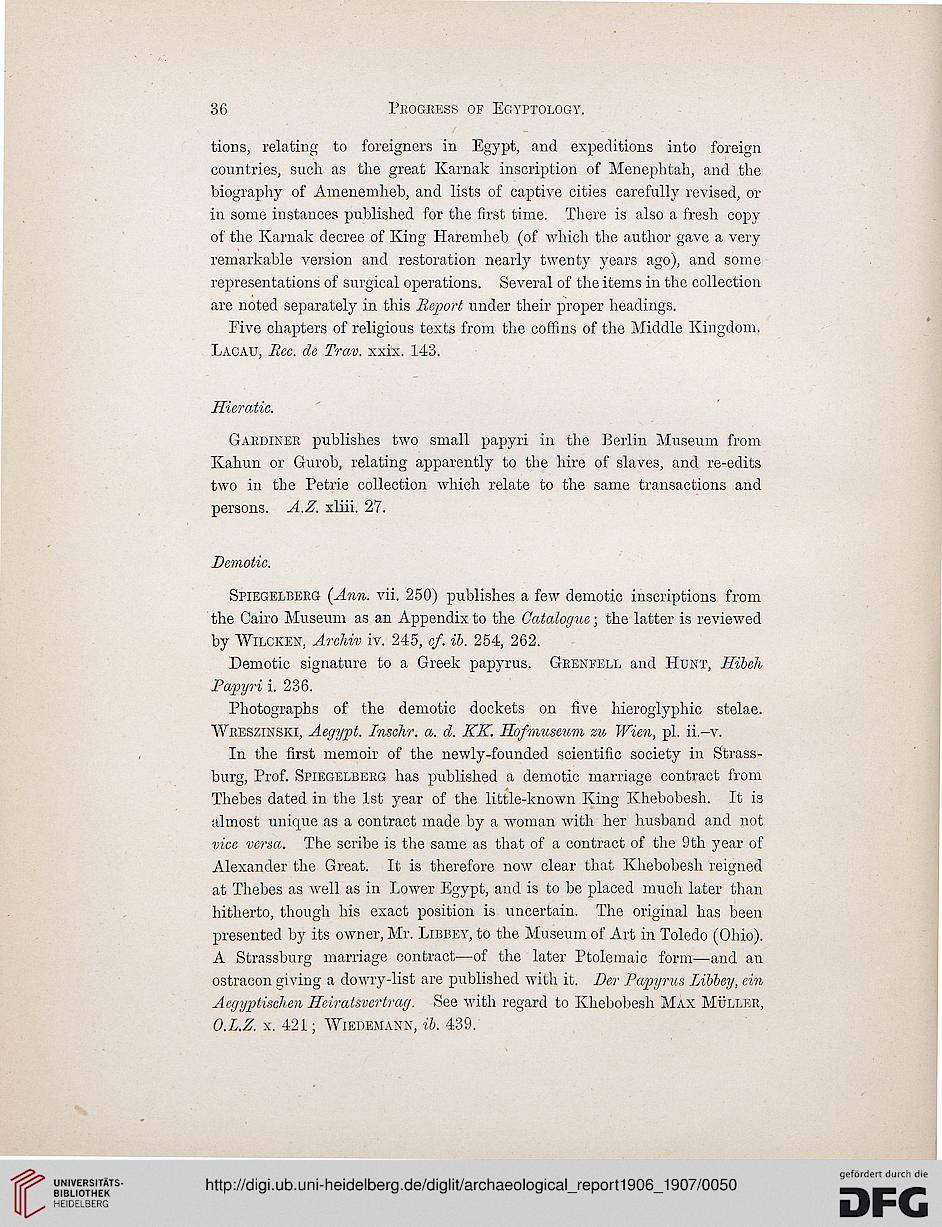 Progress of Egyptology.

tions, relating to foreigners in Egypt, and expeditions into foreign
countries, such as the great Karnak inscription of Menephtah, and the
biography of Amenemheb, and lists of captive cities carefully revised, or
in some instances published for the first time. There is also a fresh copy
of the Karnak decree of King Haremheb (of which the author gave a very
remarkable version and restoration nearly twenty years ago), and some
representations of surgical operations. Several of the items in the collection
are noted separately in this Report under their proper headings.

Eive chapters of religious texts from the coffins of the Middle Kingdom.
Lacau, Bee. do Trav. xxix. 143.

Hieratic.

Gardiner publishes two small papyri in the Berlin Museum from
Kahun or Gurob, relating apparently to the hire of slaves, and re-edits
two in the Petrie collection which relate to the same transactions and
persons. A.Z. xliii. 27.

Demotic.

Spiegelberg (Ann. vii. 250) publishes a few demotic inscriptions from
the Cairo Museum as an Appendix to the Catalogue; the latter is reviewed
by Wilcken, Archiv iv. 245, cf. ib. 254, 262.

Demotic signature to a Greek papyrus. Grenfell and Hunt, Hibeh
Papyri i. 236.

Photographs of the demotic dockets on five hieroglyphic stelae.
Wreszinski, Aegypt. Inschr. a. d. KK. Ho/museum zu Wien, pi. ii.-v.

In the first memoir of the newly-founded scientific society in Strass-
burg, Prof. Spiegelberg has published a demotic marriage contract from
Thebes dated in the 1st year of the little-known King Khebobesh. It is
almost unique as a contract made by a woman with her husband and not
vice versa. The scribe is the same as that of a contract of the 9th year of
Alexander the Great. It is therefore now clear that Khebobesh reigned
at Thebes as well as in Lower Egypt, and is to be placed much later than
hitherto, though his exact position is uncertain. The original has been
presented by its owner, Mr. Libbey, to the Museum of Art in Toledo (Ohio).
A Strassburg marriage contract—of the later Ptolemaic form—and an
ostracon giving a dowry-list are published with it. Der Papyrus Libbey, ein
Acgyptisclien Ilciratsvertrag. See with regard to Khebobesh Max Muller,
O.L.Z. x. 421; Wiedemann, ib. 439.