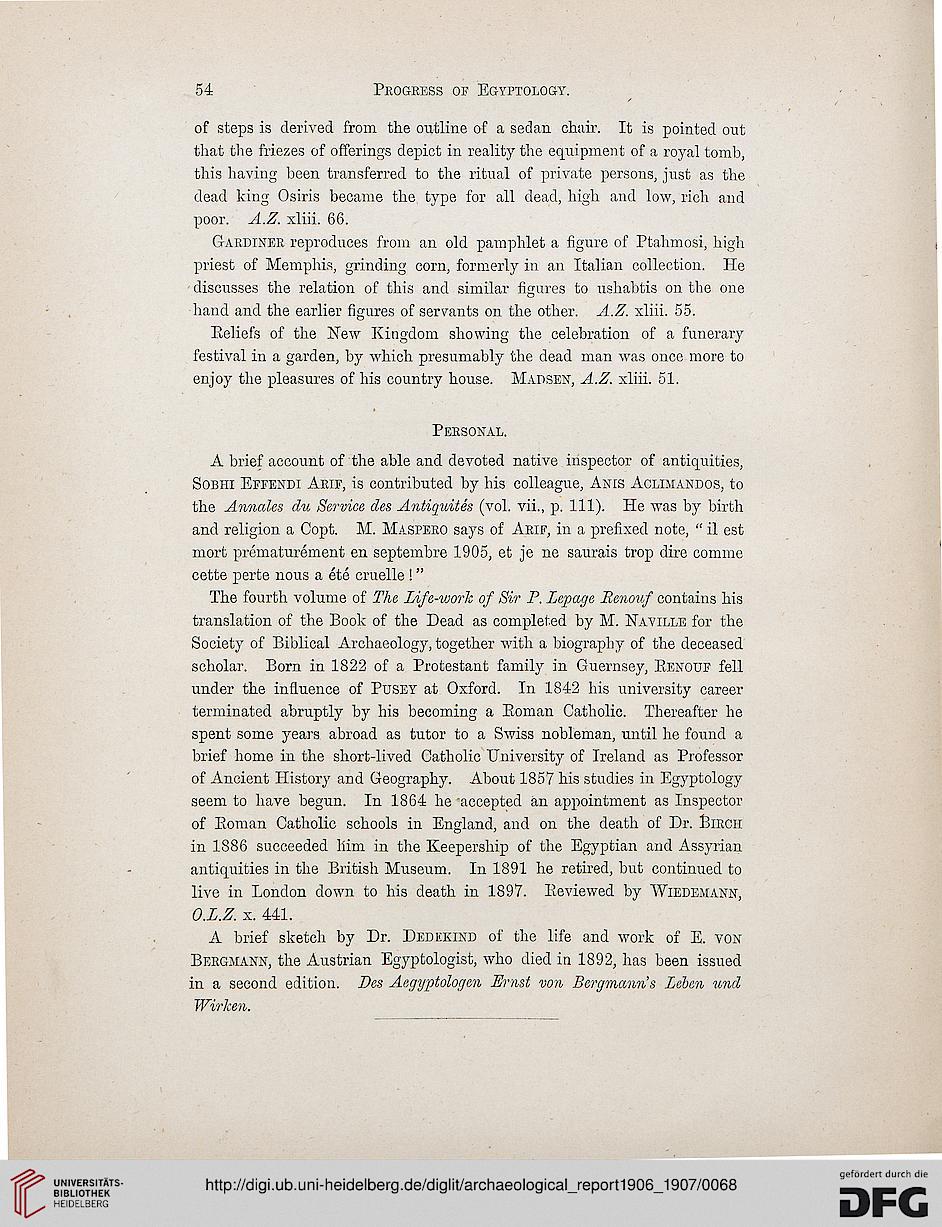 Progress of Egyptology.

of steps is derived from the outline of a sedan chair. It is pointed out
that the friezes of offerings depict in reality the equipment of a royal tomb,
this having been transferred to the ritual of private persons, just as the
dead king Osiris became the type for all dead, high and low, rich and
poor. A.Z. xliii. 66.

Gardiner reproduces from an old pamphlet a figure of Ptahmosi, high
priest of Memphis, grinding corn, formerly in an Italian collection. He
discusses the relation of this and similar figures to ushabtis on the one
hand and the earlier figures of servants on the other. A.Z. xliii. 55.

Beliefs of the iSTew Kingdom showing the celebration of a funerary
festival in a garden, by which presumably the dead man was once more to
enjoy the pleasures of his country house. Madsen, A.Z. xliii. 51.

Personal.

A brief account of the able and devoted native inspector of antiquities,
Sobhi Effendi Arif, is contributed by his colleague, Anis Aclimandos, to
the Annates du Service des Antiquites (vol. vii., p. 111). He was by birth
and religion a Copt. M. Maspero says of Arif, in a prefixed note, " il est
mort prematurement en septembre 1905, et je ne saurais trop dire comme
cette perte nous a ete cruelle !"

The fourth volume of The Life-work of Sir P. Lepage Renouf contains his
translation of the Book of the Dead as completed by M. Naville for the
Society of Biblical Archaeology, together with a biography of the deceased
scholar. Born in 1822 of a Protestant family in Guernsey, Benouf fell
under the influence of Pusey at Oxford. In 1842 his university career
terminated abruptly by his becoming a Boman Catholic. Thereafter he
spent some years abroad as tutor to a Swiss nobleman, until he found a
brief home in the short-lived Catholic University of Ireland as Professor
of Ancient History and Geography. About 1857 his studies in Egyptology
seem to have begun. In 1864 he accepted an appointment as Inspector
of Boman Catholic schools in England, and on the death of Dr. Birch
in 1886 succeeded him in the Keepership of the Egyptian and Assyrian
antiquities in the British Museum. In 1891 he retired, but continued to
live in London down to his death in 1897. Beviewed by Wiedemann,
O.L.Z. x. 441.

A brief sketch by Dr. Dedekind of the life and work of E. von
Bergmann, the Austrian Egyptologist, who died in 1892, has been issued
in a second edition. Des Aegijptologen Ernst von Bergmann's Leben und
Wirhen.