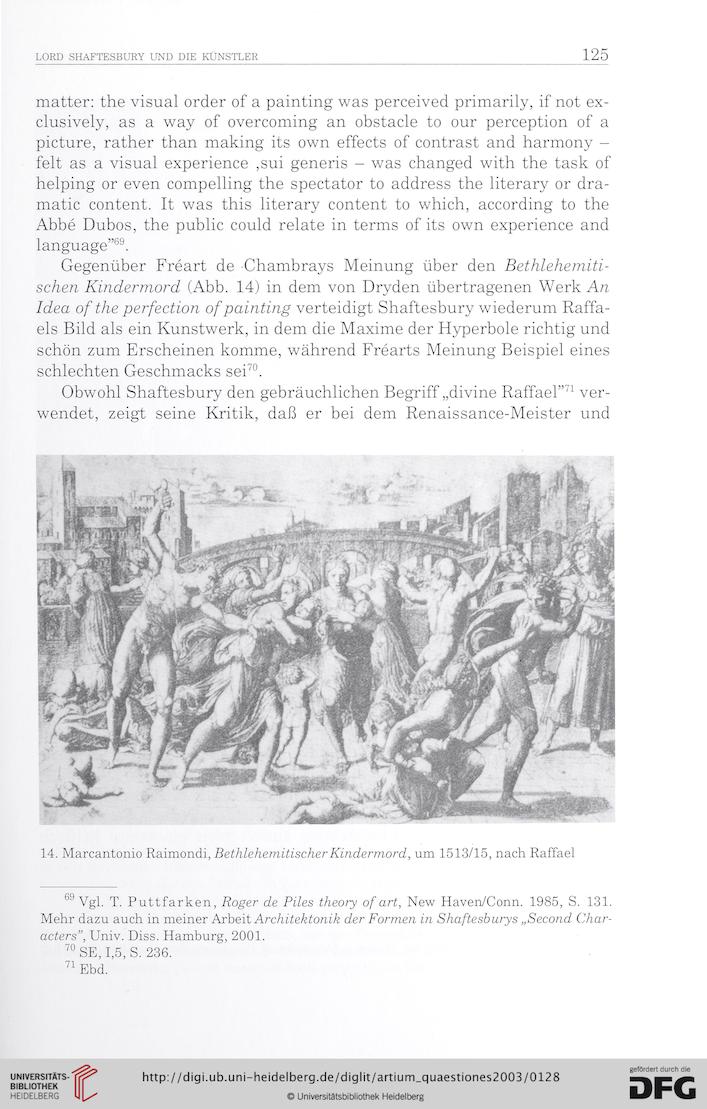 125

matter: the visual order of a painting was perceived primarily, if not ex-
clusively, as a way of overcoming an obstacle to our perception of a
picture, rather than making its own effects of contrast and harmony -
felt as a visual experience ,sui generis - was changed with the task of
helping or even compelling the spectator to address the literary or dra-
matic content. It was this literary content to which, according to the
Abbe Dubos, the public could relate in terms of its own experience and
language"69.
Gegeniiber Freart de Chambrays Meinung iiber den Bethlehemiti-
schen Kindermord (Abb. 14) in dem von Dryden iibertragenen Werk An
Idea of the perfection of painting verteidigt Shaftesbury wiederum Raffa-
els Bild ais ein Kunstwerk, in dem die Maxime der Hyperbole richtig und
schon zum Erscheinen komme, wahrend Frearts Meinung Beispiel eines
schlechten Geschmacks sei70.
Obwohl Shaftesbury den gebrauchlichen Begriff "divine Raffael"'1 ver-
wendet, zeigt seine Kritik, daB er bei dem Renaissance-Meister und


14. Marcantonio Raimondi, BethlehemitischerKindermord, um 1513/15, nach Raffael

69 Vgl. T. Puttfarken, Roger de Piles theory of art, New Haven/Conn. 1985, S. 131.
Mehr dazu auch in meiner Arbeit Architektonik der Formen in Shaftesburys "Second Char-
acters", Univ. Diss. Hamburg, 2001.
70 SE, 1,5, S. 236.
71 Ebd.