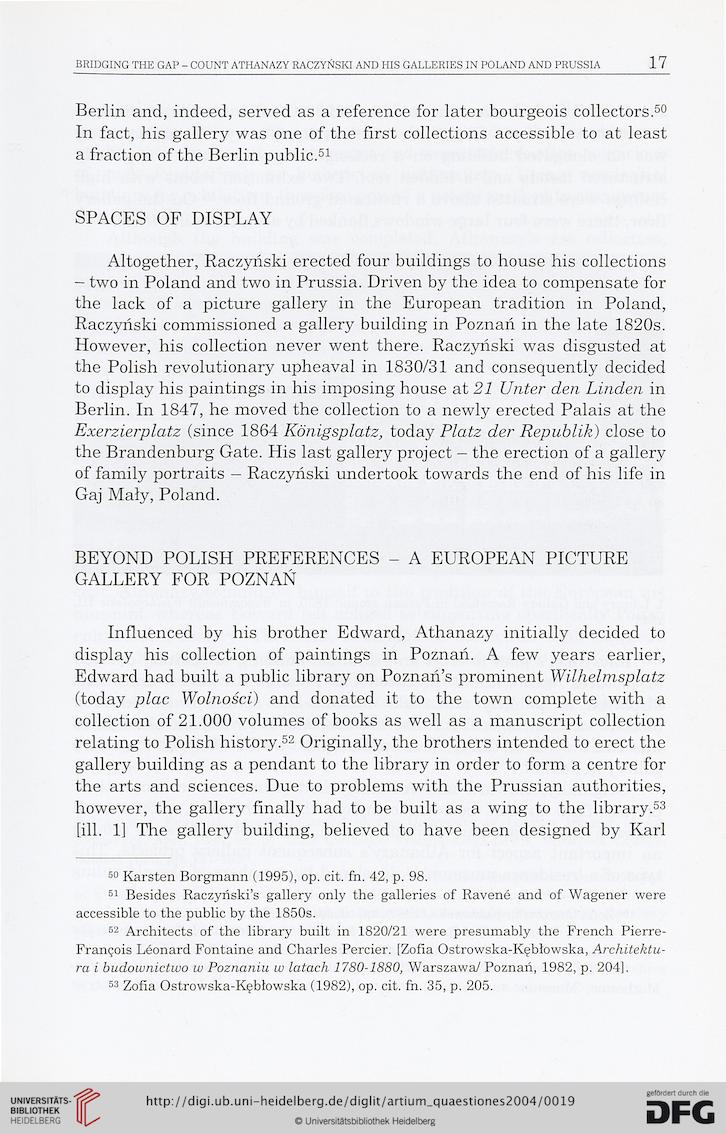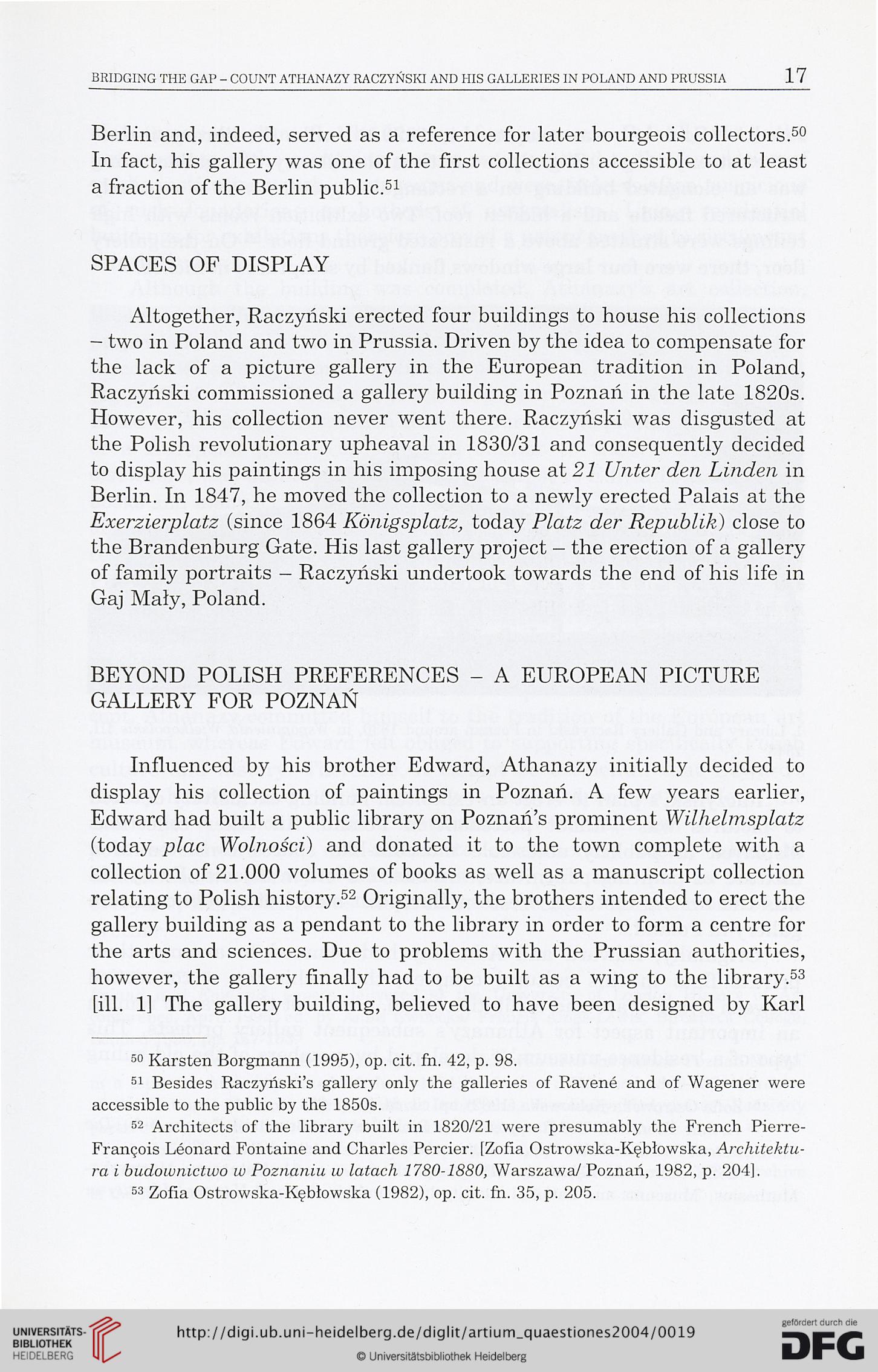 17

Berlin and, indeed, served as a reference for later bourgeois collectors.50
In fact, his gallery was one of the first collections accessible to at least
a fraction of the Berlin public.51

SPACES OF DISPLAY
Altogether, Raczyński erected four buildings to house his collections
- two in Poland and two in Prussia. Driven by the idea to compensate for
the lack of a picture gallery in the European tradition in Poland,
Raczyński commissioned a gallery building in Poznań in the late 1820s.
However, his collection never went there. Raczyński was disgusted at
the Polish revolutionary upheaval in 1830/31 and consequently decided
to display his paintings in his imposing house at 21 Unter den Linden in
Berlin. In 1847, he moved the collection to a newly erected Palais at the
Exerzierplatz (since 1864 Königsplatz, today Platz der Republik) close to
the Brandenburg Gate. His last gallery project - the erection of a gallery
of family portraits - Raczyński undertook towards the end of his life in
Gaj Maly, Poland.

BEYOND POLISH PREFERENCES - A EUROPEAN PICTURE
GALLERY FOR POZNAŃ

Influenced by his brother Edward, Athanazy initially decided to
display his collection of paintings in Poznań. A few years earlier,
Edward had built a public library on Poznah's prominent Wilhelmsplatz
(today plac Wolności) and donated it to the town complete with a
collection of 21.000 volumes of books as well as a manuscript collection
relating to Polish history.52 Originally, the brothers intended to erect the
gallery building as a pendant to the library in order to form a centre for
the arts and sciences. Due to problems with the Prussian authorities,
however, the gallery finally had to be built as a wing to the library.53
[ill. 1] The gallery building, believed to have been designed by Karl

50 Karsten Borgmann (1995), op. cit. fn. 42, p. 98.
51 Besides Raczynski's gallery only the galleries of Ravené and of Wagener were
accessible to the public by the 1850s.
52 Architects of the library built in 1820/21 were presumably the French Pierre-
François Léonard Fontaine and Charles Percier. [Zofia Ostrowska-Kębłowska, Architektu-
ra i budownictwo w Poznaniu w latach 1780-1880, Warszawa/ Poznań, 1982, p. 204],
53 Zofia Ostrowska-Kębłowska (1982), op. cit. fn. 35, p. 205.