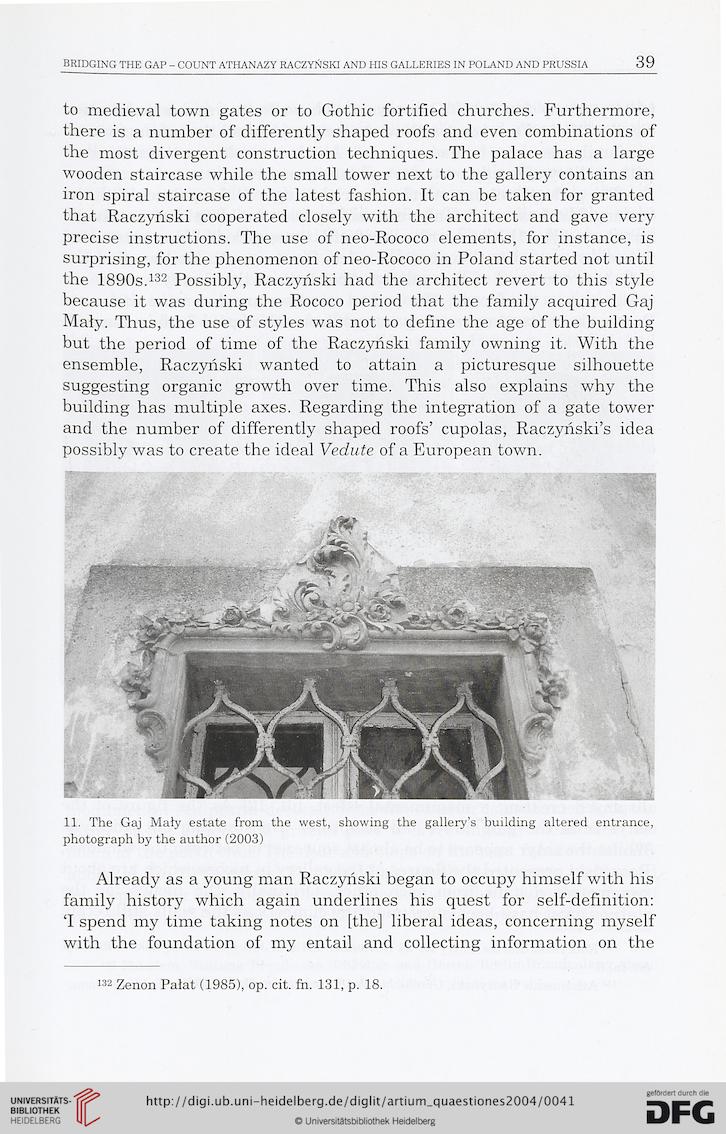 39

to medieval town gates or to Gothic fortified churches. Furthermore,
there is a number of differently shaped roofs and even combinations of
the most divergent construction techniques. The palace has a large
wooden staircase while the small tower next to the gallery contains an
iron spiral staircase of the latest fashion. It can be taken for granted
that Raczyński cooperated closely with the architect and gave very
precise instructions. The use of neo-Rococo elements, for instance, is
surprising, for the phenomenon of neo-Rococo in Poland started not until
the 1890s.132 Possibly, Raczyński had the architect revert to this style
because it was during the Rococo period that the family acquired Gaj
Maly. Thus, the use of styles was not to define the age of the building
but the period of time of the Raczyński family owning it. With the
ensemble, Raczyński wanted to attain a picturesque silhouette
suggesting organic growth over time. This also explains why the
building has multiple axes. Regarding the integration of a gate tower
and the number of differently shaped roofs' cupolas, Raczyhski's idea
possibly was to create the ideal Vedute of a European town.


11. The Gaj Mały estate from the west, showing the gallery's building altered entrance,
photograph by the author (2003)

Already as a young man Raczyński began to occupy himself with his
family history which again underlines his quest for self-definition:
T spend my time taking notes on [the] liberal ideas, concerning myself
with the foundation of my entail and collecting information on the

132 Zenon Palat (1985), op. cit. fn. 131, p. 18.