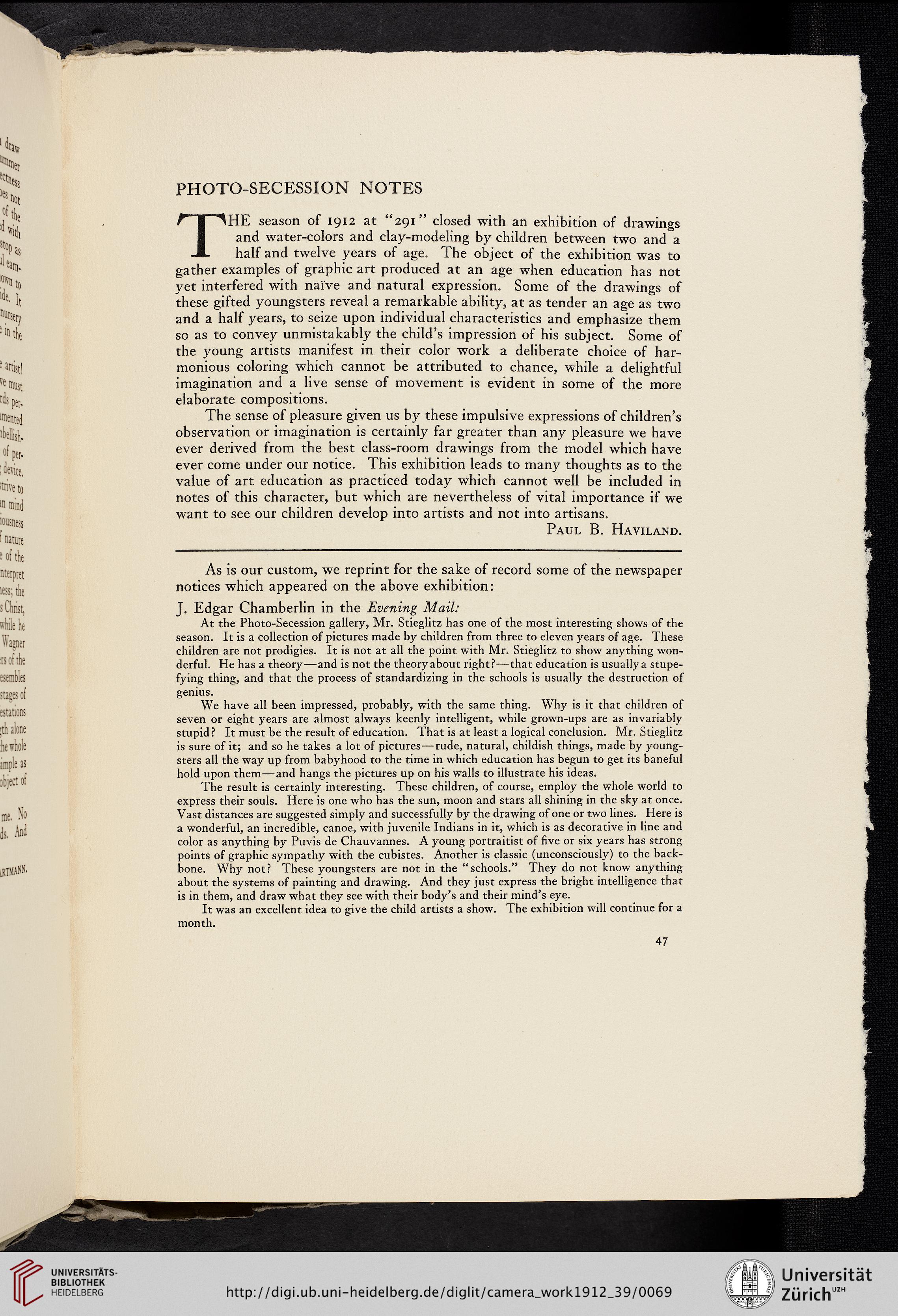 A manually made transcription or edition is also available for this page. Please change to the tab "transrciption" or "edition."
PHOTO-SECESSION NOTES
THE season of 1912 at "291" closed with an exhibition of drawings
and water-colors and clay-modeling by children between two and a
half and twelve years of age. The object of the exhibition was to
gather examples of graphic art produced at an age when education has not
yet interfered with naive and natural expression. Some of the drawings of
these gifted youngsters reveal a remarkable ability, at as tender an age as two
and a half years, to seize upon individual characteristics and emphasize them
so as to convey unmistakably the child's impression of his subject. Some of
the young artists manifest in their color work a deliberate choice of har-
monious coloring which cannot be attributed to chance, while a delightful
imagination and a live sense of movement is evident in some of the more
elaborate compositions.
The sense of pleasure given us by these impulsive expressions of children's
observation or imagination is certainly far greater than any pleasure we have
ever derived from the best class-room drawings from the model which have
ever come under our notice. This exhibition leads to many thoughts as to the
value of art education as practiced today which cannot well be included in
notes of this character, but which are nevertheless of vital importance if we
want to see our children develop into artists and not into artisans.
Paul B. Haviland.
As is our custom, we reprint for the sake of record some of the newspaper
notices which appeared on the above exhibition:
J. Edgar Chamberlin in the Evening Mail:
At the Photo-Secession gallery, Mr. Stieglitz has one of the most interesting shows of the
season. It is a collection of pictures made by children from three to eleven years of age. These
children are not prodigies. It is not at all the point with Mr. Stieglitz to show anything won-
derful. He has a theory—and is not the theory about right?—that education is usually a stupe-
fying thing, and that the process of standardizing in the schools is usually the destruction of
genius.
We have all been impressed, probably, with the same thing. Why is it that children of
seven or eight years are almost always keenly intelligent, while grown-ups are as invariably
stupid? It must be the result of education. That is at least a logical conclusion. Mr. Stieglitz
is sure of it; and so he takes a lot of pictures—rude, natural, childish things, made by young-
sters all the way up from babyhood to the time in which education has begun to get its baneful
hold upon them—and hangs the pictures up on his walls to illustrate his ideas.
The result is certainly interesting. These children, of course, employ the whole world to
express their souls. Here is one who has the sun, moon and stars all shining in the sky at once.
Vast distances are suggested simply and successfully by the drawing of one or two lines. Here is
a wonderful, an incredible, canoe, with juvenile Indians in it, which is as decorative in line and
color as anything by Puvis de Chauvannes. A young portraitist of five or six years has strong
points of graphic sympathy with the cubistes. Another is classic (unconsciously) to the back-
bone. Why not? These youngsters are not in the "schools." They do not know anything
about the systems of painting and drawing. And they just express the bright intelligence that
is in them, and draw what they see with their body's and their mind's eye.
It was an excellent idea to give the child artists a show. The exhibition will continue for a
month.
47