La Vraye Science De La Povrtraictvre Descrite Et Demonstree Par Maistre Iean Covsin, Peintre & Geometrien tres-excellent: Representant par vne facile instruction plusieurs plans & figures de toutes les parties separées du corps humain: Ensemble les figures entieres, tant d'hommes que de femmes & de petits enfans ... Fort vtile & necessaire aux Peintres, Statuaires, Architectes ...
Paris, 1647
Digitalisiert nach dem Exemplar in Privatbesitz.
Citation link: https://digi.ub.uni-heidelberg.de/diglit/cousin1647
URN: urn:nbn:de:bsz:16-diglit-258852
DOI: https://doi.org/10.11588/diglit.25885
Metadata: METS
IIIF Manifest: https://digi.ub.uni-heidelberg.de/diglit/iiif/cousin1647/manifest.json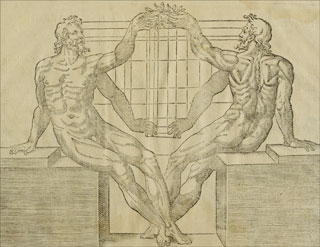 There are annotations to this facsimile. Individual pages with annotations are marked in "Overview" with the symbol .
Content