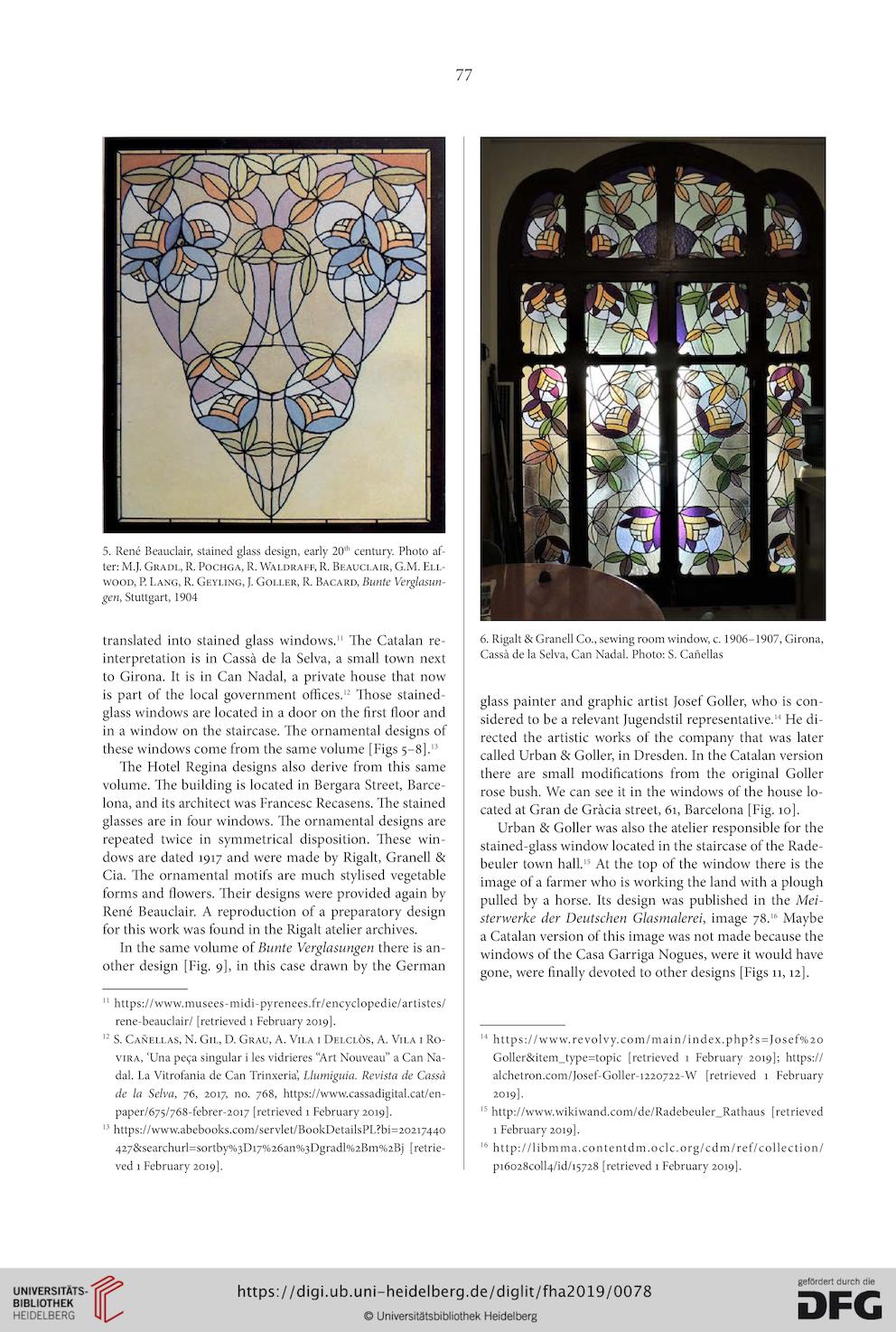 5. René Beauclair, stained glass design, early 20th century. Photo af-
ter: MJ. Gradl, R. Pochga, R. Waldraff, R. Beauclair, G.M. Ell-
wood, P. Lang, R. Geyling, J. Goller, R. Bacard, Bunte Verglasun-
gen, Stuttgart, 1904


translated into stained glass windows.11 The Catalan re-
interpretation is in Cassa de la Selva, a small town next
to Girona. It is in Can Nadal, a private house that now
is part of the local government offices.12 Those stained-
glass windows are located in a door on the first floor and
in a window on the staircase. The ornamental designs of
these windows come from the same volume [Figs 5-8].13
The Hotel Regina designs also derive from this same
volume. The building is located in Bergara Street, Barce-
lona, and its architect was Francesc Recasens. The stained
glasses are in four windows. The ornamental designs are
repeated twice in symmetrical disposition. These win-
dows are dated 1917 and were made by Rigalt, Granell &
Cia. The ornamental motifs are much stylised vegetable
forms and flowers. Their designs were provided again by
René Beauclair. A reproduction of a preparatory design
for this work was found in the Rigalt atelier archives.
In the same volume of Bunte Verglasungen there is an-
other design [Fig. 9], in this case drawn by the German
11 https://www.musees-midi-pyrenees.fr/encyclopedie/artistes/
rene-beauclair/ [retrieved 1 February 2019].
12 S. Canellas, N. Gil, D. Grau, A. Vila i Delclòs, A. Vila i Ro-
vira, 'Una peça singular i les vidrieres "Art Nouveau" a Can Na-
dal. La Vitrofania de Can Trinxeria', Llumiguia. Revista de Cassa
de la Selva, 76, 2017, no. 768, https://www.cassadigital.cat/en-
paper/675/768-febrer-20i7 [retrieved 1 February 2019].
13 https://www.abebooks.com/servlet/BookDetailsPL?bi=2O2i744o
427&searchurl=sortby%3Di7%26an%3Dgradl%2Bm%2Bj [retrie-
ved 1 February 2019].


6. Rigalt & Granell Co., sewing room window, c. 1906-1907, Girona,
Cassa de la Selva, Can Nadal. Photo: S. Canellas

glass painter and graphic artist Josef Goller, who is con-
sidered to be a relevant Jugendstil representative.14 He di-
rected the artistic works of the company that was later
called Urban & Goller, in Dresden. In the Catalan version
there are small modifications from the original Goller
rose bush. We can see it in the windows of the house lo-
cated at Gran de Gracia street, 61, Barcelona [Fig. 10].
Urban & Goller was also the atelier responsible for the
stained-glass window located in the staircase of the Rade-
beuler town hall.15 At the top of the window there is the
image of a farmer who is working the land with a plough
pulled by a horse. Its design was published in the Mei-
sterwerke der Deutschen Glasmalerei, image 78.16 Maybe
a Catalan version of this image was not made because the
windows of the Casa Garriga Nogues, were it would have
gone, were finally devoted to other designs [Figs 11,12].

14 https://www.revolvy.com/main/index.php?s = Josef%20
Goller&item_type=topic [retrieved 1 February 2019]; https://
alchetron.com/Josef-Goller-122o722-W [retrieved 1 February
2019].
15 http://www.wikiwand.com/de/Radebeuler_Rathaus [retrieved
1 February 2019].
16 http://libmma.contentdm.oclc.org/cdm/ref/collection/
pi6o28coll4/id/i5728 [retrieved 1 February 2019].