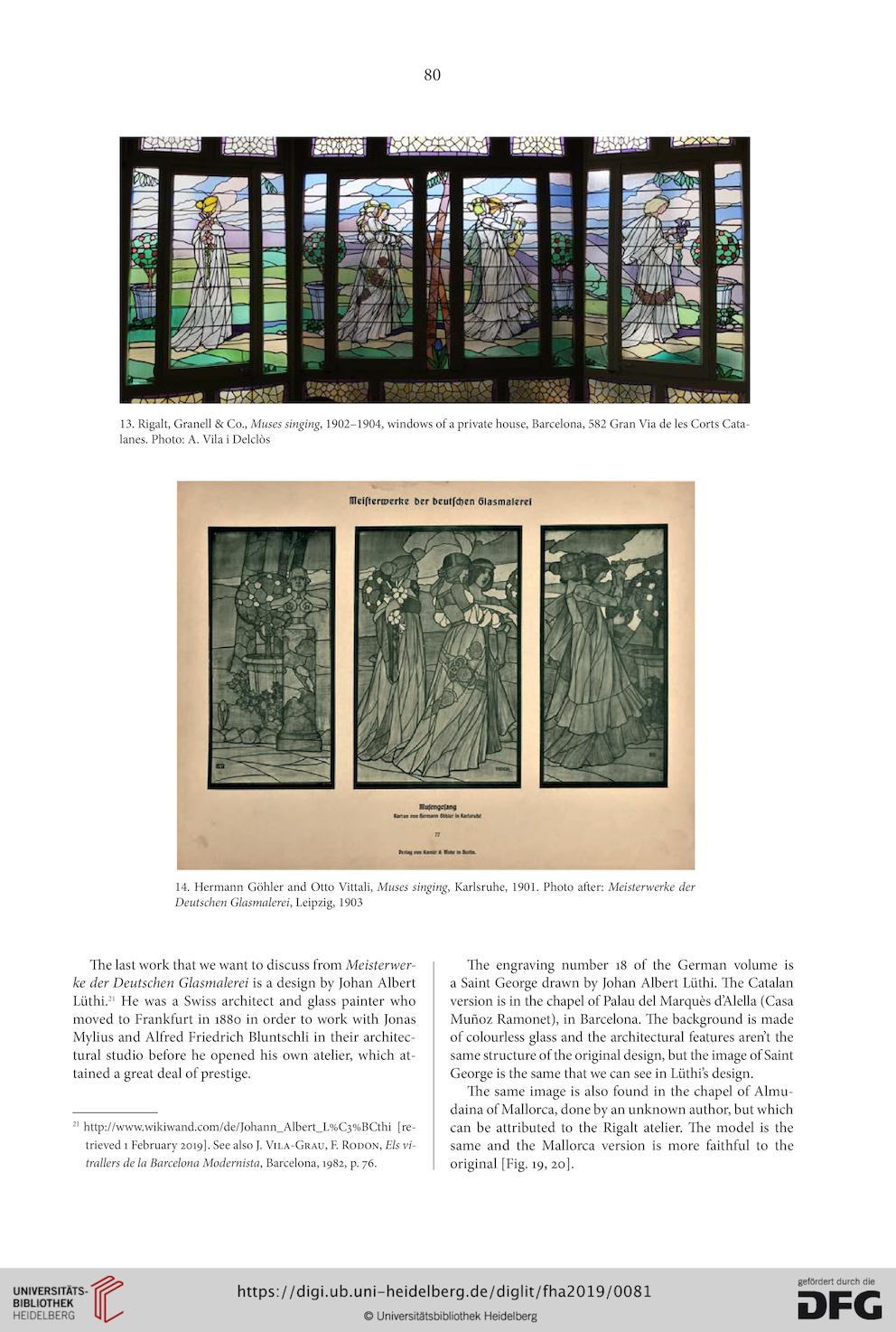 13. Rigalt, Grandi & Co., Muses singing, 1902-1904, windows of a private house, Barcelona, 582 Gran Via de les Corts Cata-
lanes. Photo: A. Vila i Delclòs


14. Hermann Göhler and Otto Vittali, Muses singing, Karlsruhe, 1901. Photo after: Meisterwerke der
Deutschen Glasmalerei, Leipzig, 1903

The last work that we want to discuss from Meisterwer-
ke der Deutschen Glasmalerei is a design by Johan Albert
Liithi.21 He was a Swiss architect and glass painter who
moved to Frankfurt in 1880 in order to work with Jonas
Mylius and Alfred Friedrich Bluntschli in their architec-
tural studio before he opened his own atelier, which at-
tained a great deal of prestige.

21 http://www.wikiwand.com/de/J0hann_Albert_L%C3%BCthi [re-
trieved 1 February 2019]. See also J. Vila-Grau, E Rodon, Els vi-
trallers de la Barcelona Modernista, Barcelona, 1982, p. 76.

The engraving number 18 of the German volume is
a Saint George drawn by Johan Albert Liithi. The Catalan
version is in the chapel of Palau del Marquès dAlella (Casa
Munoz Ramonet), in Barcelona. The background is made
of colourless glass and the architectural features aren't the
same structure of the original design, but the image of Saint
George is the same that we can see in Liithi s design.
The same image is also found in the chapel of Almu-
daina of Mallorca, done by an unknown author, but which
can be attributed to the Rigalt atelier. The model is the
same and the Mallorca version is more faithful to the
original [Fig. 19, 20].