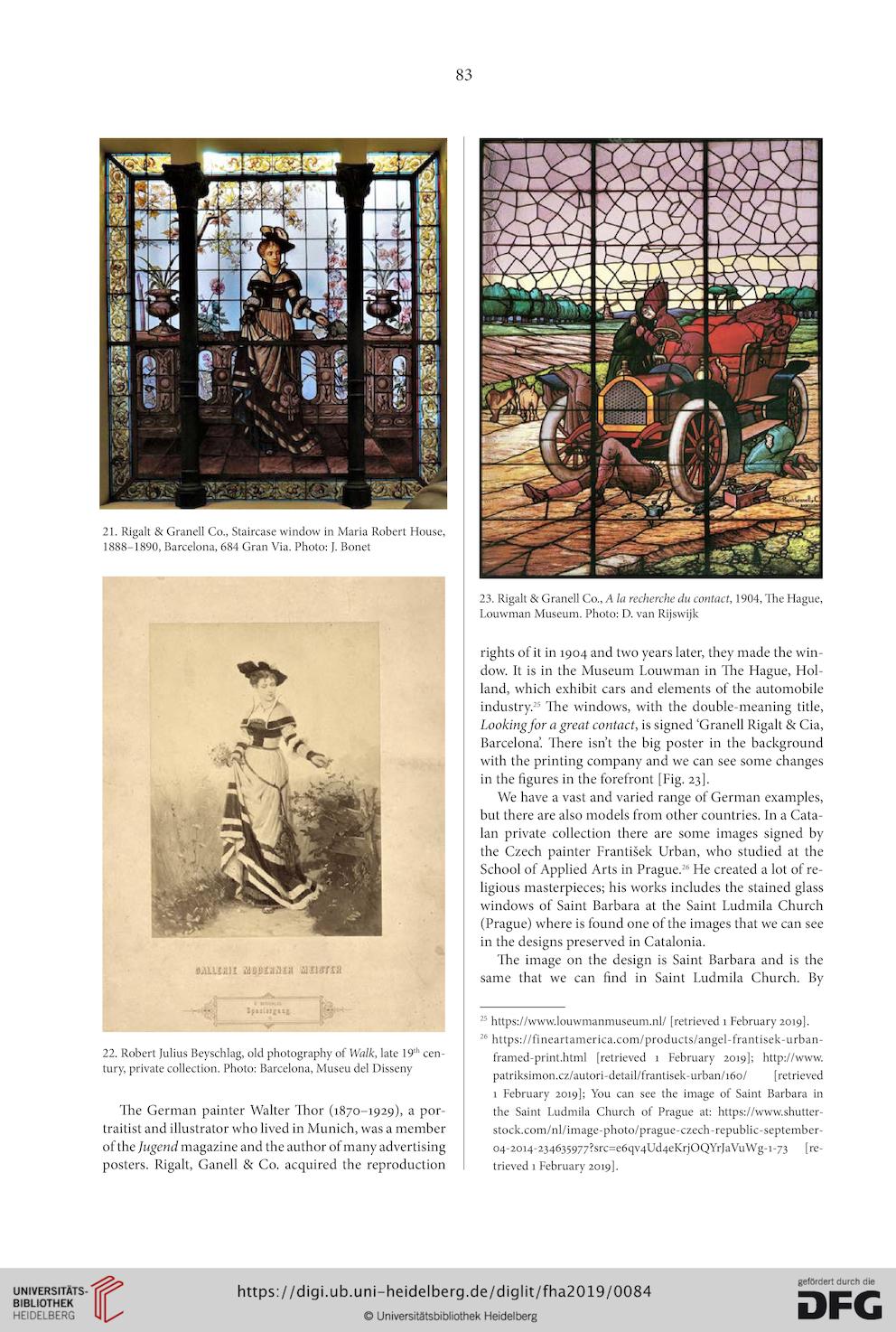 21. Rigalt & Grandi Co., Staircase window in Maria Robert House,
1888-1890, Barcelona, 684 Gran Via. Photo: ƒ. Bonet


22. Robert Julius Beyschlag, old photography of Walk, late 19th cen-
tury, private collection. Photo: Barcelona, Museu del Disseny

The German painter Walter Thor (1870-1929), a por-
traitist and illustrator who lived in Munich, was a member
of the Jugend magazine and the author of many advertising
posters. Rigalt, Ganell & Co. acquired the reproduction


23. Rigalt & Grandi Co., A la recherche du contact, 1904, The Hague,
Louwman Museum. Photo: D. van Rijswijk
rights of it in 1904 and two years later, they made the win-
dow. It is in the Museum Touwman in The Hague, Hol-
land, which exhibit cars and elements of the automobile
industry.25 The windows, with the double-meaning title,
Looking for a great contact, is signed 'Granell Rigalt & Cia,
Barcelona'. There isn't the big poster in the background
with the printing company and we can see some changes
in the figures in the forefront [Fig. 23].
We have a vast and varied range of German examples,
but there are also models from other countries. In a Cata-
lan private collection there are some images signed by
the Czech painter Frantisek Urban, who studied at the
School of Applied Arts in Prague.26 He created a lot of re-
ligious masterpieces; his works includes the stained glass
windows of Saint Barbara at the Saint Ludmila Church
(Prague) where is found one of the images that we can see
in the designs preserved in Catalonia.
The image on the design is Saint Barbara and is the
same that we can find in Saint Ludmila Church. By

25 https://www.louwmanmuseum.nl/ [retrieved 1 February 2019].
26 https://fineartamerica.com/products/angel-frantisek-urban-
framed-print.html [retrieved 1 February 2019]; http://www.
patriksimon.cz/autori-detail/frantisek-urban/16o/ [retrieved
1 February 2019]; You can see the image of Saint Barbara in
the Saint Ludmila Church of Prague at: https://www.shutter-
stock.com/nl/image-photo/prague-czech-republic-september-
O4-2oi4-234635977?src=e6qv4Ud4eKrjOQYrJaVuWg-i-73 [re-
trieved 1 February 2019].