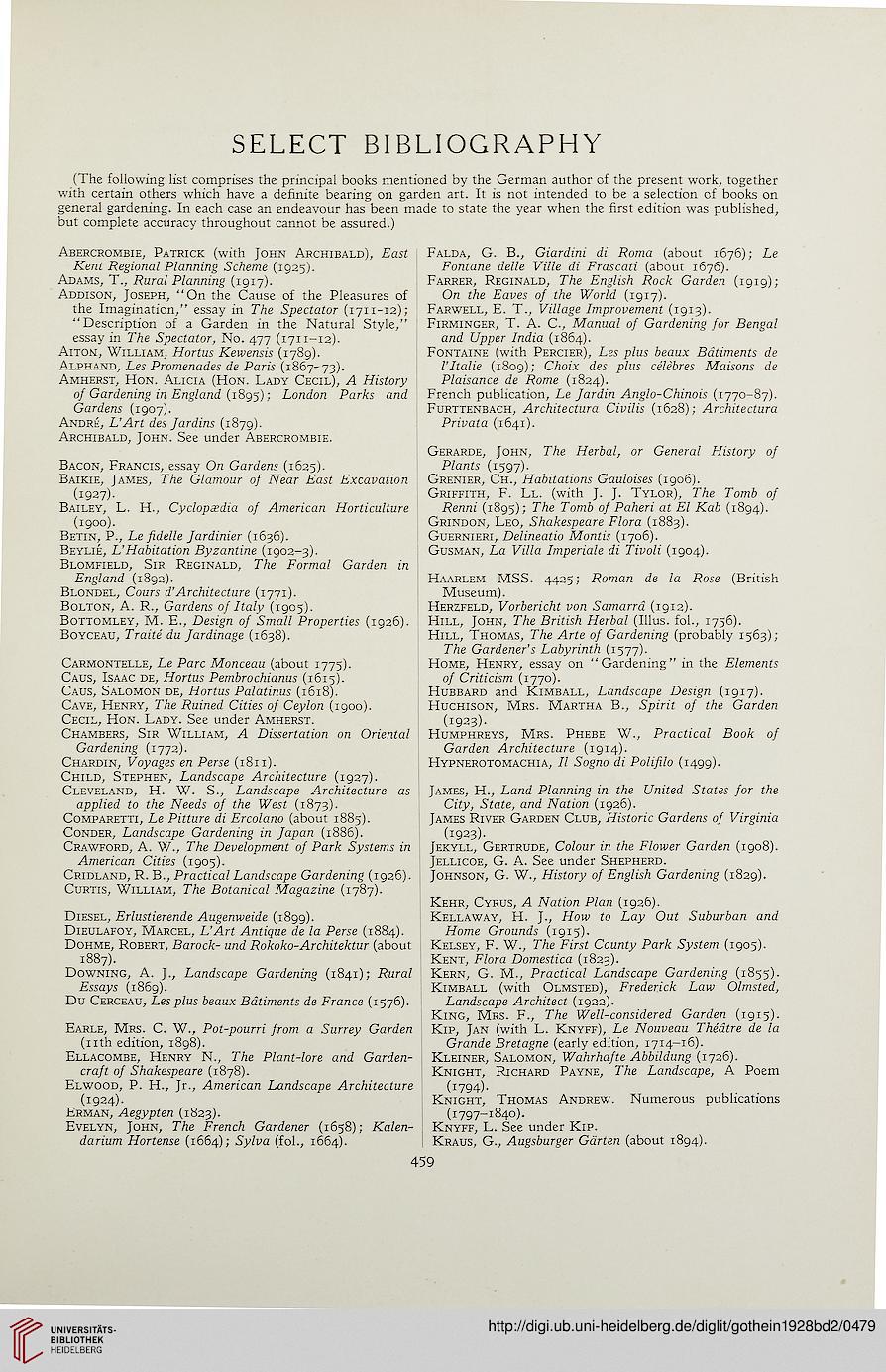 (The following list comprises the principal books mentioned by the German author of the present work, together
with certain others which have a definite bearing on garden art. It is not intended to be a selection of books on
general gardening. In each case an endeavour has been made to state the year when the first edition was published,
but complete accuracy throughout cannot be assured.)

Abercrombie, Patrick (with John Archibald), East

Kent Regional Planning Scheme (1925).
Adams, T., Rural Planning (1917).

Addison, Joseph, "On the Cause of the Pleasures of
the Imagination," essay in The Spectator (1711-12);
"Description of a Garden in the Natural Style,"
essay in The Spectator, No. 477 (1711-12).

Aiton, William, Hortus Kewensis (1789).

Alphand, Les Promenades de Paris (1867-73).

Amherst, Hon. Alicia (Hon. Lady Cecil), A History
of Gardening in England (1895)> London Parks and
Gardens (1907).

Andre, L'Art des Jardins (1879).

Archibald, John. See under Abercrombie.

Bacon, Francis, essay On Gardens (1625).
Baikie, James, The Glamour of Near East Excavation
(1927).

Bailey, L. H, Cyclopedia of American Horticulture
(1900).

Betin, P., Le fidelle Jardinier (1636).

Beylie, UHabitation Byzantine (1902-3).

Blomfield, Sir Reginald, The Formal Garden in

England (1892).
Blondel, Cours d'Architecture (1771).
Bolton, A. R., Gardens of Italy (1905).
Bottomley, M. E., Design of Small Properties (1926).
Boyceau, Traite du Jardinage (1638).

Carmontelle, Le Pare Monceau (about 1775).

Caus, Isaac de, Hortus Pembrochianus (1615).

Caus, Salomon de, Hortus Palatinus (1618).

Cave, Henry, The Ruined Cities of Ceylon (1900).

Cecil, Hon. Lady. See under Amherst.

Chambers, Sir William, A Dissertation on Oriental

Gardening (1772).
Chardin, Voyages en Perse (1811).
Child, Stephen, Landscape Architecture (1927).
Cleveland, H. W. S., Landscape Architecture as

applied to the Needs of the West (1873).
Comparetti, Le Pitture di Ercolano (about 1885).
Conder, Landscape Gardening in Japan (1886).
Crawford, A. W., The Development of Park Systems in

American Cities (1905).
Cridland, R. B., Practical Landscape Gardening (1926).
Curtis, William, The Botanical Magazine (1787).

Diesel, Erlustierende Augenweide (1899).
Dieulafoy, Marcel, L'Art Antique de la Perse (1884).
Dohme, Robert, Barock- und Rokoko-Architektur (about
1887).

Downing, A. J., Landscape Gardening (1841); Rural

Essays (1869).
Du Cerceau, Les plus beaux Bdtiments de France (1576).

Earle, Mrs. C. W., Pot-pourri from a Surrey Garden
(nth edition, 1898).

Ellacombe, Henry N., The Plant-lore and Garden-
craft of Shakespeare (1878).

Elwood, P. H., Jr., American Landscape Architecture

(1924)-
Erman, Aegypten (1823).

Evelyn, John, The French Gardener (1658); Kalen-
darium Hortense (1664); Sylva (fol., 1664).

Falda, G. B., Giardini di Roma (about 1676); Le

Fontane delle Ville di Frascati (about 1676).
Farrer, Reginald, The English Rock Garden (1919);

On the Eaves of the World (1917).
Farwell, E. T., Village Improvement (1913).
Firminger, T. A. C, Manual of Gardening for Bengal

and Upper India (1864).
Fontaine (with Percier), Les plus beaux Bdtiments de

I'ltalie (1809); Choix des plus celebres Maisons de

Plaisance de Rome (1824).
French publication, Le Jardin Anglo-Chinois (1770-87).
Furttenbach, Architectura Civilis (1628); Architectura

Privata (1641).

Gerarde, John, The Herbal, or General History of

Plants (1597).
Grenier, Ch., Habitations Gauloises (1906).
Griffith, F. Ll. (with J. J. Tylor), The Tomb of

Renni (1895); The Tomb of Paheri at El Kab (1894).
Grindon, Leo, Shakespeare Flora (1883).
Guernieri, Delineatio Montis (1706).
Gusman, La Villa Imperiale di Tivoli (1904).

Haarlem MSS. 4425; Roman de la Rose (British
Museum).

Herzfeld, Vorbericht von Samarrd (1912).

Hill, John, The British Herbal (Illus. fol., 1756).

Hill, Thomas, The Arte of Gardening (probably 1563);

The Gardener's Labyrinth (1577).
Home, Henry, essay on "Gardening" in the Elements

of Criticism (1770).
Hubbard and Kimball, Landscape Design (1917).
Huchison, Mrs. Martha B., Spirit of the Garden

(1923).

Humphreys, Mrs. Phebe W., Practical Book of

Garden Architecture (1914).
Hypnerotomachia, II Sogno di Polifilo (1499).

James, H., Land Planning in the United States for the

City, State, and Nation (1926).
James River Garden Club, Historic Gardens of Virginia

(1923).

Jekyll, Gertrude, Colour in the Flower Garden (1908).

Jellicoe, G. A. See under Shepherd.

Johnson, G. W., History of English Gardening (1829).

Kehr, Cyrus, A Nation Plan (1926).

Kellaway, H. J., How to Lay Out Suburban and

Home Grounds (1915).
Kelsey, F. W., The First County Park System (1905).
Kent, Flora Domestica (1823).

Kern, G. M., Practical Landscape Gardening (1855).
Kimball (with Olmsted), Frederick Law Olmsted,

Landscape Architect (1922).
King, Mrs. F., The Well-considered Garden (1915).
Kip, Jan (with L. Knyff), Le Nouveau Theatre de la

Grande Bretagne (early edition, 1714-16).
Kleiner, Salomon, Wahrhafte Abbildung (1726).
Knight, Richard Payne, The Landscape, A Poem

(i794)- , .

Knight, Thomas Andrew. Numerous publications

(1797-1840).
Knyff, L. See under Kip.
Kraus, G., Augsburger Garten (about 1894).