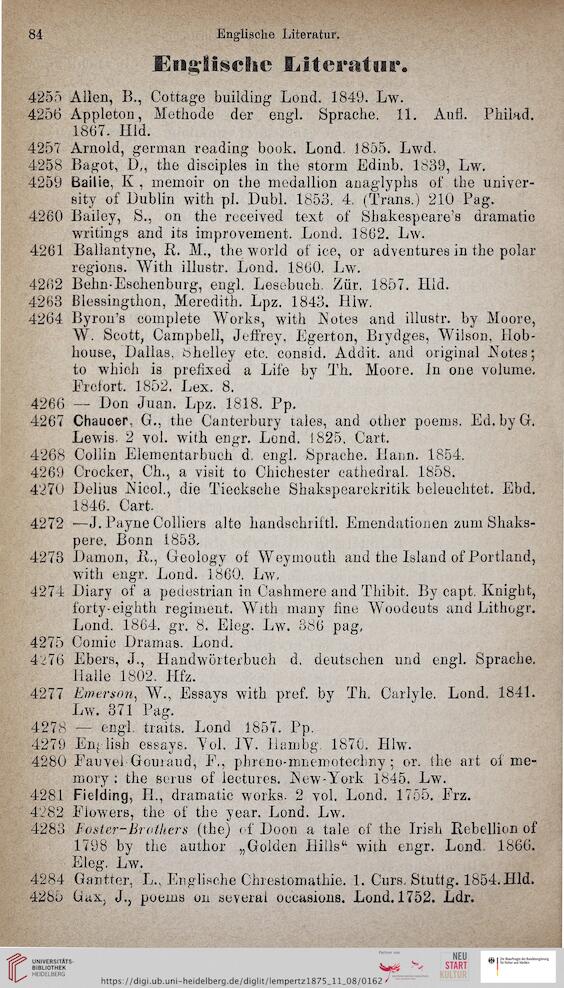 84

Englische Literatur.

Englische E it erat ur.
4255 Allen, B., Cottage building Lond. 1849. Lw.
4256 Appleton, Methode der engl. Sprache. 11. Aufi. Philad.
1867. Hld.
4257 Arnold, german reading book. Lond. 1855. Lwd.
4258 Bagot, D,, the disciples in the storm Edinb. 1839, Lw.
4259 Bail ie, K , memoir on the medallion anaglyphs of the univer-
sity of Dublin with pl. Dubl. 1853. 4. (Trans.) 210 Pag.
4260 Bailey, S., on the rcceived text of Shakespeare's dramatio
writings and its improvement. Lond. 1862. Lw.
4261 Ballantyne, R. M., the world of ice, or adventures in the polar
regions. With illustr. Lond. 1860. Lw.
4262 Behn-Eschenburg, engl. Lesebuch. Zür. 1857. Hld.
4263 Blessingthon, Meredith. Lpz. 1843. Hlw.
4264 Byron's complete Works, with Kotes and illustr. by Moore,
W. Scott, Campbell, Jeffrey, Egerton, Brydges, Wilson, Hob-
house, Dallas, öhelley etc. consid. Addit. and original Notes;
to whioh is prefixed a Life by Th. Moore. In one volume.
Frctort. 1852. Lex. 8.
4266 — Don Juan. Lpz. 1818. Pp.
4267 Chauoer, G., the Canterbury tales, and other poems. Ed. byG.
Lewis. 2 vol. with engr. Lond. 1825, Cart.
4268 Collin Elementarbuch d. engl. Sprache. Hann. 1854.
4269 Crocker, Ch., a visit to Chichester cathedral. 1858.
4270 Delius Nicol., die Tiecksche Shakspearekritik beleuchtet. Ebd.
1846. Cart.
4272 —J. Payne Colliers alte handschriftl. Emendationen zum Shaks-
pere. Bonn 1853,
4273 Dämon, R., Geology of Weymouth and the Island of Portland,
with engr. Lond. 1860. Lw,
4274 Diary of a pedestrian in Cashmere and Thibit. By capt. Knigbt,
forty-eighth regiment. With many fine Woodcuts and Lithogr.
Lond. 1864. gr. 8. Eleg. Lw. 386 pag,
4275 Comic Dramas. Lond.
4276 Ebers, J., Handwörterbuch d. deutschen und engl. Sprache.
Halle 1802. PIfz.
4277 Emerson, W., Essays with pref. by Th. Carlyle. Lond. 1841.
Lw. 371 Pag.
4278 — engl. traits. Lond 1857. Pp.
4279 Enflish essays. Vol. IV. Hambg. 1870. Hlw.
4280 Fauvei Gouiaud, F., phreno-mnemotechny; or. the art of me-
mory : the seins of lectures. New-York 1845. Lw.
4281 Fielding, H., dramatic works. 2 vol. Lond. 1755. Frz.
4282 Flowers, the of the year. Lond. Lw.
4283 Foster-Brothers (the) of Doon a tale of the Irish Rebellion of
1798 by the author "Golden Hills" with engr. Lond. 1866.
Eleg. Lw.
4284 Gantter, L., Englische Chrestomathie. 1. Curs. Stuttg. 1854. Hld.
4285 Gax, J., poems on several occasions. Lond. 1752. Ldr.