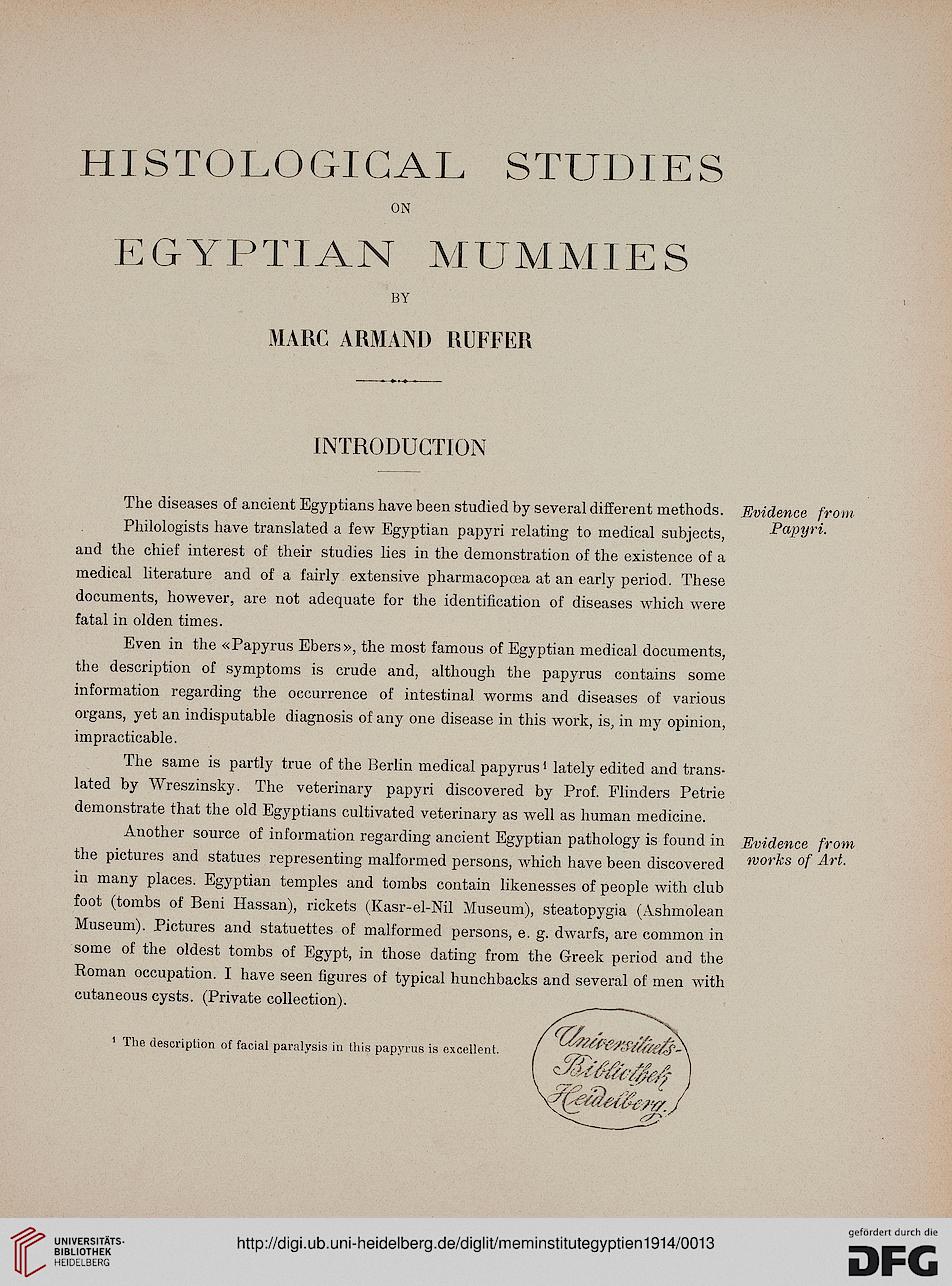 ON

EGYPTIAN MUMMIES

BY

MARC ARMAND RUFFER

INTRODUCTION

The diseases of ancient Egyptians have been studied by several différent methods. Evidence from
Philologists have translated a few Egyptian papyri relating to médical subjects, Papy ri.
and the chief interest of their studies lies in the démonstration of the existence of a
médical literature and of a fairly extensive pharmacopœa at an early period. Thèse
documents, however, are not adéquate for the identification of diseases which were
fatal in olden times.

Even in the «Papyrus Ebers», the most famous of Egyptian médical documents,
the description of symptoms is crude and, although the papyrus contains some
information regarding the occurrence of intestinal worms and diseases of various
organs, yet an indisputable diagnosis of any one disease in this work, is, in my opinion,
impracticable.

The same is partly true of the Berlin médical papyrus1 lately edited and trans-
lated by Wreszinsky. The veterinary papyri discovered by Prof. Flinders Pétrie
demonstrate that the old Egyptians cultivated veterinary as well as human medicine.

Another source of information regarding ancient Egyptian pathology is found in Evidence from
the pictures and statues representing malformed persons, which have been discovered vvorks of Art.
in many places. Egyptian temples and tombs contain likenesses of people with club
foot (tombs of Beni Hassan), rickets (Kasr-el-Nil Muséum), steatopygia (Ashmolean
Muséum). Pictures and statuettes of malformed persons, e. g. dwarfs, are common in
some of the oldest tombs of Egypt, in those dating from the Greek period and the
Roman occupation. I have seen figures of typical hunchbacks and several of men with
cutaneous cysts. (Private collection).

1 The description of facial paralysis in Uiis papyrus is excellent.