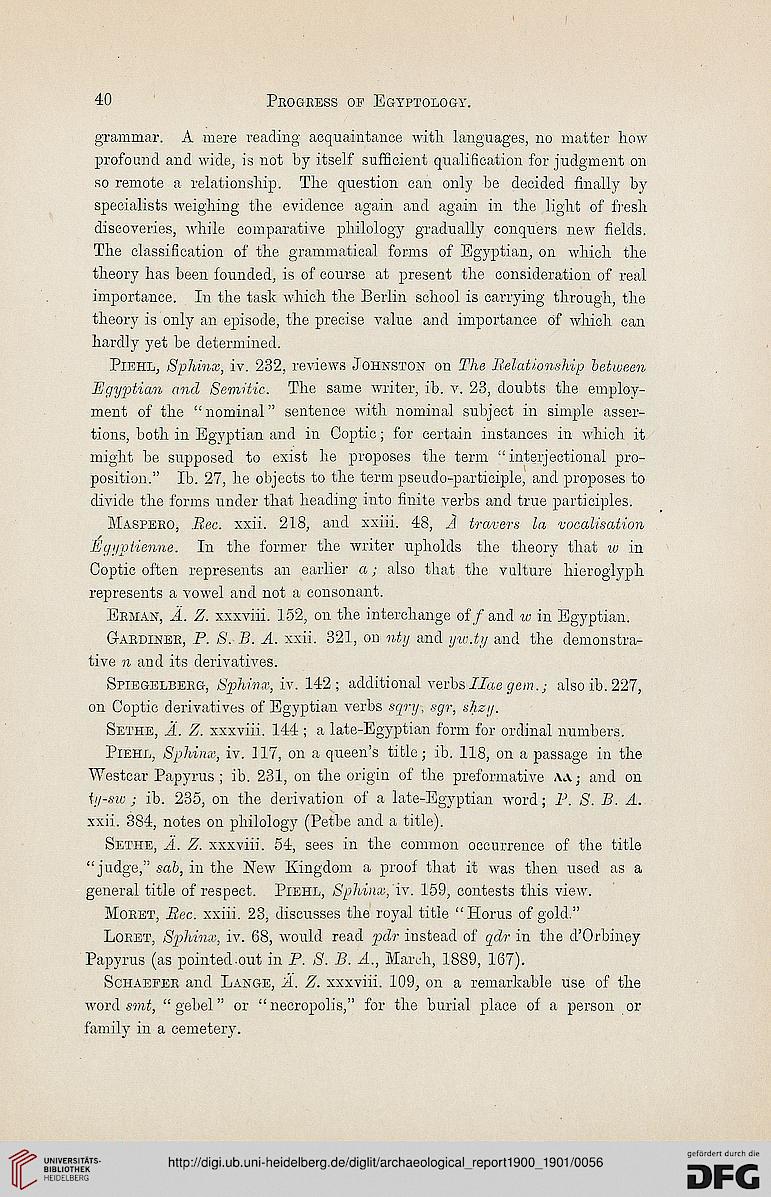 40 Progress of Egyptology.

grammar. A msre reading acquaintance with languages, no matter how
profound and wide, is not by itself sufficient qualification for judgment on
so remote a relationship. The question can only be decided finally by
specialists weighing the evidence again and again in the light of fresh
discoveries, while comparative philology gradually conquers new fields.
The classification of the grammatical forms of Egyptian, on which the
theory has been founded, is of course at present the consideration of real
importance. In the task which the Berlin school is carrying through, the
theory is only an episode, the precise value and importance of which can
hardly yet be determined.

Piehl, Sphinx, iv. 232, reviews Johnston on The Relationship between
Egyptian and Semitic. The same writer, ib. v. 23, doubts the employ-
ment of the "nominal" sentence with nominal subject in simple asser-
tions, both in Egyptian and in Coptic; for certain instances in which it
might be supposed to exist he proposes the term " interjectional pro-
position." Ib. 27, he objects to the term pseudo-participle, and proposes to
divide the forms under that heading into finite verbs and true participles.

Maspero, Bee. xxii. 218, and xxiii. 48, A travers la vocalisation
Eyijptienne. In the former the writer upholds the theory that w in
Coptic often represents an earlier a; also that the vulture hieroglyph
represents a vowel and not a consonant.

Erman, A. Z. xxxviii. 152, on the interchange of/and w in Egyptian.

Gardiner, P. S. B. A. xxii. 321, on nty and yw.ty and the demonstra-
tive n and its derivatives.

Spiegelberg, Sphinx, iv. 142; additional verbsIlae gem.; also ib. 227,
on Coptic derivatives of Egyptian verbs sqry; sgr, shzy.

Sethe, A. Z. xxxviii. 144 ; a late-Egyptian form for ordinal numbers.

Piehl, Sphinx, iv. 117, on a queen's title; ib. 118, on a passage in the
Westcar Papyrus ; ib. 231, on the origin of the preformative aa; and on
ty-sw ; ib. 235, on the derivation of a late-Egyptian word; B. S. B. A.
xxii. 384, notes on philology (Petbe and a title).

Sethe, A. Z. xxxviii. 54, sees in the common occurrence of the title
"judge," sab, in the New Kingdom a proof that it was then used as a
general title of respect. Piehl, Sphinx,'iv. 159, contests this view.

Moret, Bee. xxiii. 23, discusses the royal title "Horus of gold."

Loeet, Sphinx, iv. 68, would read pdr instead of qdr in the d'Orbiney
Papyrus (as pointed.out in P. S. B. A., March, 1889, 167).

Schaefer and Lange, A. Z. xxxviii. 109, on a remarkable use of the
word smt, "gebel" or "necropolis," for the burial place of a person or
family in a cemetery.