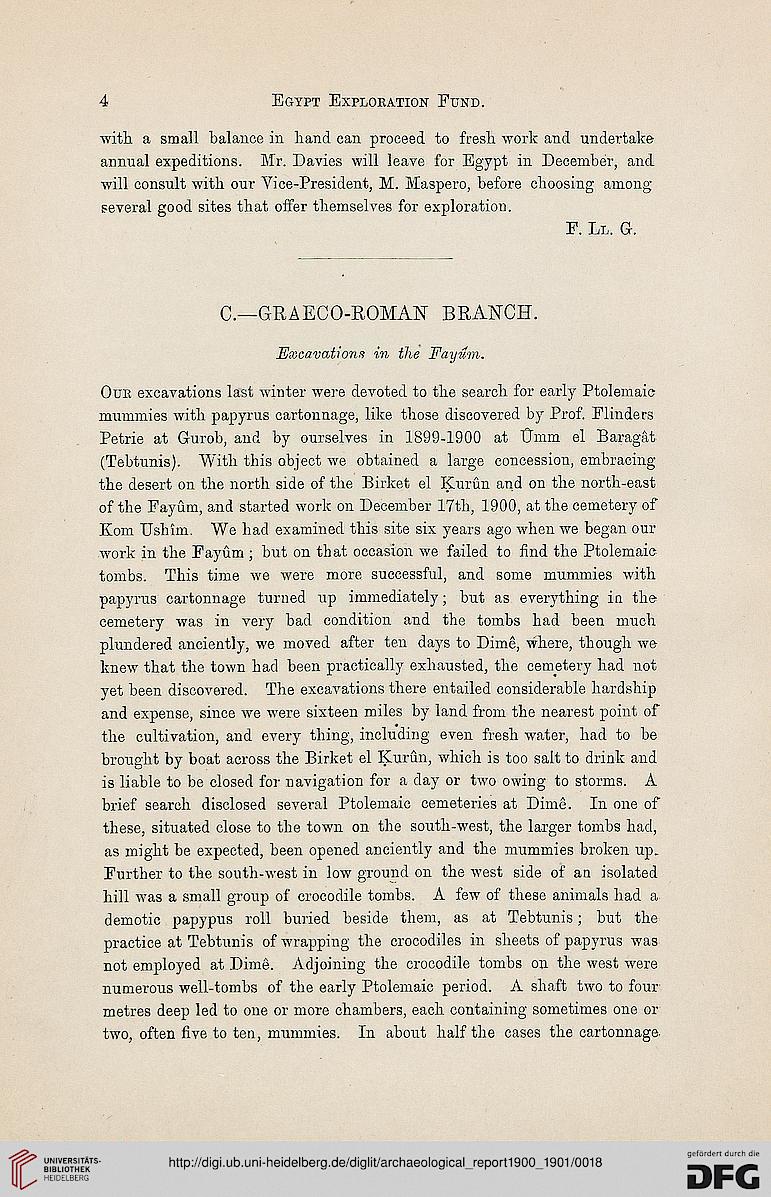 Egypt Exploeation Fund.

with a small balance in hand can proceed to fresh work and undertake
annual expeditions. Mr. Davies will leave for Egypt in December, and
will consult with our Vice-President, M. Maspero, before choosing among
several good sites that offer themselves for exploration.

F. Ll. G.

C—GRAECO-ROMAN BRANCH.

Excavations in the Fayum.

Oue excavations last winter were devoted to the search for early Ptolemaic
mummies with papyrus cartonnage, like those discovered by Prof. Flinders
Petrie at Gurob, and by ourselves in 1899-1900 at TJmm el Baragat
(Tebtunis). With this object we obtained a large concession, embracing
the desert on the north side of the Birket el Kurfin and on the north-east
of the Fayum, and started work on December 17th, 1900, at the cemetery of
Kom Ushim. We had examined this site six years ago when we began our
work in the Fayum ; but on that occasion we failed to find the Ptolemaic
tombs. This time we were more successful, and some mummies with
papyrus cartonnage turned up immediately; but as everything in the
cemetery was in very bad condition and the tombs had been much
plundered anciently, we moved after ten days to Dime, where, though we
knew that the town had been practically exhausted, the cemetery had irot
yet been discovered. The excavations there entailed considerable hardship
and expense, since we were sixteen miles by land from the nearest point of
the cultivation, and every thing, including even fresh water, had to be
brought by boat across the Birket el Kurun, which is too salt to drink and
is liable to be closed for navigation for a day or two owing to storms. A
brief search disclosed several Ptolemaic cemeteries at Dime. In one of
these, situated close to the town on the south-west, the larger tombs had,
as might be expected, been opened anciently and the mummies broken up.
Further to the south-west in low ground on the west side of an isolated
hill was a small group of crocodile tombs. A few of these animals had a
demotic papypus roll buried beside them, as at Tebtunis; but the
practice at Tebtunis of wrapping the crocodiles in sheets of papyrus was
not employed at Dime. Adjoining the crocodile tombs on the west were
numerous well-tombs of the early Ptolemaic period. A shaft two to four
metres deep led to one or more chambers, each containing sometimes one or
two, often five to ten, mummies. In about half the cases the cartonnage.