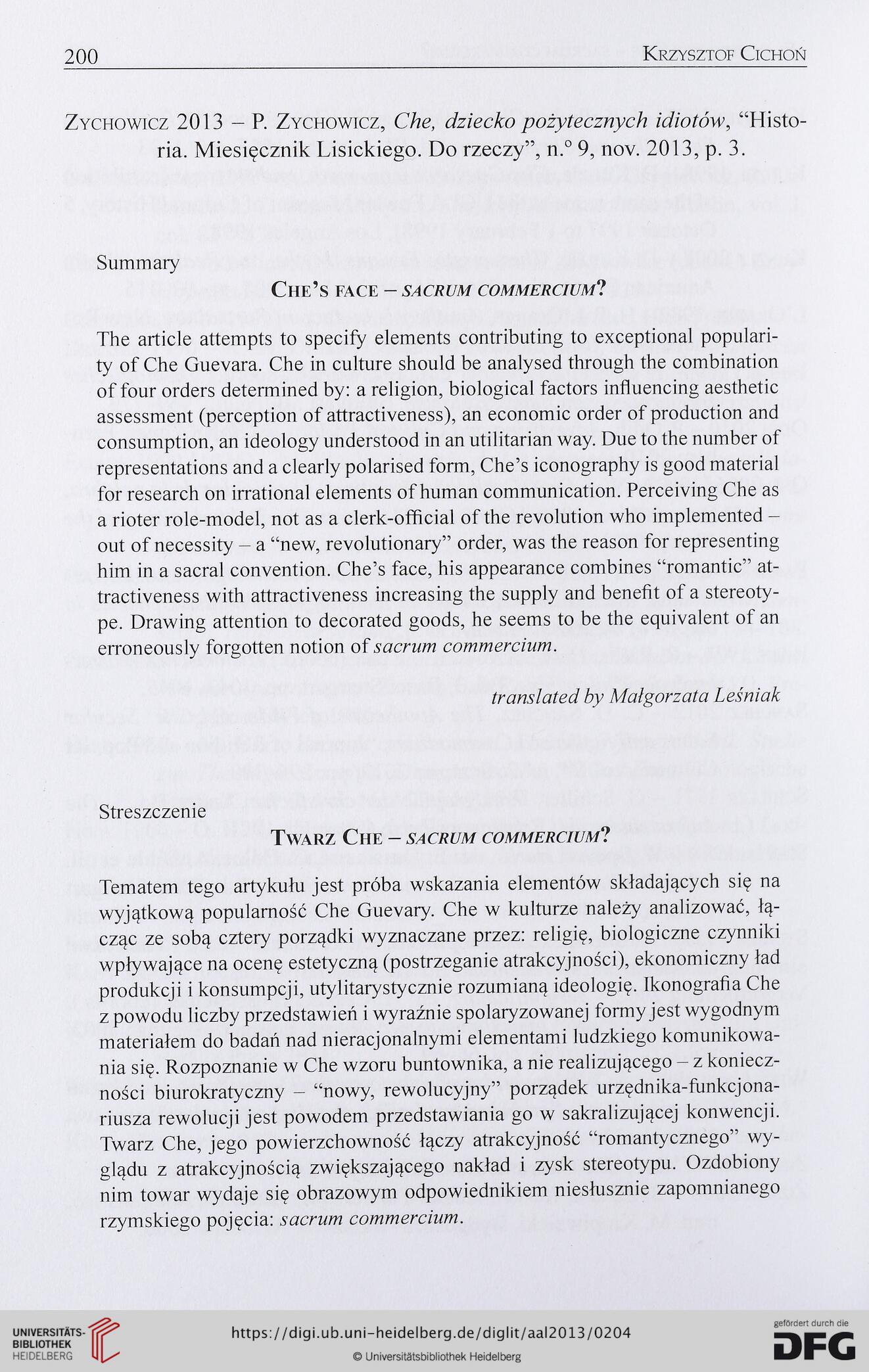 ZycHowicz 2013 — P. Zycnowccz, Che, dziecko pożytecznych idiotów, "Histo-
ria. Miesiecznik Lisickiego. Do rzeczy", n.° 9, nov. 2013, p. 3.

Summary
CHE'S FACE — SACRUM COMMERCIUM?

The article attempts to specify elements contributing to exceptional populari-
ty of Che Guevara. Che in culture should be analysed through the combination
of four orders determined by: a religion, biological factors influencing aesthetic
assessment (perception of attractiveness), an economic order of production and
consumption, an ideology understood in an utilitarian way. Due to the number of
representations and a clearly polarised form, Che's iconography is good material
for research on irrational elements of human communication. Perceiving Che as
a rioter role-model, not as a clerk-official of the revolution who implemented —
out of necessity — a "new, revolutionary" order, was the reason for representing
him in a sacral convention. Che's face, his appearance combines "romantic" at-
tractiveness with attractiveness increasing the supply and benefit of a stereoty-
pe. Drawing attention to decorated goods, he seems to be the equivalent of an
erroneously forgotten notion of sacrum commercium.

translated by Małgorzata Leśniak

Streszczenie
TTWARZ CHE — SACRUM COMMERCIUM?

Tematem tego artykułu jest próba wskazania elementów składających się na
wyjątkową popularność Che Guevary. Che w kulturze należy analizować, łą-
cząc ze sobą cztery porządki wyznaczane przez: religię, biologiczne czynniki
wpływające na ocenę estetyczną (postrzeganie atrakcyjności), ekonomiczny ład
produkcji i konsumpcji, utylitarystycznie rozumianą ideologię. Ikonografia Che
z powodu liczby przedstawień i wyraźnie spolaryzowanej formy jest wygodnym
materiałem do badań nad nieracjonalnymi elementami ludzkiego komunikowa-
nia się. Rozpoznanie w Che wzoru buntownika, a nie realizującego — z koniecz-
ności biurokratyczny — "nowy, rewolucyjny" porzadek urzędnika-funkcjona-
riusza rewolucji jest powodem przedstawiania go w sakralizującej konwencji.
Twarz Che, jego powierzchowność łączy atrakcyjność "romantycznego" wy-
glądu z atrakcyjnością zwiększającego nakład i zysk stereotypu. Ozdobiony
nim towar wydaje się obrazowym odpowiednikiem niesłusznie zapomnianego
rzymskiego pojęcia: sacrum commercium.