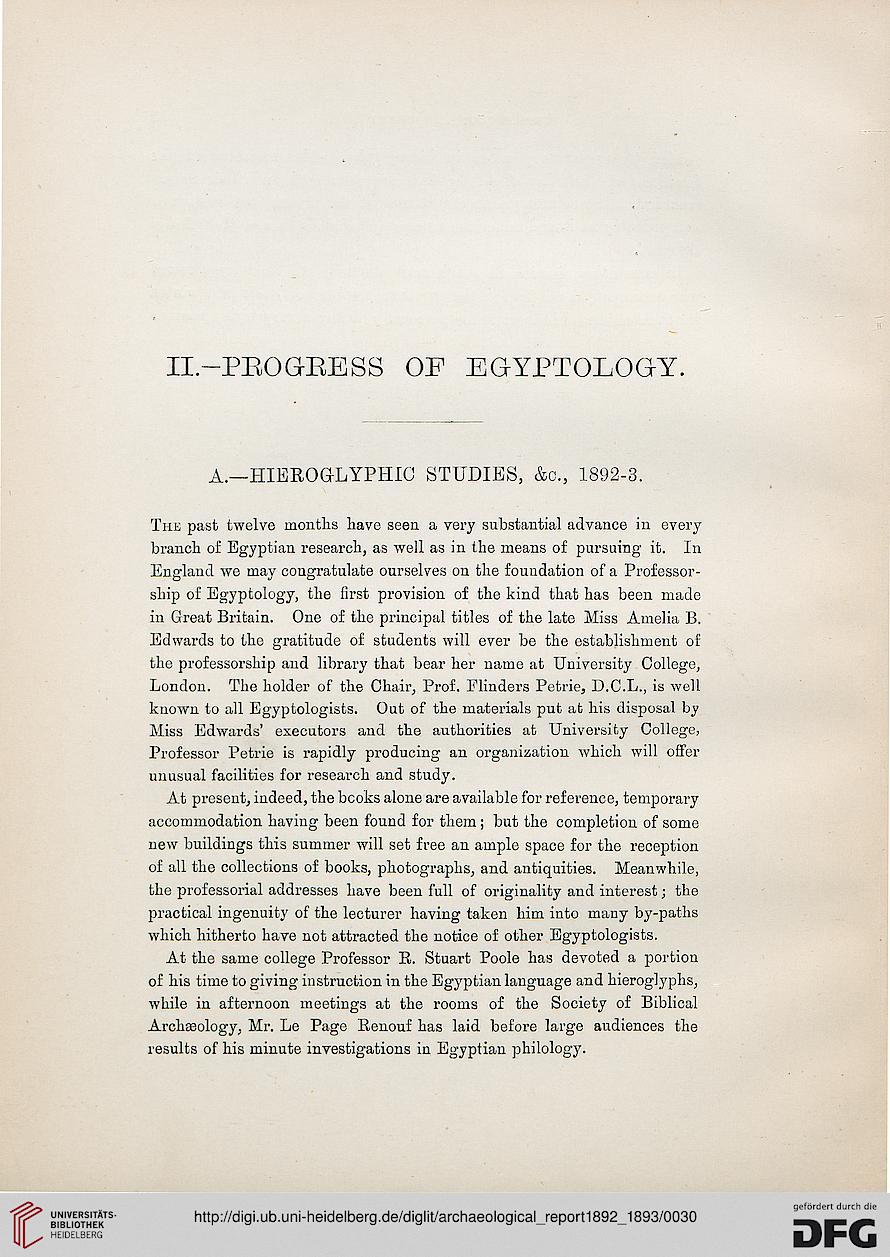 A.—HIEROGLYPHIC STUDIES, &c, 1892-3.

The past twelve months have seen a very substantial advance in every
branch of Egyptian research, as well as in the means of pursuing it. In
England we may congratulate ourselves on the foundation of a Professor-
ship of Egyptology, the first provision of the kind that has been made
in Great Britain. One of the principal titles of the late Miss Amelia B.
Edwards to the gratitude of students will ever be the establishment of
the professorship and library that bear her name at University College,
London. The holder of the Chair, Prof. Flinders Petrie, D.C.L., is well
known to all Egyptologists. Out of the materials put at his disjDosal by
Miss Edwards' executors and the authorities at University College,
Professor Petrie is rapidly producing an organization which will offer
unusual facilities for research and study.

At present, indeed, the bcoks alone are available for reference, temporary
accommodation having been found for them; but the completion of some
new buildings this summer will set free an ample space for the reception
of all the collections of books, photographs, and antiquities. Meanwhile,
the professorial addresses have been full of originality and interest; the
practical ingenuity of the lecturer having taken him into many by-paths
which hitherto have not attracted the notice of other Egyptologists.

At the same college Professor P. Stuart Poole has devoted a portion
of his time to giving instruction in the Egyptian language and hieroglyphs,
while in afternoon meetings at the rooms of the Society of Biblical
Archaeology, Mr. Le Page Renouf has laid before large audiences the
results of his minute investigations in Egyptian philology.