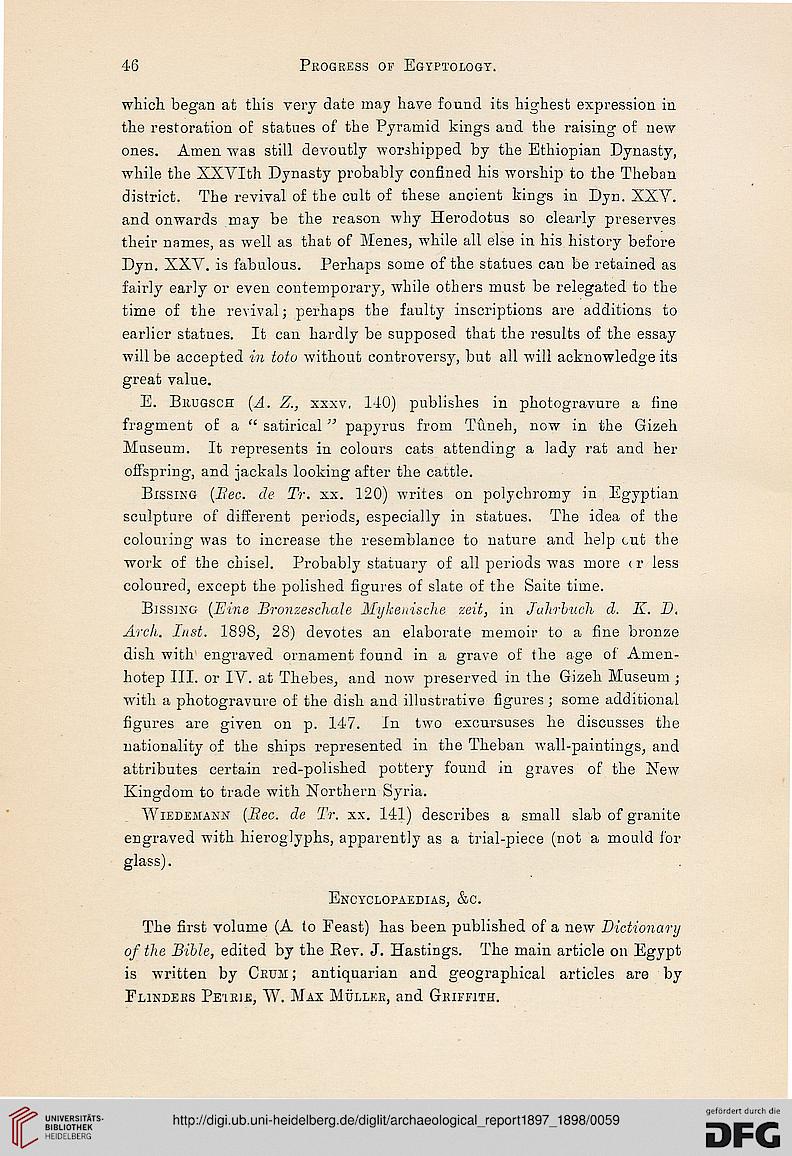 Progress of Egyptology.

which began at this very date may have found its highest expression in
the restoration of statues of the Pyramid kings and the raising of new
ones. Amen was still devoutly worshipped by the Ethiopian Dynasty,
while the XXVIth Dynasty probably confined his worship to the Theban
district. The revival of the cult of these ancient kings in Dyn. XXY.
and onwards may be the reason why Herodotus so clearly preserves
their names, as well as that of Menes, while all else in his history before
Dyn. XXV. is fabulous. Perhaps some of the statues can be retained as
fairly early or even contemporary, while others must be relegated to the
time of the revival; perhaps the faulty inscriptions are additions to
earlier statues. It can hardly be supposed that the results of the essay
will be accepted in toto without controversy, but all will acknowledge its
great value.

E. Beugsch (A. Z., xxxv. 140) publishes in photogravure a fine
fragment of a " satirical " papyrus from Tiineh, now in the Gizeh
Museum. It represents in colours cats attending a lady rat and her
offspring, and jackals looking after the cattle.

Bissing (Bee. de Tr. xx. 120) writes on polychromy in Egyptian
sculpture of different periods, especially in statues. The idea of the
colouring was to increase the resemblance to nature and help cut the
work of the chisel. Probably statuary of all periods was more < r less
coloured, except the polished figures of slate of the Saite time.

Bissing (Eine Bronzeschale Mylcenische zeit, in Jalirbuch d. E. I).
Arch. Inst. 1898, 28) devotes an elaborate memoir to a fine bronze
dish with engraved ornament found in a grave of the age of Amen-
hotep III. or IV. at Thebes, and now preserved in the Gizeh Museum ;
with a photogravure of the dish and illustrative figures; some additional
figures are given on p. 147. In two excursuses he discusses the
nationality of the ships represented in the Theban wall-paintings, and
attributes certain red-polished pottery found in graves of the New
Kingdom to trade with Northern Syria.

Wiedemann (Bee. de Tr. xx. 141) describes a small slab of granite
engraved with hieroglyphs, apparently as a trial-piece (not a mould for
glass).

Encyclopaedias, &c.
The first volume (A to Feast) has been published of a new Dictionary
of the Bible, edited by the Bev. J. Hastings. The main article on Egypt
is written by Cbuh ; antiquarian and geographical articles are by
Flindeks Peteie, W. Max Mulleb, and Gbiefith.