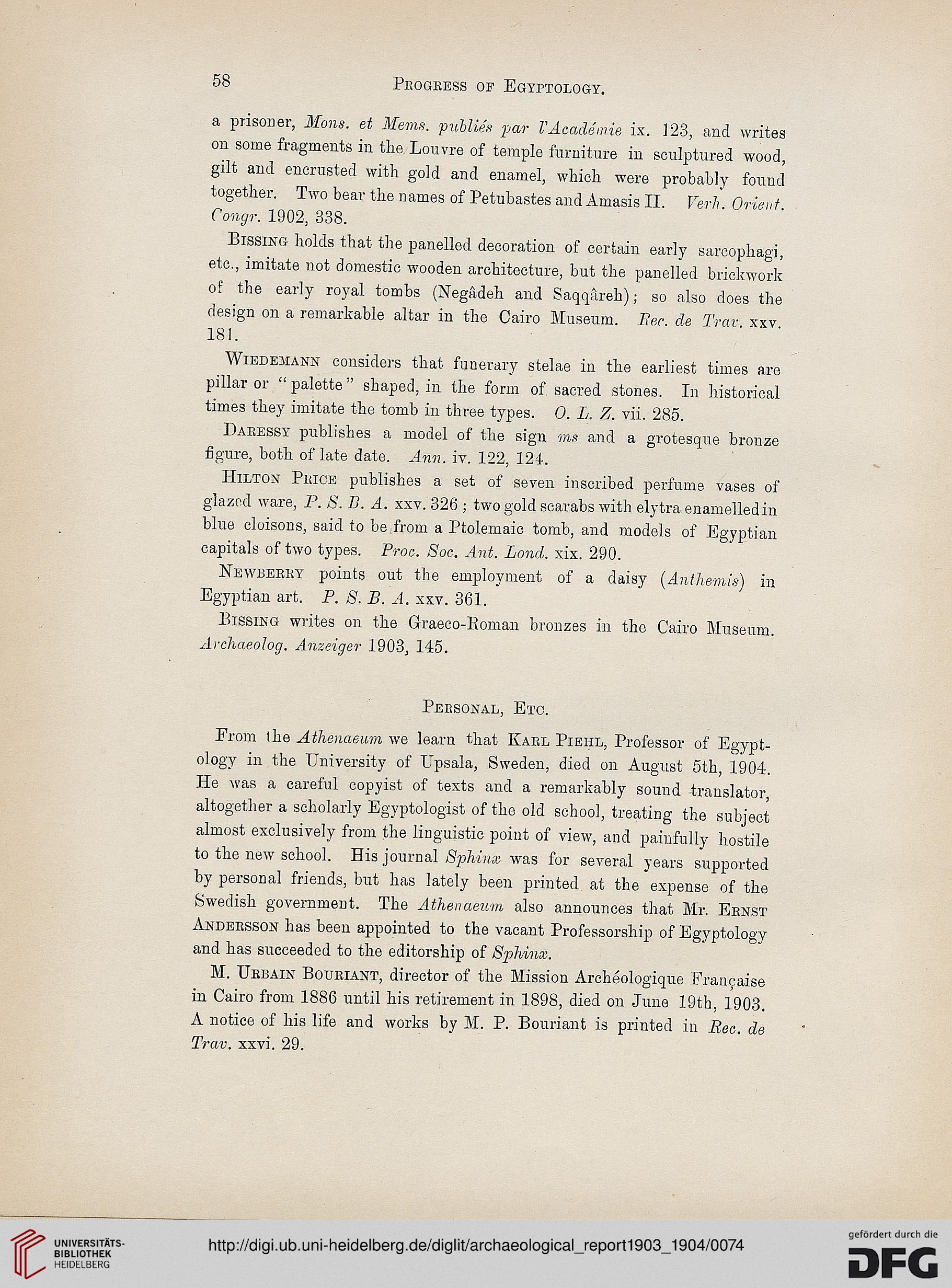 Progress of Egyptology.

a prisoner, lions, et Mems. public's par VAcademie ix. 123, and writes
on some fragments in the Louvre of temple furniture in sculptured wood,
gilt and encrusted with gold and enamel, which were probably found
together. Two bear the names of Petubastes and Amasis II. Verh. Orient.
Congr. 1902, 338.

Bissing holds that the panelled decoration of certain early sarcophagi,
etc., imitate not domestic wooden architecture, but the panelled brickwork
of the early royal tombs (Negadeh and Saqqareh); so also does the
design on a remarkable altar in the Cairo Museum. Bee. de Trav. xxv.
181.

Wiedemann considers that funerary stelae in the earliest times are
pillar or " palette " shaped, in the form of sacred stones. In historical
times they imitate the tomb in three types. 0. L. Z. vii. 285.

Daressy publishes a model of the sign ms and a grotesque bronze
figure, both of late date. Ann. iv. 122, 124.

Hilton Price publishes a set of seven inscribed perfume vases of
glazed ware, P. S. B. A. xxv. 326; two gold scarabs with elytra enamelledin
blue cloisons, said to be from a Ptolemaic tomb, and models of Egyptian
capitals of two types. Proc. Soc. Ant. Bond. xix. 290.

Newberry points out the employment of a daisy (Anthemis) in
Egyptian art. P. S. B. A. xxv. 361.

Pissing writes on the Graeco-Boman bronzes in the Cairo Museum.
Avchaeolog. Anzeiger 1903, 145.

Personal, Etc.

From the Athenaeum we learn that Karl Piehl, Professor of Egypt-
ology in the University of Upsala, Sweden, died on August 5th, 1904.
He was a careful copyist of texts and a remarkably sound translator,
altogether a scholarly Egyptologist of the old school, treating the subject
almost exclusively from the linguistic point of view, and painfully hostile
to the new school. His journal Sphinx was for several years supported
by personal friends, but has lately been printed at the expense of the
Swedish government. The Athenaeum also announces that Mr. Ernst
Andersson has been appointed to the vacant Professorship of Egyptology
and has succeeded to the editorship of Sphinx.

M. Urbain Bouriant, director of the Mission Archeologique Erancaise
in Cairo from 1886 until his retirement in 1898, died on June 19th, 1903.
A notice of his life and works by M. P. Bouriant is printed in Rec. de
Trav. xxvi. 29.