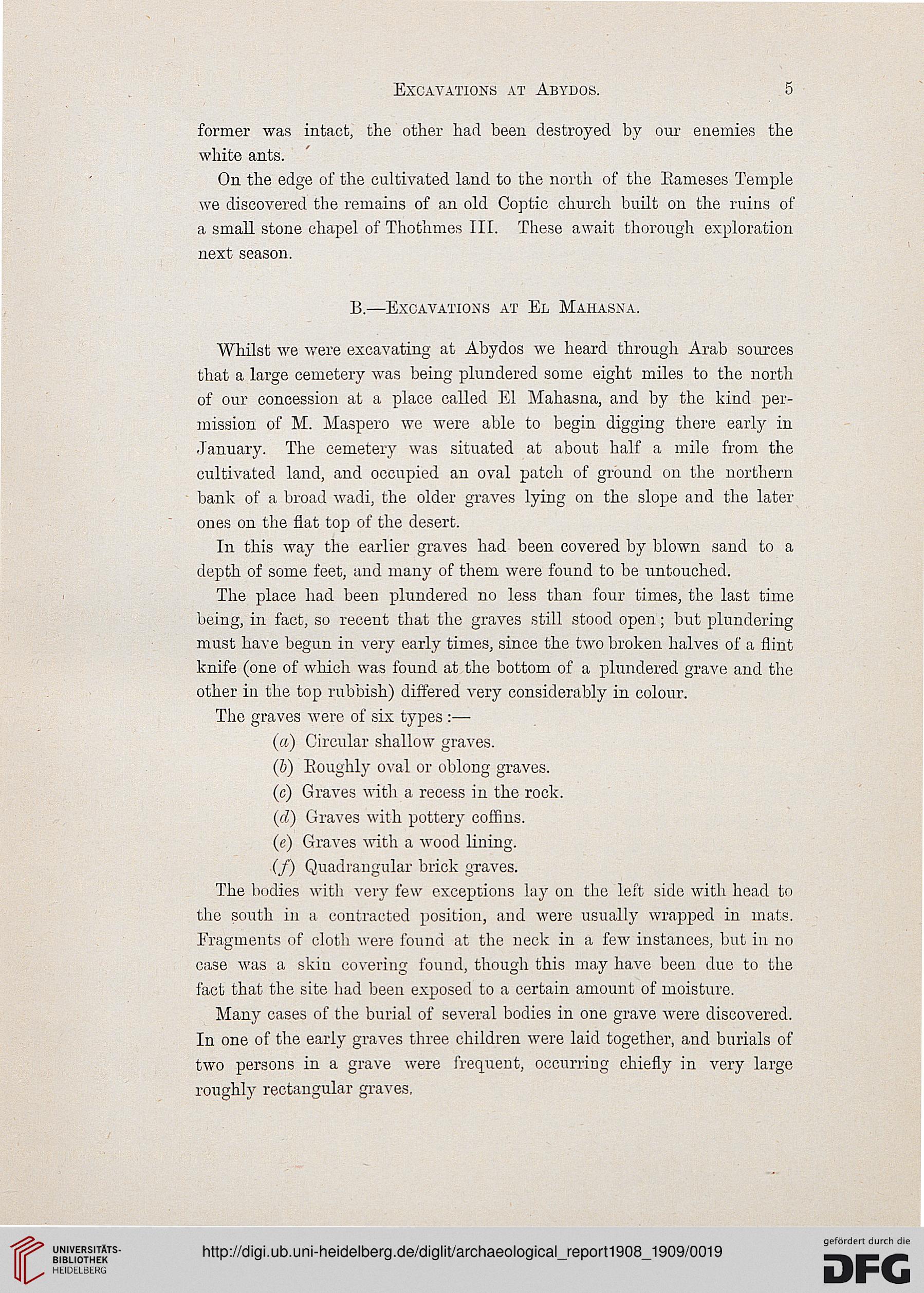 former was intact, the other had been destroyed by our enemies the
white ants.

On the edge of the cultivated land to the north of the Eameses Temple
we discovered the remains of an old Coptic church built on the ruins of
a small stone chapel of Thothmes III. These await thorough exploration
next season.

B.—Excavations at El Mahasna.

Whilst we were excavating at Abydos we heard through Arab sources
that a large cemetery was being plundered some eight miles to the north
of our concession at a place called El Mahasna, and by the kind per-
mission of M. Maspero we were able to begin digging there early in
January. The cemetery was situated at about half a mile from the
cultivated land, and occupied an oval patch of ground on the northern
bank of a broad wadi, the older graves lying on the slope and the later
ones on the flat top of the desert.

In this way the earlier graves had been covered by blown sand to a
depth of some feet, and many of them were found to be untouched.

The place had been plundered no less than four times, the last time
being, in fact, so recent that the graves still stood open; but plundering
must have begun in very early times, since the two broken halves of a flint
knife (one of which was found at the bottom of a plundered grave and the
other in the top rubbish) differed very considerably in colour.

The graves were of six types :—

(a) Circular shallow graves.

(b) Eoughly oval or oblong graves.

(c) Graves with a recess in the rock.

(d) Graves with pottery coffins.

(e) Graves with a wood lining.
(/) Quadrangular brick graves.

The bodies with very few exceptions lay on the left side with head to
the south in a contracted position, and were usually wrapped in mats.
Fragments of cloth were found at the neck in a few instances, but in no
case was a skin covering found, though this may have been due to the
fact that the site had been exposed to a certain amount of moisture.

Many cases of the burial of several bodies in one grave were discovered.
In one of the early graves three children were laid together, and burials of
two persons in a grave were frequent, occurring chiefly in very large
roughly rectangular graves.