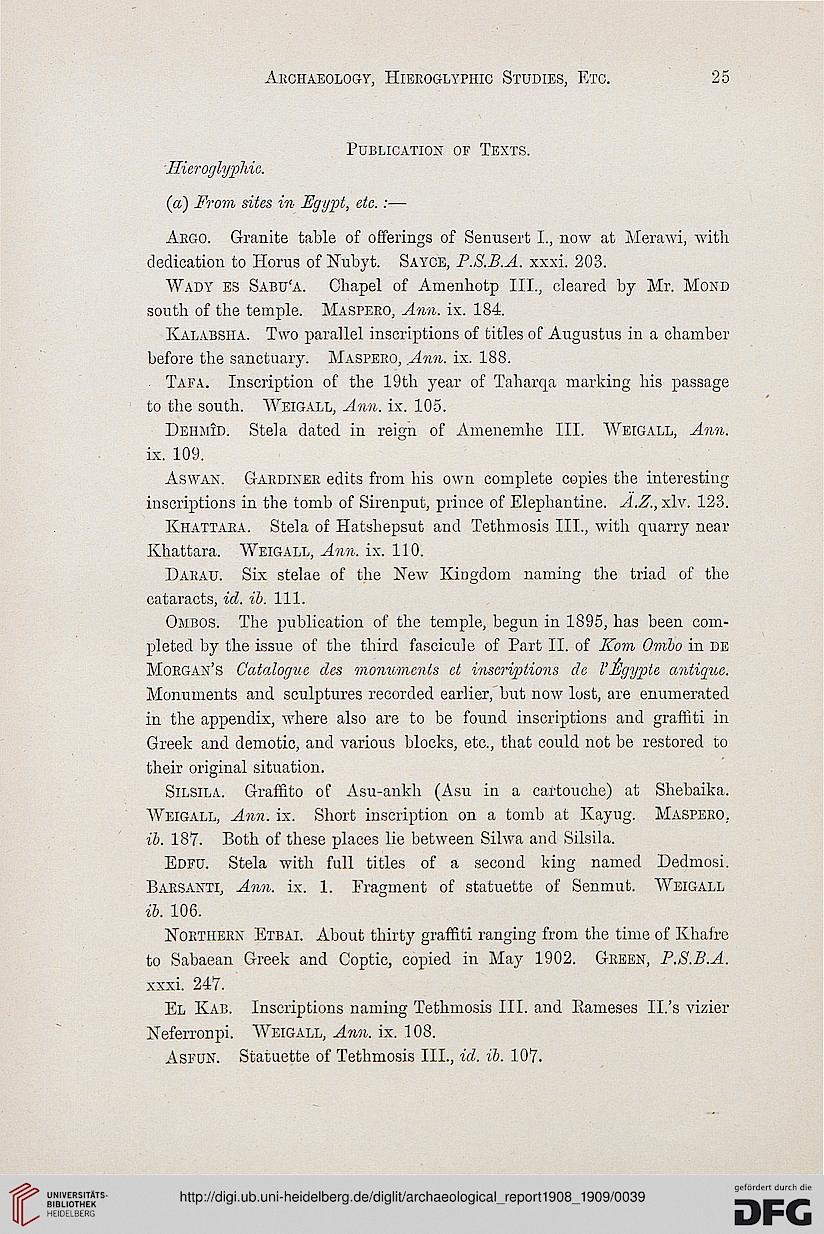 25

Publication of Texts.

Hieroglyphic.

(a) From sites in Egypt, etc.:—

Argo. Granite table of offerings of Senusert I., now at Merawi, with
dedication to Horus of Nubyt. Sayce, P.S.B.A. xxxi. 203.

Wady es Sabu'a. Chapel of Amenhotp III., cleared by Mr. Mond
sonth of the temple. Maspero, Ann. ix. 184.

Kalabsha. Two parallel inscriptions of titles of Augustus in a chamber
before the sanctuary. Maspero, Ann. ix. 188.

■ Tafa. Inscription of the 19th year of Taharqa marking his passage
to the south. Weigall, Ann. ix. 105.

Dehmid. Stela dated in reign of Amenemhe III. Weigall, Ann.
ix. 109.

Aswan. Gardixer edits from his own complete copies the interesting
inscriptions in the tomb of Sirenput, prince of Elephantine. A.Z., xlv. 123.

Khattaea. Stela of Hatshepsut and Tethmosis III., with quarry near
Khattara. Weigall, Ann, ix. 110.

Darau. Six stelae of the New Kingdom naming the triad of the
cataracts, id. ib. 111.

Ombos. The publication of the temple, begun in 1895, has been com-
pleted by the issue of the third fascicule of Part II. of Kom Ombo in de
Morgan's Catalogue des monuments et inscriptions clc I'Egypte antique.
Monuments and sculptures recorded earlier, but now lost, are enumerated
in the appendix, where also are to be found inscriptions and graffiti in
Greek and demotic, and various blocks, etc., that could not be restored to
their original situation.

Silsila. Graffito of Asu-ankh (Asu in a cartouche) at Shebaika.
Weigall, Ann. ix. Short inscription on a tomb at Kayug. Maspero,.
ib. 187. Both of these places lie between Silwa and Silsila.

Edfu. Stela with full titles of a second king named Dedmosi.
Barsanti, Ann. ix. 1. Fragment of statuette of Senmut. Weigall
ib. 106.

Northern" Etbai. About thirty graffiti ranging from the time of Khafre
to Sabaean Greek and Coptic, copied in May 1902. Green, P.S.B.A.
xxxi. 247.

El Kab. Inscriptions naming Tethmosis III. and Eameses II.'s vizier
Neferronpi. Weigall, Ann. ix. 108.

Asfun. Statuette of Tethmosis III., id. ib. 107.