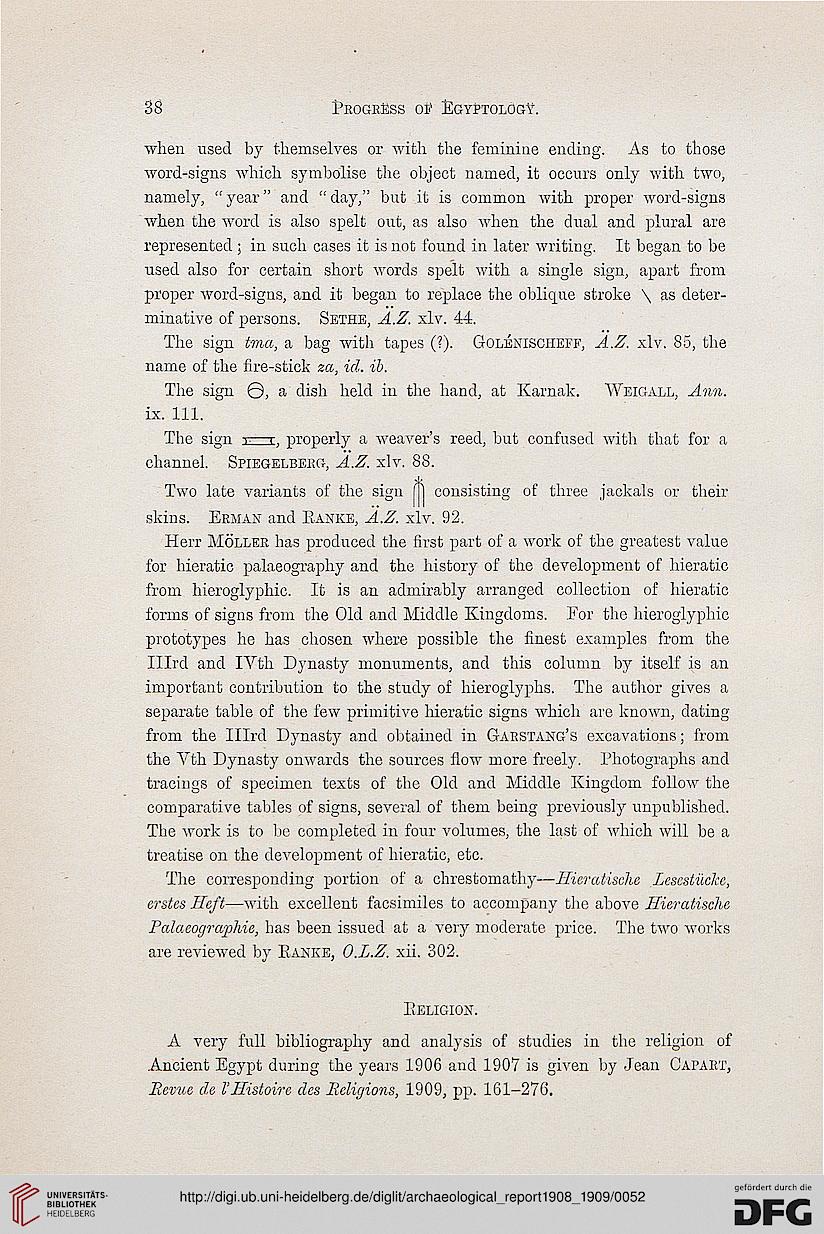 Peogbess oi1 Egyptology.

when used by themselves or with the feminine ending. As to those
word-signs which symbolise the object named, it occurs only with two,
namely, " year" and " day," but it is common with proper word-signs
when the word is also spelt out, as also when the dual and plural are
represented ; in such cases it is not found in later writing. It began to be
used also for certain short words spelt with a single sign, apart from
proper word-signs, and it began to replace the oblique stroke \ as deter-
minative of persons. Sethe, A.Z. xlv. 44.

The sign tma, a bag with tapes (?). Golenischeff, A.Z. xlv. 85, the
name of the fire-stick za, id. ib.

The sign 0, a dish held in the hand, at Karnak. Weigall, Ann.
ix. 111.

The sign t—r, properly a weaver's reed, but confused with that for a
channel. Spiegelbeeg, A.Z. xlv. 88.

Two late variants of the sign |jj consisting of three jackals or their
skins. Eeman and Eamke, A.Z. xlv. 92.

Herr Mollee has produced the first part of a work of the greatest value
for hieratic palaeography and the history of the development of hieratic
from hieroglyphic. It is an admirably arranged collection of hieratic
forms of signs from the Old and Middle Kingdoms. For the hieroglyphic
prototypes he has chosen where possible the finest examples from the
Illrd and IVth Dynasty monuments, and this column by itself is an
important contribution to the study of hieroglyphs. The author gives a
separate table of the few primitive hieratic signs which are known, dating
from the Illrd Dynasty and obtained in Gabstang's excavations; from
the Vth Dynasty onwards the sources flow more freely. Photographs and
tracings of specimen texts of the Old and Middle Kingdom follow the
comparative tables of signs, several of them being previously unpublished.
The work is to be completed in four volumes, the last of which will be a
treatise on the development of hieratic, etc.

The corresponding portion of a chrestomathy—llieratische Lcscstiicke,
erstes Heft—with excellent facsimiles to accompany the above llieratische
Palaeographie, has been issued at a very moderate price. The two works
are reviewed by Eanke, O.L.Z. xii. 302.

Eeligion.

A very full bibliography and analysis of studies in the religion of
Ancient Egypt during the years 1906 and 1907 is given by Jean Capaet,
Revue de VHistoire des Religions, 1909, pp. 161-276.